May 5, 2021 | What If "Transitory" Inflation Is Here To Stay?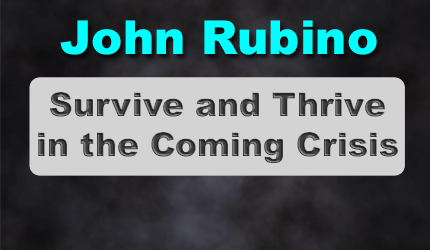 John Rubino is a former Wall Street financial analyst and author or co-author of five books, including The Money Bubble: What To Do Before It Pops and Clean Money: Picking Winners in the Green-Tech Boom. He founded the popular financial website DollarCollapse.com in 2004 and sold it in 2022.
One of the emerging trends in the almost-post-covid economy is companies suddenly having to pay way up to find new employees. Restaurants, truckers, even Uber and Lyft, are now struggling to track down and re-hire the people they and their competitors shed during the lockdown. It's not going well:
(Pittsburgh Business) – As director of the Tucker Summit Community Improvement District, Emory Morsberger's job is to help position companies in the district for success. Normally, that means working on road improvements, security or landscaping.

These days, he's helping businesses in that portion of Georgia with a different and urgent challenge: finding talent.

Just like in numerous metro areas and smaller cities around the nation, a labor shortage has arrived in Tucker in impressive force. Morsberger acknowledges it's likely to get much worse before it gets better as the economy's improvement continues at a rapid pace, but enhanced unemployment benefits and child care challenges limit the labor pool.

According to a March survey by the National Federation for Independent Business, 42% of business owners reported job openings they couldn't fill — a record high, and 20 percentage points higher than the 48-year historical average of 22%.

The restaurant sector has been one of the hardest-hit industries. The industry was devastated in the early days of Covid-19 and shed jobs at a frantic pace. As vaccination rates have climbed and more diners are heading back out to eat, many restaurants haven't been able to find workers to keep pace.

Some are getting creative. Shrimp Basket, a Pensacola, Florida-based seafood chain with 20 locations around the Gulf Coast, is entering new employees and those who refer new employees into a drawing for a new car. Employees receive one entry for every 30 days they work for the chain between May 1 and September 10 — illustrating the challenge restaurants face not just in attracting workers, but retaining them.

But in Tucker and elsewhere, the challenges extend well beyond restaurants.

There's Tucker Brewing, which is seeing a surge of interest after being named one of the top beer gardens in the nation by USA Today. There's a printing company that found success making plexiglass dividers. There's a meat company that discovered a major new online sales revenue stream during the pandemic.

"Those companies are now really kicking into gear and hiring more people than they had before the pandemic," Morsberger said. "They're having trouble finding the workers. It's everything. It's warehouse workers. It's office workers. It's truck drivers. It's line cooks. It's the whole works."
Good news … for now
A labor shortage is a great equalizer, moving money from the upper reaches of society down to people who both deserve and need it. So going forward, a rising number of Americans should be able to pay their bills, including their back rent, without government aid. Better late than never.
But with official inflation already above the conventional wisdom's safe target range — and with the financial markets banking on government promises that current inflation is "transitory" — what happens when 20% wage increases collide with soaring commodities (see iron ore, copper, and lumber)?
Transitory might become the new normal, and we have to go all the way back to the currency crises of the 1970s for a sense of what that's like.
STAY INFORMED! Receive our Weekly Recap of thought provoking articles, podcasts, and radio delivered to your inbox for FREE! Sign up here for the HoweStreet.com Weekly Recap.