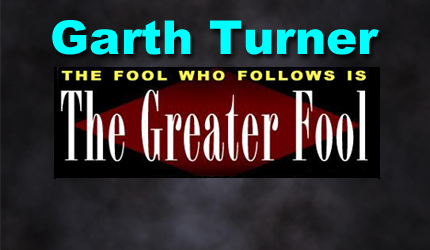 A best-selling Canadian author of 14 books on economic trends, real estate, the financial crisis, personal finance strategies, taxation and politics. Nationally-known speaker and lecturer on macroeconomics, the housing market and investment techniques. He is a licensed Investment Advisor with a fee-based, no-commission Toronto-based practice serving clients across Canada.
Was that it? Peak house?
There's a wee chill in the air. Perchance you've felt it.
Maybe all of the greater fools have been used up. Perhaps as the herd's dosed and bosses reopen offices, everything changes. Could be that we've simply hit a price wall. Maybe inflating rates and a tougher stress test have buyers thinking twice. Or maybe realtor recklessness, blind auctions and vendor avarice have pushed things too far.
Dunno. But look at the numbers.
This week we learned there were 13,663 monthly sales in the mighty six-million-souls GTA. "A new record for April and amounted to more than quadruple that from April 2020," crowed the realtors. But wait. Sales back in March were 15,652. So this is a 13% plop in what, traditionally, has been the strongest month of the entire year for house lust.
Not only did the level of deals decline, but prices flatlined in April, after plumping continuously month/month during 2021. Here's how the real estate board justified the surprising news: "We've experienced a torrid pace of home sales since the summer of 2020 while seeing little in the way of population growth. We may be starting to exhaust the pool of potential buyers within the existing GTA population. Over the long term, sustained growth in sales requires sustained growth in population."
But wait. The population of the GTA has indeed grown over the past year – by 57,000 people. There are 6.25 million little beavs in the sprawling metropolis now – so this meme of a stagnant base of potential buyers looks like realtor bunk. And while monthly sales were flat, listings have blossomed over the last two months, adding 7,382 in March and 7,664 in April.
Hey, look at Vancouver. In April there were 4,908 deals – a decline of 14% from March. And while fewer buyers took the bait last month, way more homeowners decided this was the time to bail. "There were 7,938 detached, attached and apartment homes newly listed for sale in Metro Vancouver in April," say the realtors. "This represents a 243.2% increase …and is the highest new listing total ever recorded in the region in April."
Plus, check this out: the sales-to-listings ratio for detached homes on Van in March was 53%. But last month that dropped considerably to 37.4%. Think this might have something to do with the fact the benchmark detached home price is now $1,755,500 – up 21% in a year? Duh.
Same in Victoria, by the way, one of the go-to WFH refugee hot spots on the coast. Sales in April fell about 5% from March. Market activity declined but prices continued to increase – often a classic sign of a market top. Higher values, lower sales.
What's going on?
Let's assume a lot of buyers have decided to sit on their hands and wait for the greedstorm to abate. After pummeling each other in appalling, casualty-strewn and lethal bidding wars, many have given up. It's emotional to craft an offer for tens (or hundreds) of thousands more than a listed price, certify a $100,000 cheque to go with the bid, then wait to see if your name is chosen in a process as opaque and dark as an agent's heart. It's no way to buy the biggest asset of your life and plunge into heroic debt.
And now that an exit from the pandemic becomes more certain, higher numbers of owners are looking at insane valuations, concluding if there were ever a time to bail, this be it. As stated, peak house.
Oh, and did you catch this?
US Treasury Secretary Janet Yellen – a towering Wall Street figure who used to be the boss of the American central bank – this week said interest rates are probably going up. The reason is simple: "to make sure that our economy doesn't overheat."
Yellen is stating the obvious. Her boss, Joe, is spending $6 trillion on Covid relief, reopening assistance, infrastructure and enhanced social programs. At the same time households have a giant pile of savings to unleash after a year of pandemic inactivity and lockdowns; corporate profits have soared; and an inevitable growth in global GDP will fuel trade as billions are inoculated. Already out CBers have indicated rates will rise a year sooner than previously anticipated because we'll soon see official inflation bubble higher, along with employment rates.
In summary: houses cost so damn much young people cannot afford to buy. The real estate industry has reached a new dirtbag low with ubiquitous hold-back offers and auctions. Listings are flooding onto the market, significantly increasing supply. The cost of money has but one direction in which to move. WFH has only one way to go. New regs reducing the borrowing power of buyers will soon arrive. Sales in April – the pinnacle – fell in our landmark markets.
Peak house? We'll know in a while. It's still a seller's market. So, sell.
STAY INFORMED! Receive our Weekly Recap of thought provoking articles, podcasts, and radio delivered to your inbox for FREE! Sign up here for the HoweStreet.com Weekly Recap.