October 29, 2021 | Elon Musk is the Wealthiest Billionaire on Earth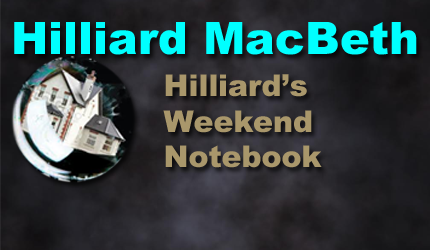 Author of "When the Bubble Bursts: Surviving the Canadian Real Estate Crash"
Elon Musk, CEO of Tesla and Space-X has become the world's wealthiest billionaire. He recently passed Jeff Bezos, founder of Amazon, to reach the number one spot.
Will Musk become the first person to reach $1 trillion?
As Tesla shares reached a peak of $1,000 on Monday, and the value of the company on the stock market exceeded $1 trillion, 50-year-old Elon Musk's wealth surpassed Bezos by $50 billion.
But if Bezos had not divorced in 2019, his holding of 80 million Amazon shares pre-settlement would be worth $267 billion, giving him a slight lead over Musk.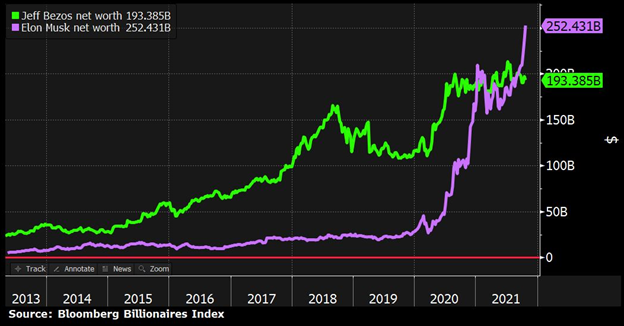 Musk is the largest shareholder in Tesla, which has 1 billion shares outstanding. At $1,000 per share the battery electric car maker is worth $1 trillion. Musk owns 22 percent of Tesla, giving him $220 billion of equity.
The remainder of Musk's wealth is in SpaceX. The estimated value of SpaceX is $100 billion, and Musk owns about half. SpaceX is the second most valuable private company in the world after ByteDance, which owns TikTok. Musk has been involved in creating $100 billion of value in two companies:

Source: FT.com
Only Tesla, Facebook, Apple, Microsoft, Alphabet and Amazon have reached the $1 trillion value milestone so far. Some of the founders of those companies have held the world's wealthiest title in the past. Amazon's valuation pushed Jeff Bezos to the top spot for a time while Microsoft founder Bill Gates has been the wealthiest frequently, although today his worth is "only" $130 billion.
Apple founder Steve Jobs died in 2011 worth about $11 billion. Since then Apple's valuation has increased 10-fold to $2.5 trillion. At one time Jobs owned 20 percent of Apple, which today would be $500 billion. And Facebook founder Mark Zuckerberg is the fifth-richest person at $121 billion, just behind Bill Gates.
On hearing the news that he had become the wealthiest billionaire, Musk tweeted:
"Hopefully enough to extend life to Mars".
Using his wealth and funds raised from others, Musk wants to use SpaceX to launch a cargo flight to Mars before 2024, manned flight by 2027 and build a 1-million-person city on Mars by 2050.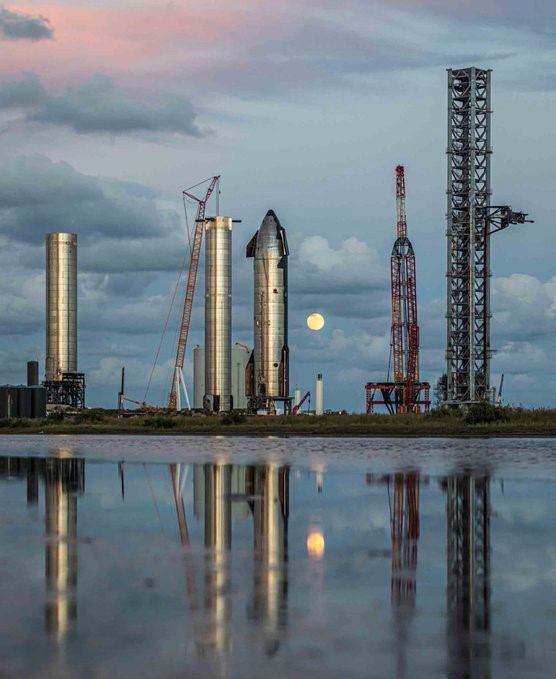 Starbase 32 km east of Brownsville, Texas. Source: SpaceX
In March 2016 Tesla was trading at $40 and I bought my first Tesla, for about US$150,000. Ouch! If I had invested that money in Tesla shares instead, my holdings would be worth about $3.75 million. I did buy shares later, but not nearly enough.
In 1999 Amazon traded at $100 and then declined all the way to $6 by October 2001. Now Amazon is trading at $3,300. Most traders did not buy during that 94 percent decline as the dot-com market bubble burst. But a few brave investors used that correction to buy the stock.
Tesla could trade at a bargain price if we get a major stock market correction like 2000-02.
For Musk's wealth to reach $1 trillion, Tesla shares would have to hit $4,000!
He might be on Mars before Tesla gets there.
Hilliard MacBeth
The opinions expressed in this report are the opinions of the author and readers should not assume they reflect the opinions or recommendations of Richardson Wealth or its affiliates. Assumptions, opinions and estimates constitute the author's judgment as of the date of this material and are subject to change without notice. We do not warrant the completeness or accuracy of this material, and it should not be relied upon as such. Before acting on any recommendation, you should consider whether it is suitable for your particular circumstances and, if necessary, seek professional advice. Past performance is not indicative of future results. The comments contained herein are general in nature and are not intended to be, nor should be construed to be, legal or tax advice to any particular individual. Accordingly, individuals should consult their own legal or tax advisors for advice with respect to the tax consequences to them, having regard to their own particular circumstances.. Richardson Wealth is a member of Canadian Investor Protection Fund. Richardson Wealth is a trademark by its respective owners used under license by Richardson Wealth.
STAY INFORMED! Receive our Weekly Recap of thought provoking articles, podcasts, and radio delivered to your inbox for FREE! Sign up here for the HoweStreet.com Weekly Recap.