May 6, 2021 | The Key Lesson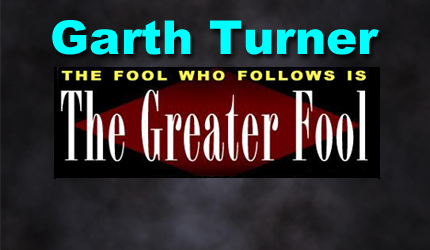 A best-selling Canadian author of 14 books on economic trends, real estate, the financial crisis, personal finance strategies, taxation and politics. Nationally-known speaker and lecturer on macroeconomics, the housing market and investment techniques. He is a licensed Investment Advisor with a fee-based, no-commission Toronto-based practice serving clients across Canada.
When Janet Yellen mused about rates going up the other day, she really stepped in it. Stock markets moaned and wavered for a few hours. Critics piled on saying a politician (she's America's finance minister equivalent) shouldn't mess with central bank policy (she used to run the Fed). And it looks like President Joe told her to cork it.
So Janet walked it back. But, guess what? The market knows she was right. She knows she was correct. So do we.
Have you noticed what's happened with preferred shares? They're a hybrid between equity and bonds. Way more stable than stocks. They pay a dividend, rather than interest. Tax-efficient. And interest-rate sensitive. Especially the rate-reset variety (the only kind to own in an ETF).
As the vaccines flow and the virus inevitably ebbs, stimulus will be reduced and interest rates will rise. Janet spoke the truth – a reopening economy, mucho government spending, tons of new jobs, rising stocks and romping corporate profits – it's all inflationary. CBs will respond by increasing their benchmark rates to cool price increases. It's what they do.
The certainty of this happening has plumped prefs this year. The jump in values has been over 16% in 2021, and every day these things pay you to own them – the dividend is now about 4%, or more than twice what a brain-dead GIC yields. Total return YTD is a sunny 18%.
This is why you should have about half the fixed-income (safer) 40% hunk of your portfolio in preferreds. As interest rates rise, bond yields swell and bond prices drop. So in 2021 the value of bonds has decreased but the prefs have more than made up for it. In a way, then, the preferreds have more than paid for the insurance bonds give you in the event of an equity market correction. This is the essence of a B&D portfolio's logic. Protect in a storm. Advance in calm.
Mostly, the big jump in preferreds says this: Mr. Market knows, expects and is pricing in higher rates. Look at BAX futures, where interest rate futures are bet on. They're forecasting two hikes or more by the end of next year. And did you see RBC's mortgage move? In the last few days a slew of home loan rates have been jacked up. The five-year 'special' is now back up to 2.69%.
Now gander at commodities. Oil is solidly in the mid-60-dollar US range (a year ago it was negative) because the global economy will expand, demand increase and prices inflate. Besides, it's almost driving season again, and EVs suck. It all adds to the inflation narrative, along with billions and trillions in government stimulus spending. (Canada's Parliamentary Budget Officer now says it will be 2055 – when your new baby is in her mid-thirties – before we get back to 2019 debt ratios. Hope she likes taxes.)
Higher inflation means rate hikes, which increase the value of preferreds as well as bond yields. And those bonds set mortgage costs. It shouldn't be too tough to see where all this is headed.
Okay, now go back and review yesterday's post. Higher mortgages when all of today's buyers renew. Less WFH. No pandemic lockdowns. Higher taxes after the 2021 federal election and the 2022 federal budget. Less FOMO. Way more listings and (here's betting) lower property prices.
After all, the current situation is unsustainable. Even with cheapo, virus-created mortgage rates it now takes the average family saving 10% of income more than five years to amass the down payment on the average home. But during that period of time, prices have ricocheted higher in a never-ending spiral of disappointment. (By the way, the time needed to save a down payment to buy in Toronto is 23 years. In Vancouver it's 32 years, says National Bank.)
Another harbinger of change: condos. Specifically, downtown ones.
Sales in Toronto's core have risen more than 110% since a certain pathetic blog flagged a potential buying opportunity there. The inventory of listings has plunged from a 5-month level to about 4-weeks. Multiple bids are flowing in again even for the 500-footers than were hard to give away in December. (You might want to read this brag piece by a Toronto realtor.)
Why?
Simple. The city, the centre, the downtown will blossom in 2022 as the lights start going out in Hicksville, Armpit and Bunnypatch. Offices will reopen – yes, on a limited and hybrid basis to start – and all the reasons it made sense to live close to work, to avoid commuting, to have a plethora of great restaurants, clubs, stores and amenities surrounding you, to not worry about three feet of snow in the laneway and be able to summon an Uber in four minutes, will return. Investors know this. They're buying.
What did the slimy little pathogen teach us?
Yup. Nothing ever stays the same. Embrace that.
STAY INFORMED! Receive our Weekly Recap of thought provoking articles, podcasts, and radio delivered to your inbox for FREE! Sign up here for the HoweStreet.com Weekly Recap.