April 25, 2021 | The Retreat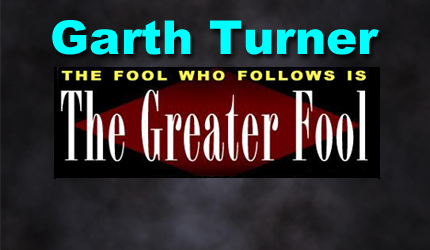 A best-selling Canadian author of 14 books on economic trends, real estate, the financial crisis, personal finance strategies, taxation and politics. Nationally-known speaker and lecturer on macroeconomics, the housing market and investment techniques. He is a licensed Investment Advisor with a fee-based, no-commission Toronto-based practice serving clients across Canada.
Is our house lust now an economic threat? Should you lighten up on the maple in your portfolio because of rampant house-horniness? How is this possibly going to end well?
Fidelity portfolio manager David Wolf made waves saying he's dumping some Canadian exposure in his funds because idiots are paying extreme, unsustainable amounts for houses. But who cares about some mutual fund dude?
Maybe you should.
Wolf joined the global fund manager seven years ago after service as senior policy advisor to the governor of the Bank of Canada. Lately he's been helping to run the Fidelity Canadian Asset Allocation Fund, Fidelity Monthly Income Fund, Fidelity Monthly Income Class, Fidelity Dividend Fund and Fidelity Income Allocation Fund.
Here are his creds:
"From 2009 to 2013, Wolf served as Adviser to the Governor of the Bank of Canada, and served as Secretary to the Governing Council for Monetary Policy at the Bank of Canada. As Secretary to the Governing Council for Monetary Policy, he oversaw the analysis supporting the monetary policy decision process and acted as Editor in Chief for the Monetary Policy Report. In addition, he served as a representative of the Bank of Canada on a number of international bodies, including the G-20, the International Monetary Fund (IMF) and the Organisation for Economic Co-Operation and Development (OECD).

Prior to his work for the Bank of Canada, Wolf served as the Head of Canadian Economics & Chief Strategist for Merrill Lynch Canada from 2005 to 2009, where he was responsible for fundamental analysis and asset allocation strategy. Previously, he served as the Chief Interest Rate Strategist & Senior Economist for RBC Capital Markets, where he worked from 1997 to 2005.
Hmm. Smart guy. So what does Wolf say now?
"Housing is becoming a dominant player in GDP in a way that is dangerous, like in Spain, Ireland and Greece," he states. "These turned out to be epic housing bubbles that led to severe recessions."
These days real estate accounts for a direct 10% of the economy. But that's misleadingly small. Residential mortgage debt is almost $1.7 trillion, and growing by $200 billion a year. The entire Canadian economy is $1.8 trillion – so figure it out. Real estate's reach is massive. Over 250,000 people are employed in flogging properties across Canada, 130,000 of which are agents. Then add in all the mortgage brokers, insurance dudes, home inspectors and closing lawyers, and the number swells. This does not include builders, contractors, renovators, drywallers, roofers, electricians, plumbers and virtuoso Italian tile guys.
Is this why the recent federal budget wimped out in dealing with the housing bubble? You bet. Real estate is being left to run hot because politicians would rather have buyers and borrowers shoulder the risk than the government. Besides, at this point in the neverendum pandemic, all growth is good growth. Even when homes are made unaffordable and society is set up for an inevitable, painful correction.
By the way, here's an example.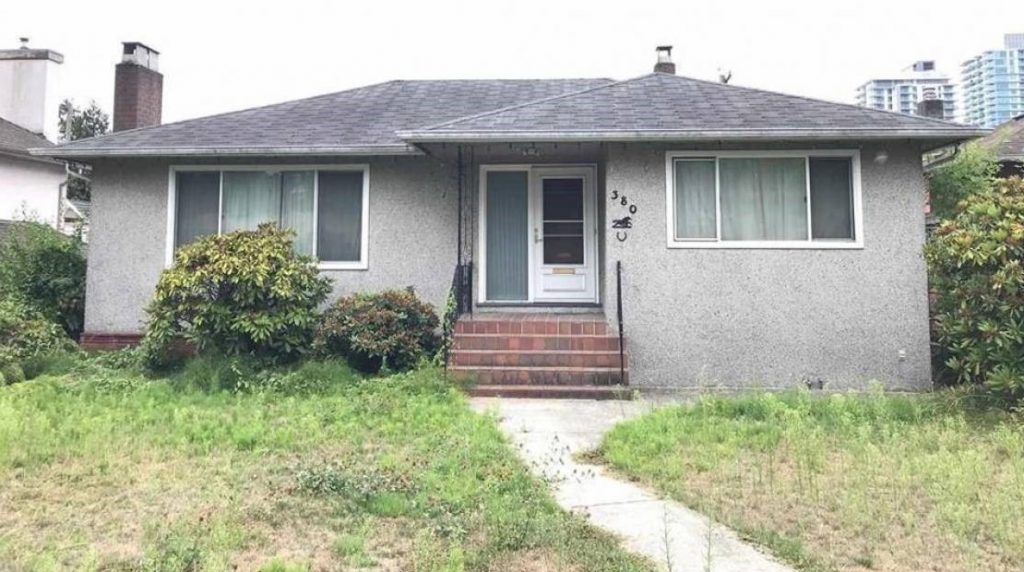 No. 380 West 62nd Ave in Vancouver sold for $4.28 million in February of 2018. Uh-huh, you read that right. That's a '4'. At the time the province's assessed value for the 50-foot lot was $3.2 million. Eighteen months later the owner tried to move it for $4.3 million. No takers. Over time the asking price was reduced to $3.9 million. Still not deal. Now it's for sale at $2.9 million. Oops.
In what universe, you might ask, is an old, ugly beater house in Canada's third city worth even three million? How could anyone have been so myopic and possessed as to pony up well over four mill? Meanwhile, as reported here, a rural home outside Ottawa recently went for $1 million more than the listed price, and the average sale price in Toronto is now 111% of asking. Nationally residential real estate gained 31% in the last 12 months, and more homes sold in March (during a global pandemic) than any previous month.
By the way, it's worth recalling the last time a real estate bubble turned negative. What followed was a long period of stagnation. In the GTA it took seventeen years for the average house price to restore.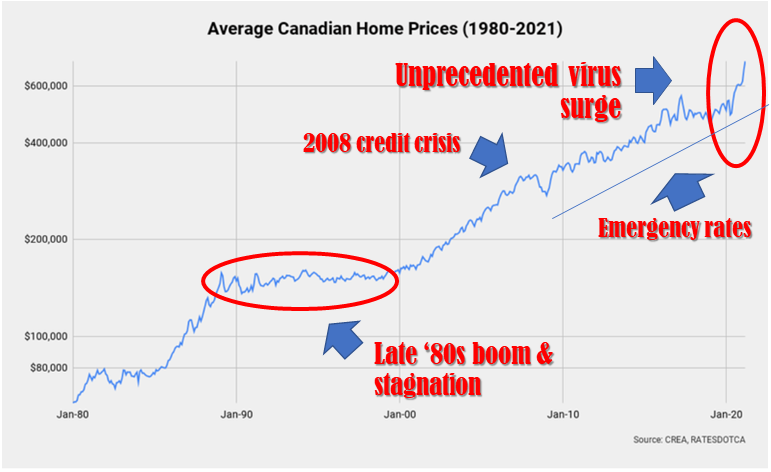 What could go wrong?
Lots. A ton of new listings could hit the market, overwhelming demand, knocking prices back. That could put recent buyers under water – and remember almost a quarter of GTA purchasers have debt-to-income ratios of at least 450%, considered to be in the red zone.
Interest rates could rise (the CB last week said as much). Mutated mutant virus variants could up the misery and spike the economy. Or the vaccines might work great, defeating Covid, repopulating downtown workplaces and making WFHers in faraway hick cities panic and sell. Maybe we just hit the price wall. Disgusted potential bidders quit. The market loses momentum and sinks.
Who knows? But experience tells us this much: bubbles do not deflate. They burst. And Wolfy wasn't born yesterday.
STAY INFORMED! Receive our Weekly Recap of thought provoking articles, podcasts, and radio delivered to your inbox for FREE! Sign up here for the HoweStreet.com Weekly Recap.