April 4, 2021 | The Melt-up Melt Down?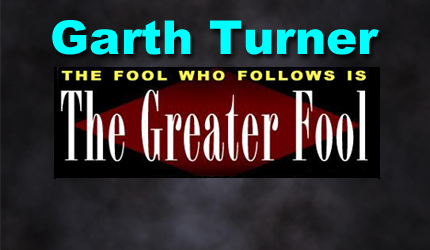 A best-selling Canadian author of 14 books on economic trends, real estate, the financial crisis, personal finance strategies, taxation and politics. Nationally-known speaker and lecturer on macroeconomics, the housing market and investment techniques. He is a licensed Investment Advisor with a fee-based, no-commission Toronto-based practice serving clients across Canada.
Planning on buying a home this month?
Don't. You'll probably pay too much.
Real estate analysts, economists, aficionados, experts and key players are now all expecting the same. Bubble, meet prick. The federal budget on Monday the 19th will either set up a blow to the housing market to be delivered by CMHC, or do the deed that afternoon. Either way, it's coming. The result, says mortgage broker/blogger Rob McLister is clear: "They're running scared because they've fallen behind the curve. They've got to do something to counter market psychology and the melt-up in home prices, and they will."
More on what's coming in a moment. First, here are the fresh stats, demonstrating without a doubt that Canadians are in the midst of a giant group pooch.
Vancouver's on fire. So are Delta, Squamish, Whistler and points in between. "Activity reached unprecedented levels in March," say local realtors, shocked. Regional sales are up 126%. Delta-South deals surged 195% and Whistler sales were up 196%. Detached houses in Van surpassed $1.7 million – and that is the muted Frankenumber, not even the average. It's a hike of 18% from last year. And, incredibly, things are even worse in Kelowna and across the OK.
Sleepy Victoria? No better. The average detached house price is now more than $1.1 million and demand for real estate, says the local board, "is overwhelming."
The sales increase was 93% in March with condo deals in a 112% moon shot. Listings have plunged by almost half as more and more owners figure they can no longer afford to sell, then buy. Average prices have risen 10%, but in a worrying explosion, values jumped 2.2% in March alone – an annualized 26%.
On the other side of the country, more astonishment. "Numbers continue to shatter records," says Halifax agent Jeremiah Wallace. "Both weekly average and median sales are well above any recorded reports this week, and just look at the weekly average sold prices!!" Indeed. The typical SFH is going for $520,255 (cheap by national standards), compared to $357,000 one year ago. Yes, that is a 45% increase. The sale-to-list ratio in the HRM is now 108% while the DOM (days on market) has crashed by two-thirds.
And, wow, look at Calgary. Lots of virus, too much unemployment, commercial real estate market in the toilet, fighting the political green agenda – and now residential real estate leaping irrationally. Sales in March jumped 277%, say local realtors. New listings also coursed higher, but not enough to satisfy demand. As a result the average price has jumped in the last few days to more than $534,000 – up an incredible 32.6% from year-ago levels.
No stats out of the GTA yet – those will come in the next day or two. They will be epic. But look at the story in southwestern Ontario. In blue-collar Windsor sales swelled almost 40% over March, 2020 levels and are ahead year-to-date by a third. Meanwhile the average price has blossomed even more than in Halifax – from $355,000 to $531,000, or 49.4%.
Does this sound sustainable to you? It doesn't to anyone in the biz, including major lenders like the banks. Over the last few weeks, as chronicled on this pathetic blog, economists for RBC, BeeMo, TD and Scotia have decried the FOMO sweeping Canada, warning the hammer will drop. Even the Bank of Canada and the Pollyannas at CMHC, as well as the house-humpers in hot zones like the GTA are now convinced Ottawa cannot fail to act.
The nation is still in recession and pandemic. The largest provinces are in lockdown. We just passed one million Covid cases. Unemployment is unacceptable, tourism and travel are dead for another season while tens of thousands of small businesses – restaurants, hair salons, gyms, retailers – will not survive. And now housing is being pushed beyond the reach of average families with average incomes.
The result? People are gambling. Stretching. Exposing themselves to any economic shock by borrowing excessively to ride a market they believe is racing past them. It's classic end-of-bubble behaviour. "Never before have so many homebuyers been so leveraged," observes broker McLister. Look at the number now taking loans exceeding 450% of their incomes. Truly scary.
Source: OSFI. TDSR – Total Debt Service Ratio.  LTI = Loan-to-Income ratio.
__________________________________________________________
So what happens?
Wait and see. It could be a drop in acceptable loan ratios, higher downpayments, a spec tax or restrictions impacting investors. But it will be something, and could hit the market broadsides.
Do you really want to have just 'won' an emotional, excessive bidding war and handed over your certified $100,000 deposit cheque to buy a property whose worth could be torpedoed by Chrystia the Impaler at 4:30 pm ET fifteen days hence? Will the appraised value drop? Will the lender balk at financing what you need? Will you be trapped? The greater fool?
These are days one looks back upon, asking, 'How did I not see that coming?'
STAY INFORMED! Receive our Weekly Recap of thought provoking articles, podcasts, and radio delivered to your inbox for FREE! Sign up here for the HoweStreet.com Weekly Recap.