April 1, 2021 | Game-Changer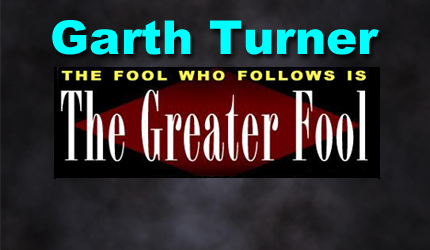 A best-selling Canadian author of 14 books on economic trends, real estate, the financial crisis, personal finance strategies, taxation and politics. Nationally-known speaker and lecturer on macroeconomics, the housing market and investment techniques. He is a licensed Investment Advisor with a fee-based, no-commission Toronto-based practice serving clients across Canada.
Just in time for spring showers, spring flowers and puppies (at four grand a piece), we have new lockdowns. Covid ain't giving it up. BC is shuttered. The crazy Kelowna ski hill kids are all fired. Ontario hears the bad news today. ICUs are full. Public health officials are scary. Schools going remote again. Every province is screaming for vax, and the variants are winning.
As you know, real estate open houses are gone. Home inspectors (if you're lucky enough to engage one) get sixty minutes to do a five-hour job. Appraisers are turning mean. Even realtors in PPE have not been enough to scare off house-horny, FOMO-infested buyers.
It's a weird, mystifying time. Are things getting better or worse? Will downtowns ever repopulate? Why have only 14% of Canadians received one jab when 30% of Americans have been dosed? Why are financial markets at record levels when we're entering the second year of a global pandemic?
Here are a few notes. Try not to throw up.
"For the first time in 5 years the two heavyweights of the Canadian housing market have broken above their previous peaks," says YVR housing analyst Dane Eitel. "Both real estate market values are now in uncharted territory, implying a new growth cycle is in its infancy.  The new highs created in February were $1.869M in Greater Vancouver & $1.684M in Toronto."
Why has this happened, other than pandemic-bred demand for space?
More importantly but less obvious was the banks' ability to issue new mortgages to the increased applicants. This was enabled due to the Mortgage Bond Purchasing Program (CMBP) introduced by the Bank of Canada beginning in March 2020. The program enabled the BoC to purchase up to $500 million in secondary mortgage monds per week.
By the way, this easy-mortgage program has cost the central bank (and us) $8 billion.
And what does the Bank of Canada boss say our most inflated, dangerous and ubiquitous asset? "Canadians are stretching and that is worrying." Governor Tiff Macklem told the Financial Post. "If Canadians are basing their decisions on the kinds of price increases that we've seen recently are going to continue indefinitely, that would be a mistake. They're not sustainable."
Suck. Blow. Creds, zero.
Meanwhile 63% of Canadians have FOMO, expecting house prices to keep rising. So they carry on spending, buying and borrowing.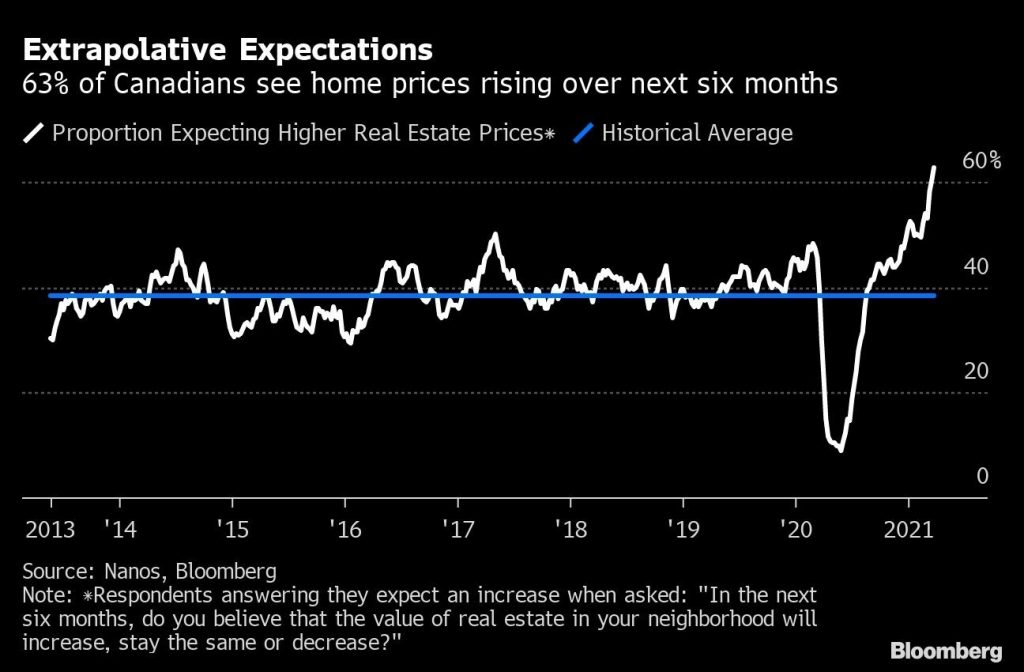 Are speculators, flippers and scuzzy renovestors making this market insanity worse?
In a shocking report, Re/Max says no (seriously). "Bully offers and bidding wars are commonplace in the current market, with demand outpacing supply in virtually all areas of the GTA and the winner buyer paying top dollar. The current environment is simply too hot for investors and builders." So why is this happening – other than oceans of ridiculously cheap money, pimp bankers, manipulative realtors, greedy sellers and widespread social insanity?
Low interest rates, of course. Plus big equity gains, "inspiring existing homeowners to trade up to larger homes or better neighbourhoods – both in and outside of the city." Also the Covid cash that governments have thrown around plus savings caused by WFH have swollen household cash reserves, says the real estate-flogging firm. The savings rate of 1.4% in 2019 is currently 13%. And bidding wars, blind auctions and inflated offers have just pumped up more demand – because people really, really, really what the stuff they can't have.
And what are the vaccines doing now that the overlord Boomer class is getting jabbed?
More will be listing, realtors say, as they feel immune from the virus and decide to cash in their chips, selling in the midst of an historic storm to some crazed Millennials willing to swallow a lifetime of debt to buy their old house without conditions, caution or common sense. And what a retirement bonanza that will be – sucking windfall gains out of torrid, teetering real estate and putting them into financial markets now on the verge of a Roaring Twenties, post-bug romp.
Did you see the latest?
The S&P 500 – the world's most important equity market – just broke through 4,000 for the first time. Inflated like a bungalow in Etobicoke? Nope. This is solid, broad-based and likely the precursor for a lot more to come.
US consumer confidence is the highest in years. Two million people a day are being vaccinated. The jobs stats to be unveiled in the morning are expected to be awesome – maybe a million new hires in March. Biden's unveiled a $2.5 trillion infrastructure bill. It comes atop the $2 trillion Covid recovery bill. Tech stocks have taken off again as bond yields moderate. Cyclical, old-school issues are also climbing because the economy is reopening. Virtually all 11 sectors of the market are flashing green.
Don't tell the house-lusty Mills, but the game has changed. Enjoy your forever mortgages, kids.
STAY INFORMED! Receive our Weekly Recap of thought provoking articles, podcasts, and radio delivered to your inbox for FREE! Sign up here for the HoweStreet.com Weekly Recap.