April 29, 2021 | Buy Pants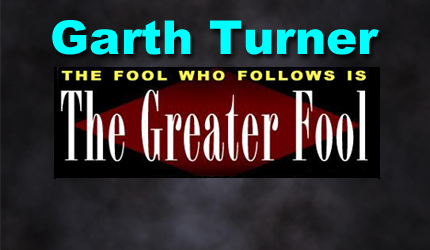 A best-selling Canadian author of 14 books on economic trends, real estate, the financial crisis, personal finance strategies, taxation and politics. Nationally-known speaker and lecturer on macroeconomics, the housing market and investment techniques. He is a licensed Investment Advisor with a fee-based, no-commission Toronto-based practice serving clients across Canada.
A social phenom, wrought by the virus, has rocked real estate. Thus, houses in Woodstock, Kamloops, Windsor and Sechelt have gone nuts. Lots of people think they'll never have to visit the office again. So they moved to the boonies where real estate was cheap. And that's made houses everywhere go parabolic.
WFH has been a revolution. Most employees love the lack of supervision, the time flex, the cost savings and the end of the daily commute. With five million people doing it, residential property prices in the sticks have soared while commercial real estate values and downtown businesses have croaked. But now as the Third (and final) Wave of Covid is inevitably crushed by herd dosing, everybody who moved to Armpit must ask: is this the new normal? Or is the staycation over? Also, what have I done?
First, look at what's happened. It's stunning.
Last month residential sales in Mississauga, for example, jumped 86%. More amazing is the average home price – it was around $500,000 in 2015, and has now doubled. The average place costs 16% more than year ago, at just over $1 million, and detacheds average just under $1.3 million (a 19% gain). Re/Max, which says this is all just wonderful news, attributes the housing inflation to "a mass exodus of condo-dwellers from downtown Toronto".
Yup. That's the WFH effect. Looking for more personal space and thinking they can be spared the soul-sucking commuter GO Train trek into the Big Smoke because 'it's different this time' young buyers poured into the hinterland. Look what happened…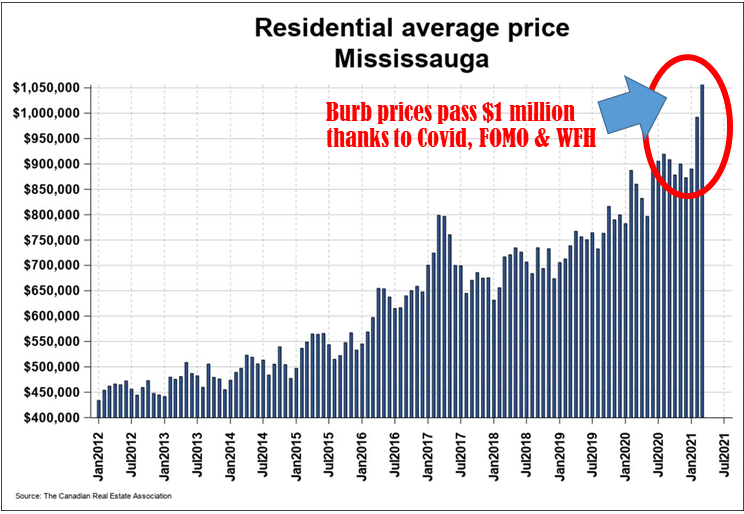 Of course, this is not just a 905 thing. New buyers have flocked into Halifax from Ontario, into Kelowna from Vancouver and into London from Toronto. Year/year prices in lots of places where a buyer used to be lucky to sell at all have jumped 30% amid multiple bids. It's nuts. And at the very epicenter of this stampede is the way so many have convinced themselves that remote work is now permanent.
Some companies and employers will be happy to shed costly real estate and have a network of colleagues who never work F2F. But a shocking number won't.
Coincidentally, as I write this a blog dog, Joe, posted this comment:
Just had quarterly company meeting of 300 employees. Expect everyone back in the office , to maintain company culture, collaboration, discussion, bbq's, mentoring for younger employees.
It's no surprise surveys find the majority, especially those under 35, want to stay working at their own pace, without pants, from home. Who wouldn't? What's odd is that people in this age bracket are usually entering into peak career-aspirational years, looking for advancement, pay increases, serious responsibility and employment security. At least they used to. That was before this life-work-balance nonsense conspired with a global pandemic to rewire the brains of an entire generation.
But the question is: will WFH be ubiquitous? Will it still be here when Covid's long gone? Will several thousand years of human history and steady urbanization be replaced by Zoom calls and downtown decay?
Answer: Nah. Not a chance.
In the UK there are reports office occupancy rates are back into the 40% range after falling to single digits. NYC has announced the end of pandemic restrictions, effective July 1st. This week JPMorgan boss Jamie Dimon told hundreds of thousands of workers they need to plan their return in two months. The memo said, "We would fully expect that by early July, all U.S.-based employees will be in the office on a consistent rotational schedule. With this time frame in mind you should start making any needed arrangements to help with your successful return."
At competing bank Goldman Sachs Group, WFH is being called "an abearration" in need of correction. Until social distancing rules are fully removed, not everybody will be at their old desk. But the direction forward is crystal. ""We firmly believe that working together in person is important for our culture, clients, businesses and teams, and we know that you'll do your part to make it a positive experience that reflects our company at its best," says Dimon.
But wait. The banks may be run by paleo overlord, prehistoric, knuckledragging Boomers, but what about the tech guys? Aren't they more sympathetic to Millennials and GenZers who want quality time during the day to skateboard and walk the Frenchie?
Well, not Google.
Chief People Officer (yeah, that's actually a title) Fiona Cicconi says Google will reopen offices on a regional basis as virus cases fade. "If employees want to work remotely after Sept. 1, for more than 14 days per year, they'll have to formally apply for it," she told the masses (the company has 150,000 workers). Moreover, (a) Google expects all workers to "live within commuting distance" of the office, and (b) those who want to stay WFH could see incomes reduced. "The company may adjust employees' salaries based on where they work."
By the way, Uber and Microsoft have also reopened their offices to employees.
Finally, here's news that should surprise nobody: WFH people are willfully sacrificing their careers, trading sweat pants and dodgy personal hygiene for advancement. The British Office for National Statistics finds remote workers are less likely to be promoted or receive a bonus. This "could reflect biases in the labor market, with people who worked mainly from home being overlooked for promotions and bonuses due to a lack of visibility at work. It could also reflect a preference for non-monetary benefits, such as flexibility and a shortened commute."
WFH is the reason ticky-tacky suburban boxes and hick houses few wanted two years ago are sexed-up and worth millions.
When WFH ends, so will that.
STAY INFORMED! Receive our Weekly Recap of thought provoking articles, podcasts, and radio delivered to your inbox for FREE! Sign up here for the HoweStreet.com Weekly Recap.