March 30, 2021 | The Ladder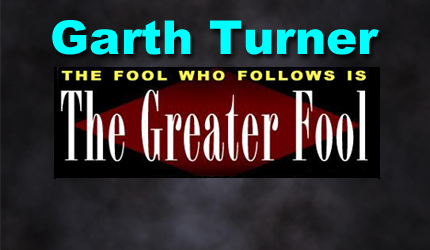 A best-selling Canadian author of 14 books on economic trends, real estate, the financial crisis, personal finance strategies, taxation and politics. Nationally-known speaker and lecturer on macroeconomics, the housing market and investment techniques. He is a licensed Investment Advisor with a fee-based, no-commission Toronto-based practice serving clients across Canada.
The rating agency Fitch periodically parses our silly housing market. The report it produces goes to institutions dealing with residential mortgage loans collateralizing covered bond programs and residential mortgage-backed securities. That's probably not you. But here's the interesting conclusion:
Fitch's Sustainable Home Price is derived by benchmarking the current local home price against the sustainable value suggested by the long-term home price-to-income ratio multiplied by the current income level. Under this methodology, Fitch views Vancouver and Toronto as currently overvalued by 23% and 32%, respectively.
Huh? Toronto prices overvalued by a third?
That would mean those suckers now paying $1.6 million for a so-so detached house are coughing up $512,000 more than the place is worth. Or should be worth. If that surplus were invested for 20 years in financial assets it would likely grow to $2 million and provide $120,000 annual income for life. So, this is consequential.
RBC's new real estate survey is also scary. "The near-term outlook is grim for home buyers," it states, flatly. "Further price escalation in the early months of 2021 has made their prospects even more challenging."
The bank says price hikes in the last few months obliterated the advantage of cheapo mortgages (now increasing). And, as noted on a certain pathetic blog, the fever has spread beyond Toronto, Vancouver, Montreal, Calgary, London, Kelowna, Hamilton and Haifax to the hinterland.
The search for larger living spaces, and reduced attachment to live in, or near, core urban areas took many buyers to smaller, more affordable markets. This spread the housing fever around, such that these usually calmer markets recorded some of the larger price increases—narrowing their affordability advantage over big cities.
So, it's more unaffordable to buy now than when the cost of money was seriously higher. "We expect affordability pressures to build further," adds the bank, "possibly significantly more. Rapid price escalation in smaller markets will make buyers' pursuit of a home they can afford even more challenging."
In short, stop buying. Stop even trying to buy. Cease looking at Realtor.ca. Or HouseSigma. Or Viewpoint. Or any other real estate porn site. It's pointless. We all just have to wait for 'something' to happen. More on that in a minute.
There is, however, one remaining exception. Condos.
In key markets where the crazies have been bidding their butts off for detached homes, condo buyers have been quietly finding value. "There is no comparison," says an agent in Ottawa, where the market is aflame. "With a condo now there's room to negotiate, while most people head for the suburbs."
True. Condo prices have increased there by 17% in a year, but detacheds are up 30%. DOM for properties with dirt crashed by half, while they've actually risen for condos. And in Toronto, a similar tale. Yes, that 15-20% price plop this blog flagged before Christmas has been sopped up since, but sale values are still flat year/year even after a stunning 85% surge in sales. Now, says CIBC economist Benny Tal, investors are keen to grab DT condos in advance of the virus defeat and urban renaissance (did you see the news today about Pfizer?) even if they have to subsidize renters for a year or two.
And, yikes, look at what Benny just told Bloomberg: "If you think that Toronto is unaffordable now, you wait. Toronto is becoming like Berlin, like London, like Manhattan. It's becoming more and more unaffordable, and therefore we know that our kids will struggle."
By the way, the average Ottawa condo costs $407,000, while the average detached is $718,000. In Toronto the numbers are $654,000 vs $1,646,355. So if you want on the property ladder without choking on debt – and don't mind germy people in the garbage room – it's an option.
Now for the useful part of this post.
Blog dog Tim points out that cheap rates and FOMO get a lot of the blame for our collective housing stupidity. But there's more. "I can't help but wonder if the sale process facilitated by blind auctions can't be partially responsible for helping the inflation of real estate assets," he says.  "In a situation of asymmetric information where the seller and not the potential buyers know the quality (size, number, conditions on each) of the bids, it's easy to see the potential for asset inflation where potential buyers are manipulated through limited information to squeeze every last dollar of their net worth into a bid, and the fallout down 'the street when 3 weeks later the house down the street is listed and the previous inflated sale becomes the new 'comparable'."
His proposed reforms: (a) Ban blind auctions. Make the process transparent so all can see the amount of money on the table. "My guess is that this would have a net effect of dulling the amount of excess froth in an already dull market." And, (b) force sellers to provide a current home inspection report.
This would serve two purposes: The first is to put an end to the horror of conditionless sales where the bid "winner" discovers that they have to pay $50k removing asbestos and replacing knob and tube electrical before an insurance company will let them take possession of their asset. This also creates a better assessment of true value. The second being that it creates a disincentive for real estate agents to re-list a property after no activity, changing the narrative that homes are a risk-free asset class that always goes up.
Good ideas. Easy to implement. Broad in effect. Cost to implement: zero. Tim for PM.
STAY INFORMED! Receive our Weekly Recap of thought provoking articles, podcasts, and radio delivered to your inbox for FREE! Sign up here for the HoweStreet.com Weekly Recap.