March 4, 2021 | Off The Charts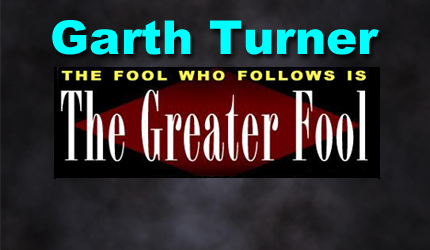 A best-selling Canadian author of 14 books on economic trends, real estate, the financial crisis, personal finance strategies, taxation and politics. Nationally-known speaker and lecturer on macroeconomics, the housing market and investment techniques. He is a licensed Investment Advisor with a fee-based, no-commission Toronto-based practice serving clients across Canada.
Are we out of control yet?
Oh, you bet. 'Insane' was January. Now it's Elon-Musk-batshit-crazy. (That's a technical term.)
Look at little Kelowna, for example. An okay house up the hill on Bowron Street had an appraised value of $626,000 last summer. It just hit the market for $920,000, with a realtor's note saying, "Priced to sell!!! Sellers have young children. Long closing or rent-back requested." Offers will be reviewed Sunday at five. Multiples are expected.
"Kelowna is having a Vancouver moment here," says our undercover Blog Dog agent. "Listing prices are shooting 200-300k over assessed values and up about 150k in price from just a few months ago and it is going to show big in upcoming data.
"Who are the buyers? From what I have seen as a small snapshot is mid 20s, Caucasian couples with kids. There are crowds of them showing up to these listings that are selling day-of. Anyway, I have never seen anything like this in my life, which includes 15 years in Vancouver during the mania of 2007 and 2014/2015."
Sales-to-listing ratio goes nuts in the Okanagan
Click to enlarge
And you heard about the GTA?
A few weeks ago we reported the average property price would exceed $1 million this year. Well, it did that in a few days. Up 15% year/year to $1,045,488. Detached sales in 416 jumped 23% to $1.6 million. In the soulless 905 there were 28% more deals for SFHs, taking the average to $1.3 million. And let's remember that for most of the past 100 days the region has been in a stay-at-home-or-die lockdown. The realtors (gleefully) forecast more: "In the absence of a marked uptick in inventory, the current relationship between demand and supply supports continued double-digit average home price growth this year."
It's everywhere. Ottawa. Halifax. Montreal. Victoria. Even in Calgary sales exploded higher by 55%. In Vancouver transactions are 73% above this time a year ago – before the virus hit and when we were still naive
The gain is across property types, too. Look at Toronto condos, for example. Last month sales surged 65% as investors swooped in to Hoover up listings that had oh-so-temporarily dipped about 15% as renters were crushed.
Meanwhile mortgage debt has rocketed, rates have begun to creep higher (bond yields erupted again today) and all the dosing promises to reopen society. Contributions to TFSAs and RRSPs, as well as corporate pension plans are flatlining or declining. Every day that goes by, FOMO and YOLO guarantee more families will be buying real estate at all-time inflated values because, well, it's going to the moon with Elon!
This, says Scotia's big economist. Derek Holt, "is off the charts. Ottawa has been caught completely off-guard in the magnitude of the housing response to very low financing costs." His prediction: Chrystia the Impaler's virgin budget – likely to come next month – may well include "macroprudential regulatory measures" to stem what's clearly become a dangerous mania. Without curbs, this guarantees the average family will never afford the average house and the evil wealth divide in society yawns even further.
Vaccines change everything. They make it possible for the feds to drop the housing hammer – something that was not on anyone's radar when this nonsense started last summer.
What could that be?
Hmm. As you know, Ottawa's tried to stop the real estate juggernaut before. Amortization periods were cut, down payments modified, debt ratios changed, insurance costs increased, a mortgage cap introduced and a stress test hatched. Plus provinces have increased transfer taxes, allowed a levy on under-used homes, taxed speculators and offshore owners and coddled renters at the expense of landlords.
Nah, nothing worked. So what will?
There could be a cue in a speech given a few years ago by the outgoing CMHC boss, wild Evan Siddall. Prime targets of macroprudential diddling, he suggests, are down payments and loan ratios.
Did you know it's only been since 1998 that buyers needed just 5% down to secure an insured mortgage – moving risk from the lender to the taxpayer? Yup. Before that only first-timers could use that amount of leverage, and prior to 1992 everybody had to have at least 10% to put down.
"Politicians are tempted to help first-time homebuyers enter the market, but low down payments may be part of the problem adding to affordability pressures and macro-economic vulnerabilities," said Siddall.
"Coupled with the personal exemption from capital gains taxes on the sale of principal residences and other programs, Canadians have very powerful incentives to own homes… I have yet to be convinced that people in our country "need" access to 19:1 leverage to buy homes. In fact, it may be a fool's bargain with the extra demand simply feeding higher house prices: the benefits of the policy accruing to wealthier home sellers rather than to the young first-time homebuyers it purports to help."
You bet. It's obvious. Either down payments go up or the capital gains exemption is trimmed.
As for the amount people can borrow relative to what they earn, maybe it's time for a cap, says Siddall. "In a low-for-long environment, it is also worth exploring the future merits of a loan-to-income limit, which the U.K., Ireland and others have introduced."
What's that?
It means hard-capping the amount a person can borrow based on earnings, rather than deciding if he/she can carry the debt. In the UK, the cap since 2014 has been 4.5. Imagine what that would mean in, say, Vancouver where average houses cost 11 times average incomes.
Will Mr. Socks & Crew address this runaway asset, or let her rip? The needle may just have flipped.
A seller's market across Canada… like no other
Source: CREA; RateSpy
STAY INFORMED! Receive our Weekly Recap of thought provoking articles, podcasts, and radio delivered to your inbox for FREE! Sign up here for the HoweStreet.com Weekly Recap.