January 5, 2021 | El Predicto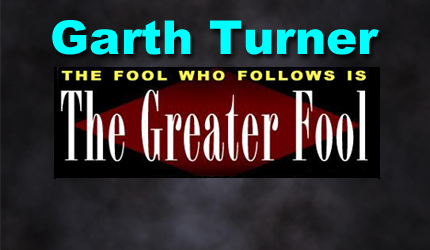 A best-selling Canadian author of 14 books on economic trends, real estate, the financial crisis, personal finance strategies, taxation and politics. Nationally-known speaker and lecturer on macroeconomics, the housing market and investment techniques. He is a licensed Investment Advisor with a fee-based, no-commission Toronto-based practice serving clients across Canada.
Covid 2.0. Trump. Lockdowns. Proud Boys. Vax cock-up. * Sigh*
And here we thought 2021 would be so… different. Wiggly and joylessly benign like a new pup. Instead we're getting a wizened cur with hunks of red torso hanging from its chops.
But wait. The year's only a few days old. Let's have faith that vaccines, common sense and chastened leaders will make the next twelve months far better than the dumpster fire in the rear-view. In that spirit, GreaterFool, the home of world class steerage section epidemiologists, infectious disease gurus, virologists and immunization mavens, now turns its attention to what comes next for real estate.
Yes, and there's a great deal to digest. Pay attention.
First, whither mortgage rates? There are two factors which, above all, drove the 2020 real estate miracle. One of them is the cost of money. Five-year home loans have sunk to 1.5%. Incredible. What now?
Well, we may know later tonight (Tuesday). If the Biden Dems sweep the Georgia elections then blues will control the US Senate. That pretty much guarantees more government spending, more Covid stimulus and bigger deficits. If it happens, US bond yields will likely increase, taking Canadian debt along for the ride. This will nudge home loan rates higher months earlier than expected.
If the reds keep the Senate (only one of two Republicans need win for that to occur) CBs will likely hold the course until this time in 2022 (or later). RBC says the first Bank of Canada hike will come in the second half of that year. However mortgage costs could rise sooner because, "Yields are expected to move progressively higher in 2021 as growth momentum both sides of the border accelerates." James Laird, of Ratehub.ca, grees. "Expect bond yields to rise which will cause mortgage providers to modestly increase fixed rates, particularly at the end of 2021." So, yeah, best to lock in.
The other big thing? WFH, of course, and its impact not only on sales and prices, but entire cities and regions. And not just in Canada. Can this continue even as vaccines roll out, workplaces repopulate and bosses demand that employees cart their backsides downtown?
The real estate cartel is certainly expecting so. Moody's believes lower-density markets outside big cities will pop further, "driven by demand for properties with more space for working from home." In the US, Redfin says this: "Areas with the fewest Covid-19 cases per capita are now seeing 60% faster growth in the number of people listing homes for sale than areas with the most cases per capita." And that's being replicated in Canada. For example in NS, where only two dozen mild cases of the virus exist today, real estate in Halifax and environs has plumped up to 40%.
And look what's happened in Ontario, says Mortgage Broker News:
The secondary markets being buoyed by the urban exodus are not likely to remain affordable alternatives for long. Competition is already flaring up in off-the-beaten-path communities like Bancroft, Ontario, where the average home price in November 2020 was 24.3% higher than a year before, and in Woodstock, Ontario – population 40,000 – which saw its benchmark price for single-family homes leap 28.4% year-over-year in November.
But all this WFH exodus from the cities is having an impact not only on prices, but also on the number of 'cheap' houses that are available in the boonies, burbs and hick cities…
After 2020's feeding frenzy, we expect the overall number of sales to suffer this year, not because of a lack of demand but because of a lack of available inventory. Long-time single-family owners who refinanced at today's lower rates are sitting quite pretty and may have even less reason to sell. The booms seen in cities like Fredericton, Regina, and Quebec City took a major bite out of some of Canada's few well-stocked housing markets. Without any data modelling to rely on, we still see sales holding their own against historical averages, but coming up somewhat short compared to 2020, probably by about 2-4%.
Meanwhile Covid madness has also been transforming the US. It's expected that this year 14.5 million Americans will uproot themselves and move – mostly out of the smoke and into the hinterland. That's the biggest exodus in 16 years and at the same time the homeownership rate in America is expected to top 70% – the first time that's happened in a decade and a half (before the crash). Says Redfin: "Many employers will decide to stop expanding their offices in expensive cities like San Francisco, Seattle, Boston and New York and instead expand their satellite offices in more affordable cities like Phoenix or Atlanta. This will encourage even more office workers to leave expensive cities."
And as the population shift happens – at least among the privileged WFHers who can afford to do so – the city's condo stocks will continue to devalue until the vax lift kicks in. Ratehub.ca figures prices will keep falling for six months, then reverse. That will occur as vaccinations allow Airbnb to restore, when the uni students return, when immigration fires up again and as detached house prices soar, making condos the only viable option for newbie buyers.
So, what about prices?
Vancouver is "ready to surge," says Royal Lepage, after a long stagnation. Up 9% on average. "We're dealing with not just a few weeks of pent-up demand in Vancouver, we're dealing with three years of pent-up demand," says the firm.
Veritas believes mortgage deferrals coming to an end could drag down Toronto prices by 15%, but almost nobody agrees. CIBC is calling for a 3% increase. Lepage pegs it at 5.7%. Say the mortgage brokers: "We believe the national average home price will rise more than 10%, driven by demand for properties in smaller communities in Ontario, B.C., and Quebec, where prices have ample room to grow. Can Toronto put together another year of 10%-plus price growth? We wouldn't bet against it. Too many people want to live there."
Well, now you know.
My advice? No change. If you need a house and can afford one without gutting your finances or skewering your family, go ahead. Just don't expect next year to look like last year.
STAY INFORMED! Receive our Weekly Recap of thought provoking articles, podcasts, and radio delivered to your inbox for FREE! Sign up here for the HoweStreet.com Weekly Recap.