January 14, 2021 | 3 Important Charts for Gold Investors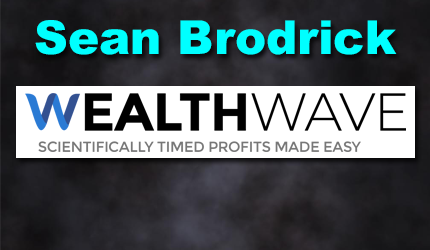 Sean is the natural resource analyst for Weiss Ratings. You can read his thoughts on gold, oil, cannabis, uranium and other natural resources at Wealth-Wave.com
Today, we're going to talk about why gold is down and why it's likely going much higher. I'll also show you some charts that will help guide you along the way.
First, let's talk about gold's pullback. Gold tumbled last Friday and has been in a downtrend since. This broke an uptrend that I thought should hold. But the market likes to make a fool out of everybody.
So what happened? Two things:
1) Rising real rates, and

2) the Fed is scaring the gee willikers out of traders.
Let's deal with the Fed, first.
Jaw-Flapping Stokes Fears
See, in the past week, four of the Fed's 18 policy makers flapped their jaws about MAYBE reducing the Fed's bond buying — currently running at $120 billion a month — by year's end.
Bond investors collectively browned their trousers and responded by pushing up yields on longer-duration Treasuries, steepening the spread between rates on two- and 10-year debt to around the widest in more than three years.
This reminds battle-scarred investors of what happened during the market's Fed "taper tantrum" in 2013. If you can remember, that's when Federal Reserve Chairman Ben Bernanke announced that the Fed would, at some future date, cut back on bond purchases. Stocks wobbled lower a bit … but gold fell by more than 25%.
Why did gold over-react? Because of that rise in long-term yields I talked about. Bonds went from very little yield to a decent yield, all on expectations. Since gold doesn't have a yield, investors looking for safety shuffled some money from gold to bonds.
Real Yields Are the Real Deal
This brings us to the second point: Real yields. The real yield is the 10-year bond minus inflation. It's been drifting lower for a long time. And that, in turn, pushes up gold because ultra-low yield bonds lose every contest to gold.
But what happened recently? Yields have gone up … and real yields with them. And that's weighed on gold.
I believe this is short-term. Gold is going higher for all sorts of reasons. And I'm going to show you some charts to explain why.
We'll start with a chart of gold and real yields …
This shows the inverse relationship between real yields and gold. In fact, real yields are probably the most important predictor of gold prices in the short term. You can see real yields are rising. And that's weighing on the metal.
But will yields stay low?
As I said, four of the Fed's policymakers are talking about how the Fed will have to wind down bond buying. But half of the remaining policymakers are talking about inflation and higher rates.
The latest was St. Louis Fed President James Bullard. On Wednesday, he said that everything that generates higher inflation is pointing in the same direction: UP!
And he singled out deficits. If you think that fiscal deficits lead to higher prices, those are "off the charts," Bullard said.
Well, funny enough, consumer inflation — the cost of living — surged in December. The consumer price index (CPI) rose 0.4% last month according to a government report released on Wednesday, the largest gain since August. That makes for a year-over-year rise of 1.4% — still below pre-pandemic levels. But a lot higher than it has been in a long time.
Gold is well-known as a hedge against inflation. It probably won't take too many more signs of inflation heating up for real rates to go lower — because real rates account for inflation — and for investors to start stocking up on gold.
In the meantime, talk about a bargain bonanza!
Gold Miners Are Cheap!
Here's a chart from the commodity specialists at Sprott. It's an eye-popper.
As you can see, free cash flow yields from the gold miners are at all-time highs, while valuations are at all-time lows. Gold miners' balance sheets are clean and debt levels are low, which makes for positive net cash. Capital expenditures (Capex) is also near lows. And earnings expectations are shifting into higher gear. Dang right, gold miners are bargains.
So when should you buy? I have one more chart for you, this one is of the SPDR Gold Shares (NYSE: GLD), the world's biggest gold ETF. It tracks the price of gold closely.
You can see that anytime the GLD tests its 200-day moving average, that's usually a great time to buy. That's because the 200-day moving average is seen as a dividing line between the long-term uptrend and downtrend. When the GLD — and gold — tests that, investors are panicking. And counterintuitively, that's a great time to buy gold.
Looking at this, it's easy to see gold is close to starting a run back to AT LEAST its highs from August. And it could go much higher.
After all, President-elect Joe Biden just made a speech in which he said America should "set aside deficit concerns" in spending to fix infrastructure, healthcare and more.
The sky's the limit on spending. That's usually bearish for the dollar, and quite bullish for gold.
All the best,
Sean
STAY INFORMED! Receive our Weekly Recap of thought provoking articles, podcasts, and radio delivered to your inbox for FREE! Sign up here for the HoweStreet.com Weekly Recap.