December 3, 2020 | Forensics Geeks Don't Lie, nor Are They Crazy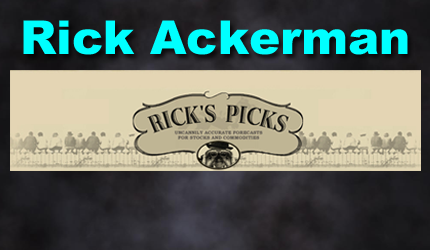 Rick Ackerman is the editor of Rick's Picks, an online service geared to traders of stocks, options, index futures and commodities. His detailed trading strategies have appeared since the early 1990s in Black Box Forecasts, a newsletter he founded that originally was geared to professional option traders. Barron's once labeled him an "intrepid trader" in a headline that alluded to his key role in solving a notorious pill-tampering case. He received a $200,000 reward when a conviction resulted, and the story was retold on TV's FBI: The Untold Story. His professional background includes 12 years as a market maker in the pits of the Pacific Coast Exchange, three as an investigator with renowned San Francisco private eye Hal Lipset, seven as a reporter and newspaper editor, three as a columnist for the Sunday San Francisco Examiner, and two decades as a contributor to publications ranging from Barron's to The Antiquarian Bookman to Fleet Street Letter and Utne Reader.
You need only watch Giuliani's hearings on election fraud for an hour or so to understand how the computer geeks could overturn Biden's win. It's like having a seat behind the scoreboard for Bobby Thomson's "shot heard 'round the world." Forget all the supposed right-wing-conspiracy stuff, including charges that Dominion, the voting-machine company, shares DNA with Hugo Chavez. It turns out that this is verifiably true — has been verified, actually, even if no one from the Washington Post or the New York Times could be bothered with such a trivial task. Neither, quite evidently, have they looked at Dominion's operator's manual, which apparently explains in so many pages how to hook up their equipment to the internet. Dominion has flatly denied this can be done, so confident are they that no big-league reporters would think to ask them for a copy of the manual. No matter. The truth about the company will out eventually, but it's not crucial to Trump's case; nor for that matter are strong accusations from Trump himself.
Amidst the din of denial, The Wall Street Journal embarrassed itself last week with a laughable item about how the President has been telling those closest to him that he knows he's lost the fight. Yeah, sure.  Watch him the next time he's on TV and judge for yourself whether he's ready to pack it in. With recounts continuing, the news media have sustained an ostentatious yawn for nearly a month. If this were Nuremberg, they'd be high-fiving Bormann's defense team. Keep pretending nothing happened, you jag-offs, because the forensics whizzes are about to knock you on your ass. Their Einsteinian grasp of election math may not provide the hard evidence skeptics say has been missing, but it will point auditors in precisely the right direction to determine exactly how fraud was committed.  The data experts are right out of central casting, for sure — boring "suits" who drone on about variable integers and decimal stops. But they know what they know, and they know it so well that one of them actually said on TV that he'd stake his life on his conclusion that massive fraud took place in Pennsylvania.
Toppling a Wall of Denial
The news media have done a pretty good job smacking down a thousand incriminating moles that have popped up during testimony in five contested states. Unfortunately for Biden and Rachel Maddow, the power of just one small truth is enough to topple a towering wall of denial.  The naysayers seem to think that if they keep batting down the wing-nut stuff, eighty million Americans will just forget about some particularly troubling stories that are glowing radioactively and eventually will detonate. One of them literally recounts Biden's amazing late-night comeback in some Michigan precincts where votes totaled as many as 130% of registrants. Another concerned a truckload of paper ballots that were transported from New York to an empty lot in Pennsylvania. Assuming this actually occurred, as one elections expert testified during Wednesday's hearing in Lansing, it could only have been for the purpose of shuffling pallets of bogus paper into Pennsylvania's tabulators. There are so many hundreds of these stories in play right now, most of them introduced via sworn testimony, that even if only a score of them turn out to be true the election would be irredeemably compromised.  To say there is 'no evidence of fraud', as nearly every major news outlet has been doing, is an affront to all decent Americans regardless of their politics. A lie this big cannot and will not stand.
STAY INFORMED! Receive our Weekly Recap of thought provoking articles, podcasts, and radio delivered to your inbox for FREE! Sign up here for the HoweStreet.com Weekly Recap.