October 29, 2020 | The Big Plan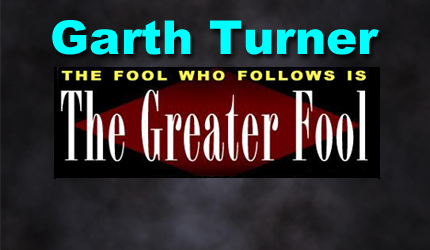 A best-selling Canadian author of 14 books on economic trends, real estate, the financial crisis, personal finance strategies, taxation and politics. Nationally-known speaker and lecturer on macroeconomics, the housing market and investment techniques. He is a licensed Investment Advisor with a fee-based, no-commission Toronto-based practice serving clients across Canada.
My, my. A third of Canadians tell pollsters they'll "never" recover from the Covid crisis. Four in ten say they can't withstand a second wave. As many state their financial lives have totally sucked since March. Worst hit? Those in their forties and fifties. Half say recovery is impossible and they're already depleting savings to get by.
Are these people just being drama queens? Hasn't residential real estate and a cheap mortgage made everybody rich?
Nah. TD economists say 97% of us haven't bought, sold or moved since the pandemic began. All this added wealth is illusory at the moment. More important are jobs and cash flow.
So where's the bug at this week?
Not good. Over 81,500 new infections and a thousand fresh deaths in the US yesterday. New peaks are being hit. Can a hundred thousand daily cases be far off? By election day maybe? In Europe, it's a big mess. France, Germany and the UK are being whacked. New lockdowns. Economic activity curtailed. As a result, (a) stocks are taking a beating, especially in the absence of a US stimulus package (they're still arguing) and (b) poor Alberta. Oil plunged another 6% on Thursday because the virus is taking cars and trucks off the road, destroying demand.
Cases are way up lately in most of Canada, too. But relatively speaking we're a paradise. Still, the defeatist attitude is telling. And here's what it says: most people have more debt than assets, savings and investments are inadequate, they live paycheque-to-paycheque, the bulk of net worth is in one asset meaning their ability to survive for a few months in a changed world is, well, close to zero.
Real estate did that. You know it. We're a one-trick-pony nation now. Hell, a quarter of the entire GDP might as well have "MLS" stamped on it.
Sadly, our central bank is bent on rendering the situation worse.
This week the Bank of Canada was very careful to make three things clear: rates will not be going up until 2023; it'll spend billions a week buying long bonds so mortgage rates stay artificially low; and dig this statement –  "It means that if you're a household considering making a major purchase you can be confident that interest rates will be low for a long time." Yup, the Tiffer actually said that. He might as well have suggested he send over his realtor brother-in-law to see you and have a brewski.
And just to reinforce this, the BoC's latest report states: "More than a quarter of respondents to the Canadian Survey of Consumer Expectations in the third quarter of 2020 reported they would like to move to a larger or single-family home because of the pandemic."
Okay, here's the deal. The Big Plan for Canada to get out of this virus mess and rekindle the economy is obviously for you to by a house. Any house. Hopefully a giant mudda with a bloated mortgage. The government and our central bankers are counting on residential real estate to stay hot, thanks to cheap money and lots of FOMO, in order to achieve the very ambitious 4% annual growth rate (2021) spelled out earlier this week.
Figure it out. Oil is crazy in trouble. There are four million people on the pogey. Our biggest trading partner is out of control. Whole sectors of the economy won't be coming back for a few years. The CB is out of bullets. And Ottawa has already spent more money than God. So they want you to do the heavy lifting by running off to buy a property at an inflated price with a massive amount of financing.
Okay, got it. But don't we already know this is financial folly?
Of course. Look at those poll results. Half of middle-aged folk say they're pooched. And 70% have real estate. In fact, 20% of all those folks were part of the can't-pay-the-mortgage crowd for the last eight months. Increasing home ownership rates and household debt – already off the charts – is not a clear path to financial security. In fact if the virus gets worse, lasts longer or results in regional lockdowns, many will suffer.
Meanwhile pumping up real estate values further will only increase the wealth divide by making it more unaffordable for many. How does that square with the Liberal-leftie pledge to sock it to the rich?
In short, the plan The Authorities have for us is manipulative, cheap and tawdry.  I'm shocked.
STAY INFORMED! Receive our Weekly Recap of thought provoking articles, podcasts, and radio delivered to your inbox for FREE! Sign up here for the HoweStreet.com Weekly Recap.