October 25, 2020 | Alphabet Soup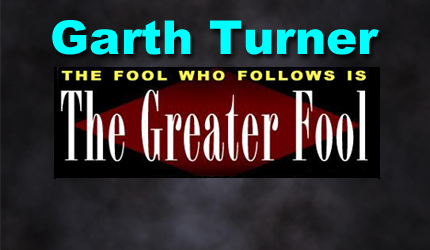 A best-selling Canadian author of 14 books on economic trends, real estate, the financial crisis, personal finance strategies, taxation and politics. Nationally-known speaker and lecturer on macroeconomics, the housing market and investment techniques. He is a licensed Investment Advisor with a fee-based, no-commission Toronto-based practice serving clients across Canada.
V, K or just Limp? What's the economy doing? Where's it going? When will this dogawful nightmare be over?
Apparently this all depends on you.
Rockstar bank economist Benny Tal told a private Toronto audience a few days ago that two-thirds of the economy is in a V-shaped recovery. Things were good for investors in February, in other words, then turned to crap, and now they're great again. These are the folks taking advantage of cheap money to buy houses and vultch distressed properties.
Yes, this group also contains all the lucky souls with B&D portfolios. Stocks crashed in March as Covid came to town. They recovered fast when government and CB money spigots opened. Today markets are floating around record highs, looking forward to a vaccine and global recovery to power higher.
But another third of the economy is stuck in an L, limping badly, existing on CERB and other government pogey in a personal recession that could last for a year. Overwhelmingly they're in low-paying occupations, which account for 80% of the jobs the bug ate. Restaurants, entertainment, hospitality, travel, admin support, property maintenance – all decimated.
And this brings us to the K (for Korona) reality – a K-shaped world in which people with assets, jobs and borrowing power are feeding off the virus, while others are just infected and falling. As this blog told you would happen when the mess started, the 'rona has exacerbated our wealth divide. Financial portfolios have repelled the recession. Real estate values have inflated. Jeff Bezos, Zuck and all the Google, Netflix, TikTok dudes have added to their billions.
Wealthy people can access capital which these days is virtually free (1% mortgages, bond yields collapsed). They've been throwing a lot of that at the real estate market, responsible for jacking prices by 25-40% in less than a year in most markets.
Worse, they're spreading it around. From Burlington to Halifax, Kamloops to Nanaimo, Barrie, Moncton and Guelph, secondary and tertiary housing markets are as nutso as the GTA or YVR (now bright orange again). The WFH, nesting, anti-germ phenom has removed one more option aspiring homebuyers had by making the boonies just as unaffordable as urban dirt.
Our central bank printed hundreds of billions and gave it to the government to hand out. Meanwhile it spent $5 billion a week buying up bonds, creating artificial demand to jack prices and suppress rates. The result was predictable. The price of assets – stocks, houses, bonds – has been swollen higher, enriching those who own them, while others sink.
That's the K.
Listen to Pierre, a screwed Mill in Quebec City. "The people are going crazy," he moans.
I am a 29 years old typical millenial and I would like to buy a house. We don't buy to make money, but because we want a long-term place to live. However, I don't think this will be possible with COVID19. I'm one of those lucky people that still have a job. WFH. I thought this would be a good moment during the crisis to buy as price should get lower… They are telling us that the economy is sick and that everyone is sick and that they don't have money.

I don't think this is true. We called to visit this house on Saturday, which is on the market since 3 days. The realtor told me, 'we had 8 offers so if you don't come visit in the next 2 minutes and push the price there is not a chance you get it.'

HOW IS IT EVEN POSSIBLE ??? 3 days in the market, 8 offers!!! We are in quebec city which basically has had no tourists since March, no restaurants, no gyms and people are capable of doing bid wars on a house?? I just can't believe what they told me. I also can't believe that people can buy houses that fast and go to bidding wars during the biggest crisis since 2008. Quebec is only about 700 000 souls…

I hope you have some good words for me so I can find the courage to continue to search for a house… How am I supposed to compete with this?
Pauvre Pierre. C'est dommage.
The best advice, whether it's in Quebec or Kelowna or Kits, is to wait. Ditch the FOMO. People are insane, gorged out on cheap cash, swallowing Herculean dollops of debt, gambling that this world will reward the risk. But it's unwise. The last eight months were not normal. Nor do they frame what's coming.
Only a third or so of the 800,000 little beavs who stopped making home loan payments when the virus hit have resumed payments. That mortgage deferral cliff still looms. Some giant corporations (a certain airline comes to mind) are wobbling on brink of insolvency. The virus has roared back worse than in the Spring – globally. It's entirely possible a President Biden might lock down the US economy for a spell in January if daily infections top 100,000 (now at 80,000). Central banks and deficit-addled governments will be called upon to push even more moolah into staggering societies going into 2021. Assets values will inflate further. Why would you want to compete in an environment like this?
Reality, of course, will return. It always does. Debts taken on when rates are low and emotions are high have a way of turning into regrets. When central banks remove punch bowl, it all changes. We get an S economy. Yes, full of suckers.
$     $     $
Speaking of letters, WFH is now part of the lexicon. But as blog dogess Carol warns, this work-from-home thing can have a nasty bite…
I work for a global chemical company. Just heard from one of my coworkers that the company is planning to move most of the WFH jobs to a shared service centre in Uruguay. If the work can be done from home why bother paying larger salaries. There are educated resources in countries that are paid a lot less. I made a trip down there in 2017 when we moved finance positions there. Lots of large corporations are doing this.
STAY INFORMED! Receive our Weekly Recap of thought provoking articles, podcasts, and radio delivered to your inbox for FREE! Sign up here for the HoweStreet.com Weekly Recap.