September 26, 2020 | Trading Desk Notes September 26 ,2020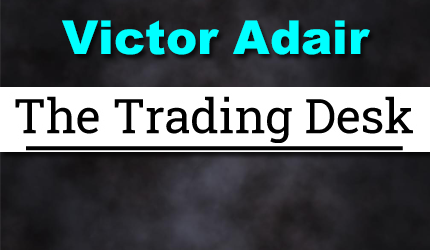 Victor Adair, author of The Trading Desk Notes, began trading penny mining shares while attending the University of Victoria in 1970. He worked in the mining business in Canada and the Western United States for the next several years and also founded a precious metals trading company in 1974. He became a commodity broker in 1977 and a stock broker in 1978. Between 1977 and his retirement from the brokerage business in 2020 Victor held a number of trading, analytical and senior management roles in Canada and the USA. Victor started writing market analysis in the late 1970's and became a widely followed currency analyst in 1983. He started doing frequent media interviews in the early 1980's and started speaking at financial conferences in the 1990's. He actively trades his own accounts from The Trading Desk on Vancouver Island. His personal website is www.VictorAdair.ca.
Equity markets were driven sharply higher this summer and the US Dollar
was driven to 2 year lows by waves of self-reinforcing "risk on" market
psychology…but that changed Big Time at the beginning of September.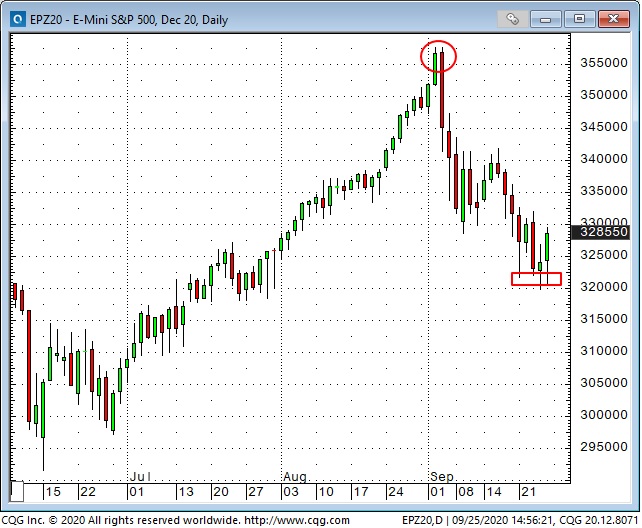 We're calling the early September reversals a Key Turn Date (KTD)
because a number of markets reversed course at/around the same time.
Market psychology turned increasingly "risk off" following the KTD…taking
the major American equity indices down ~10% while driving the US Dollar
Index up ~3%.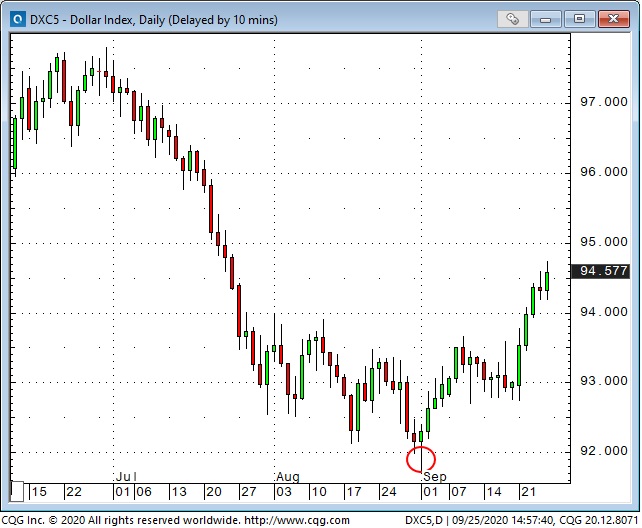 The "facts" supporting the summer rally didn't seem to change
materially…at first…perhaps the summer exuberance just needed a little
cooling off…but then the market's mood shifted as the virus news got
worse…the political discord intensified…the social mood soured…and the
"risk off" market action became self-reinforcing in its own right.
New and existing home sales have been very strong with mortgage rates at
record lows…yet jobless claims and unemployment have remained high
while government stimulus checks remain MIA. Our base view has been
that the economy would weaken in the fall after the summer sugar
rush…especially if the virus and/or the social mood got worse.
It's interesting that the major equity indices seemed to be "finding a bottom"
near the end of the week as the "Supreme Court" news dramatically
ramped up commentary about the possibility of an existential constitutional
crisis…which might in turn spark massive social unrest.
Polls of ordinary voters…polls of sophisticated money managers…and
betting sites all point to expectations of a Biden victory…perhaps
ameliorating the existential angst around a potential constitutional crisis.
One of our "golden rules" is that the only thing we can trade is price…and
equity market prices seem to have steadied after a 10% correction from
(around) All Time Highs…just ahead of Tuesday's Trump/Biden debate.
The US Dollar continued its September rally against nearly all other
currencies this week…even as the American stock indices seemed to
stop falling…perhaps we're seeing the breakdown of the stocks up /
USD down relationship.
We've previously written that the Euro rally against the USD…which
began in earnest in mid-May…around the time of the Macron/Merkel
European reconstruction bond idea…seemed to pull most other
currencies higher against the USD…and as the Euro rally blew out
around the KTD so did the rally of other currencies against the USD.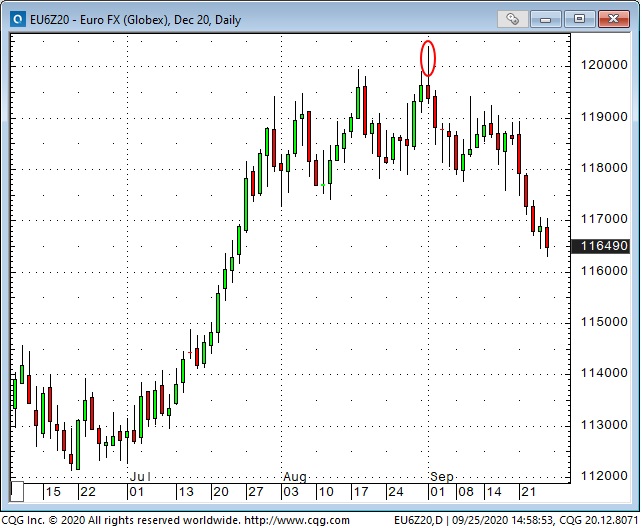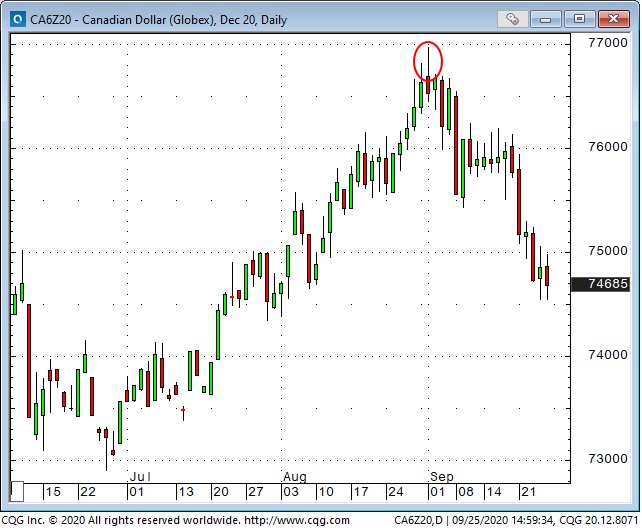 Gold traded to an All Time High in early August and our view has
been that the gold rally this year was primarily driven by the buying of
~$100 Billion of global gold ETFs…that a lot of that buying was
inspired by the Fed's massive stimulus…and we expected that a
break of the August lows could trigger substantial stop-loss selling.
We traded gold only from the short side in August.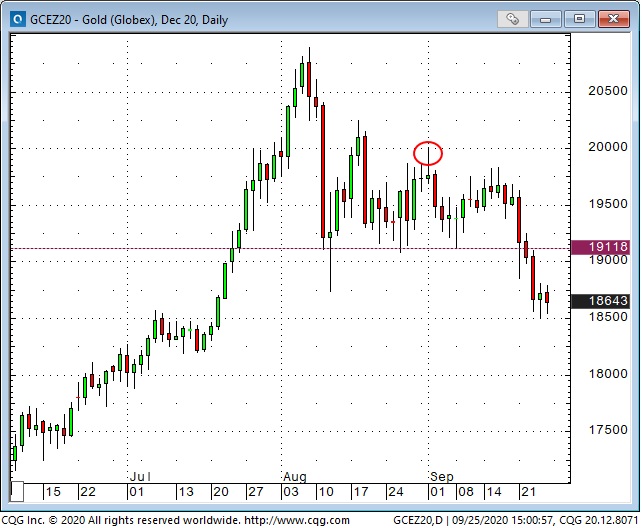 The correlation of gold with real interest rates was very high earlier
this year but in September gold seems to have been very (negatively)
correlated with the USD. We're lightly long gold (first time in a long
time) at the end of the week as it seems to be finding support around
the 100 DMA.
WTI crude oil remains a lack-of-demand story and given our base
view of a weaker economy this fall we continue to trade WTI with a
bearish view.
In our short term trading accounts we've been bearish equites and
bullish USD in September…but we're now lightly long equities…we're
intrigued with how "stocks" seem to have found support in the face of
"bad" news. We have tight stops in place…we know we're often
wrong!
If you'd like to know more about using the futures and options market to trade currencies, metals, interest rates, stock indices, energy and other commodities please contact Drew Zimmerman at PI Financial Corp in Vancouver.
PI Financial Corp. is a Member of the Canadian Investor Protection Fund. The risk of loss in trading commodity interests can be substantial. You should therefore carefully consider whether such trading is suitable for you in light of your financial condition. In considering whether to trade or the authorize someone else to trade for you, you should be aware of the following. If you purchase a commodity option you may sustain a total loss of the premium and of all transaction costs. If you purchase or sell a commodity futures contract or sell a commodity option or engage in off-exchange foreign currency trading you may sustain a total loss of the initial margin funds or security deposit and any additional fund that you deposit with your broker to establish or maintain your position. You may be called upon by your broker to deposit a substantial amount of additional margin funds, on short notice, in order to maintain your position. If you do not provide the requested funds within the prescribe time, your position may be liquidated at a loss, and you will be liable for any resulting deficit in your account. Under certain market conditions, you may find it difficult to impossible to liquidate a position. This is intended for distribution in those jurisdictions where PI Financial Corp. is registered as an advisor or a dealer in securities and/or futures and options. Any distribution or dissemination of this in any other jurisdiction is strictly prohibited. Past performance is not necessarily indicative of future results
STAY INFORMED! Receive our Weekly Recap of thought provoking articles, podcasts, and radio delivered to your inbox for FREE! Sign up here for the HoweStreet.com Weekly Recap.