September 5, 2020 | JPMorgan's COMEX Silver Stash: Another New Record High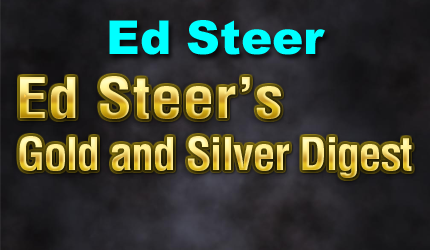 "Ed wrote the daily precious metal commentary for Casey Research starting in 2008. His stand-alone column became their most highly-rated blog [either free or paid] almost from the outset—and remained that way until he started his own subscription-based website in June of 2015."
YESTERDAY in GOLD, SILVER, PLATINUM and PALLADIUM
The gold price rallied to its high of the day at the 10:15 a.m. morning gold fix in Shanghai on their Friday — and then didn't all that much until 1 p.m. BST in London/8 a.m. in New York.  It was sold lower from there, with the low tick coming shortly after 9 a.m. in New York — and although it rallied a bit from there, it then continued lower until noon EDT.  A rather spirited rally commenced at that juncture, but that was capped and turned quietly lower starting around 2:45 p.m. in after-hours trading — and it didn't do much of anything after that.
The high and low ticks in gold were reported by the CME Group as $1,956.60 and $1,921.60 in the December contract…$1,948.80 and $1,914.60 in October.  At the close on Friday, the October/December price spread differential in gold was $8.10 …December/February was $7.40 — and February/April was $5.10.
Gold was closed in New York yesterday afternoon at $1,934.80 spot, up $3.60 from Thursday.  Net volume was around 287,500 contracts — and there was a bit over 14,000 contracts worth of roll-over/switch volume on top of that.
Silver's choppy price action on Friday was mostly similar to gold's — and I note that the rally that began at the COMEX close, was capped and turned a bit lower starting around 3:30 p.m. in after-hours trading in New York.  That 3:30 p.m. EDT price turned out to be silver's high tick of the day.
The low and high ticks in silver were recorded as $26.455 and $27.245 in the December contract.
Silver was closed on Friday afternoon in New York at $26.935 spot, up an impressive 36.5 cents from Thursday.  Net volume was very high once again at a bit over 110,000 contracts — and there was only 4,300 contracts worth of roll-over/switch volume, almost all of which went into the New Year…mostly March.
The platinum price had a quiet up/down move in Far East trading on their Friday — and was almost back at unchanged by shortly before the Zurich open.  It then rallied from there until around noon CEST — and then didn't do much until 2 p.m. CEST/8 a.m. in New York.  After that, its price path was guided in a similar fashion as both silver and gold.  Platinum finished the day at $902 spot, up 19 dollars from its close on Thursday.
The palladium price traded mostly flat until around 1:35 p.m. China Standard Time on their Friday afternoon — and from that juncture it was sold very unevenly lower until 9 a.m. in New York.  It rallied a bit from there, but was turned lower starting shortly before 3 p.m. in the very thinly-traded after-hours market.  Palladium was closed at $2,185 spot, down 17 bucks on the day.
Whether or not we have a new leg down in the offing, or a screaming and engineered short-covering rally in our future, remains to be seen.
He would be right about that, dear reader."
---
And, for the third day in a row, the trading pattern in the precious metal equities was more than counterintuitive.  There were obviously buyers of some size lurking about — and going about their business regardless of the price action in both silver and gold.
---
Here are two of the usual three charts that show up in every Saturday missive.  The first one shows the changes in gold, silver, platinum and palladium for the past trading week, in both percent and dollar and cents terms, as of their Friday closes in New York – along with the changes in the HUI and the Silver 7 Index.
As per the COT and Days to Cover discussion a bit further down, the Big 8 traders are still mega short gold and silver in the COMEX futures market — and that situation hasn't changed one bit from last week, or for the last many months.  But more than enough gold has now been brought into the COMEX warehouses to cover their short positions by physical delivery, if that's its purpose. The short position of the Big 8 traders in gold decreased by a hair during this reporting week, However, their short position in silver increased by a material amount over the same time period. There's more on that in the COT discussion further down.
---
So far in September there have been 3,457 gold contracts issued/reissued and stopped — and that number in silver is 8,814 contracts.
---
Not only have there been no mint sales so far in September, they haven't reported selling a single bullion coin in either silver or gold for more than two weeks now.  And as I said the other day in this space, you have to wonder what the hell their doing to wile away their working day, since they're obviously not minting anything.
---
i know that Ted will have something to say about the COMEX gold stocks in his weekly review later this afternoon.
In the 'in' category, the largest amount received…1,485,900 troy ounces…ended up at JPMorgan — and that's another new record high for them, as they now hold 171.10 million troy ounces in their COMEX depository, a hair under 49 percent of all the silver on the COMEX.  Next was Canada's Scotiabank, as they received 984,567 troy ounces — and they were followed by the one truckload…605,567 troy ounces…that was dropped off at Brink's, Inc.  In the 'out' category, the largest amount by far…605,567 troy ounces…was shipped out of Manfra, Tordella & Brookes, Inc. — and that's most certainly the amount that was reported received at Brink's, Inc. There were smaller amounts moved at three other depositories…16,423 troy ounces at CNT…5,029 troy ounces at Loomis International — and 2,938 troy ounces at Delaware.
As Ted Butler said on the phone yesterday…anyone who doubts that JPMorgan is the big kahuna in all things silver [and gold] related, needs to get their head read — and I agreed.
---
The number for gold would have been much higher than this, except for the fact that there have been some rather large amounts of gold shipped out of the COMEX depositories during the past week.  And the only reason that silver's number is as low as it is, is because of the huge withdrawals from SLV over the last three business days…9.25 million troy ounces.
---
Ted said that gold closed higher by around $60 during that period — and was up 80 bucks at one point.  Silver closed higher by about $2.50 during the reporting week, but was up about 3 dollars at its high.  So the changes reported below are very much on the lighter side — and could have been much worse.
They arrived at that number by reducing their long position by 6,393 contracts — and they also reduced their short position by 2,391 contracts.  It's the difference between those two numbers that represents their change for the reporting week.
Under the hood in the Disaggregated COT Report, the Managed Money traders did very little, decreasing their net long position by a scant 493 contracts.  All the big activity occurred in the other two non-commercial categories…the Other Reportables and the Nonreportable/small traders.  The former decreased their net short position by 2,628 contracts — and the latter increased their net long position by 1,867 contracts.
Doing the math: 1,867 plus 2,628 minus 493 equals 4,002 contracts…the change in the Commercial net short position.
The Commercial net short position in silver is now up to 51,784 COMEX contracts, or 258.9 million troy ounces.
The Big 8 are short 70,907 COMEX contracts, or 354.5 million troy ounces…137 percent of the Commercial net short position.  That's up from the 67,359 contracts/336.8 million troy ounces that they were short in last week's COT Report.
Ted said that it appears the JPMorgan sold their remaining 2,000 or so long contracts in silver — and are now market neutral in this precious metal.
As I've been mentioning for the last couple of days, this COT Report is basically "yesterday's news"…which it is, as the price action since the Tuesday cut-off has pretty much reversed everything that I've reported on above.  However, I do hope you enjoyed reading it!
---
They arrived at that number by reducing their long position by 7,012 contracts — and they also increased their short position by 3,949 contracts.  It's the sum of those two numbers that represents their change for the reporting week.
Under the hood in the Disaggregated COT Report, it was all Managed Money traders — and almost to the contract, as they increased their net long position by 10,893 contracts.  The other traders didn't do much in aggregate, of course…but each went about it in wildly different manners.  The 'Other Reportables' decreased their net long position by 1,135 contracts — and the 'Nonreportable'/small traders increased their net long position by 1,203 COMEX contracts.
Doing the math: 10,893 plus 1,203 minus 1,135 equals 10,961 COMEX contracts, the change in the commercial net short position.
The commercial net short position in gold is now back up to 27.74 million troy ounces, up from the 26.64 million troy ounces they were short in last week's COT Report.
The Big 8 traders are short 22.78 million troy ounces, down a hair from the 22.96 million troy ounces they were short last week at this time.  On a percentage basis, they are short just under 83 percent of the commercial net short position.
Ted pointed out on the phone that it appears that JPMorgan sold its remaining 3,000 or so long contracts during this past reporting week — and is also market neutral in gold from a COT respective.
This COT Report is  so "yesterday's news" that I hated spending my valuable time writing it all up, knowing that the data in it is already worthless…as the post cut-off price action has negated it all…plus more, I would suspect.
---
---
The reason for the difference in those numbers…as it always is…is that Ted's raptors, the 28-odd small commercial traders other than the Big 8, are net long that amount.
As per the first paragraph above, the Big 4 traders in silver are short around 106 days of world silver production in total. That's about 26.50 days of world silver production each, on average…unchanged from last week's report.  The four big traders in the '5 through 8' category are short 46 days of world silver production in total, which is 11.50 days of world silver production each, on average…up 2 full days from last week's report.
According to Ted, JPMorgan sold their remaining long contracts in both silver and gold during this past reporting week — and are now market neutral in both.
The Big 8 shorts are still hugely exposed in all four precious metal, at least in the COMEX futures market — and that situation changed very little in gold during this past reporting week, but increased by a fairly substantial amount in silver.
---
[The September Bank Participation Report covers the time period from August 4 to September 1 inclusive.]
Citigroup, HSBC USA and I suspect Goldman Sachs would hold the lion's share of this short position. As to who other U.S. bank might be that is short in this BPR, I haven't a clue, but it's a given that their short position would not be material.
Also in gold, 29 non-U.S. banks are net short 49,345 COMEX gold contracts.  In August's BPR, 30 non-U.S. banks were net short 63,576 COMEX contracts…so the month-over-month change shows a very decent decrease of 14,231 COMEX contracts.  That's the second month in a row that these non U.S. banks have decreased their short position by a substantial amount.
But at the low back in the August 2018 BPR…these same non-U.S. banks held a net short position in gold of only 1,960 contacts — and they've been back on the short side in a big way ever since.
However, as I always say at this point, I suspect that there's at least two large non-U.S. bank in this group, one of which would be Scotiabank/Scotia Capital.  I'm starting to have suspicions about Dutch Bank ABN Amro, plus Australia's Macquarie as well.  Other than that small handful, the short positions in gold held by the vast majority of non-U.S. banks are immaterial.
As in gold, the three biggest short holders in silver of the four U.S. banks in total, would be Citigroup, HSBC USA — and Goldman in No. 3 spot — and whoever the remaining U.S. bank may be, their short position, like the short position of the smallest U.S. bank in gold, would be immaterial in the grand scheme of things.
Also in platinum, 16 non-U.S. banks are net short 2,249 COMEX contracts in the September BPR, which is down from the 2,674 COMEX contracts that these same 16 non-U.S. banks were net short in the August BPR.
[Note: Back at the July 2018 low, these same non-U.S. banks were net short only 1,192 COMEX contracts…so they're closing in on this low once again]
And as I've been commenting for almost forever now, the COMEX futures market in palladium is a market in name only, because it so illiquid and thinly-traded.  Total open interest at Tuesday's cut-off was only 9,698 contracts.
Except for palladium, only a small handful of the world's banks still have meaningful short positions in the other three precious metals — and in most cases, it's their clients that are the ones on the short hook, not the banks themselves.
I don't know if it means anything, but I'm just mentioning it because I can't remember ever seeing that before.
JPMorgan is out of its short positions in both silver and gold — and is currently market neutral in both as of this week's COT Report.  It may be out in platinum and palladium as well, but there's no way to know that.
After the engineered price declines this week, the precious metals are certainly set up for a rocket ride higher when JPMorgan allows it — and we're already off the launch pad in both gold and silver.  But when things get really serious to the upside, it will be very much to the detriment of those Big 8 shorts in particular — and the rest of the shorts in general, as their short covering will be the rocket fuel that drives precious metal prices to the moon, particularly silver.
The only thing we don't know for sure is if the Big 8 short/'da boyz' are done with their current engineered price declines or not.  We should know more by this time next week.
I only have a small handful of stories, articles and videos for you today.
CRITICAL READS
Non-farm payrolls increased by 1.37 million in August and the unemployment rate tumbled to 8.4% as the U.S. economy continued to climb its way out of the pandemic downturn.
The unemployment rate was by far the lowest since the coronavirus shutdown in March, according to Labor Department figures released Friday. An alternative measure that includes discouraged workers and those holding part-time jobs for economic reasons also fell, down to 14.2% from 16.5% in July and 22.8% at the peak in April.
Economists surveyed by Dow Jones had been expecting growth of 1.32 million and the jobless rate to decline to 9.8% from 10.2% in July.
Markets initially reacted positively to the news, but stocks turned lower and continued the aggressive sell-off from Thursday.
---
Future historians will view The Summer of 2020 as a Critical Juncture for the financial markets, with parallels to the Q1 2000 "blow off" top in Nasdaq (highs not exceeded for 16 years). From March 23rd trading lows to Wednesday's highs, the NDX rallied an incredible 84%. At the close of Wednesday trading, the Nasdaq100 (NDX) enjoyed a year-to-date gain of 42.2%. But an abrupt reversal saw the NDX sink 5.2% on Thursday and another 5% at Friday's trading lows (before ending the session down 1.3%).
The Fed's crisis operations unleashed a historic speculative Bubble, most conspicuously with the big technology stocks. FOMO (fear of missing out) forced professional asset managers into rapidly inflating tech stocks and tech-heavy indices – with nothing more than lip service paid to fundamentals and valuation. Meanwhile, the online trading community (further energized by government stimulus payments) went into speculative overdrive. The Robinhood, E-trade, Schwab and Fidelity platforms posted unprecedented surges in trading volumes as retail "investors" fully embraced technology stocks, the mantra stocks always go up, and the unfailing Fed "put."
The retail trading community has adopted options trading like never before. And I can only assume institutional derivatives trading (listed and over-the-counter) has exploded. In a speculative market melt-up backdrop in the face of readily apparent downside risk, playing the wild market upside with call options (or comparable derivatives) has been a reasonable institutional strategy. Selling call options also seemed to have made sense, both to boost returns and as a mechanism to offset the cost of purchasing put option downside protection.
I'll assume an unprecedented quantity of upside "call" options (trading on the exchanges or "OTC" derivatives purchased from brokerages) are currently outstanding. And when the market rally gained momentum, the writers/sellers of these derivatives were forced to buy the underlying stocks (or ETF shares, futures contracts) to hedge their rapidly increasing exposures to a rising market environment. A confluence of FOMO, manic retail speculation, and derivatives-related hedging fueled a historic speculative melt-up.
---
Do you see what is happening, Dear Reader?
We're entering a new phase. Up until now, the Federal Reserve was backstopping Wall Street.
This created a huge shift in wealth from average people – with few financial assets – to the "rich," who own most of them.
But it was fake wealth. That is, the U.S. stock market could easily be cut in half. In a flash, about $17.5 trillion of "wealth" would disappear.
A few short sellers – who bet on lower prices – would make money. But most of the $17.5 trillion would simply vanish. Poof! It would be gone.
Because it was never real… never an honest reflection of what America's companies are really worth.
---
We have never heard more gibberish, double talk, and lies from one podium than we have from Fed Chairman Powell.
There is no other way to say it: The Fed has become a dangerous rogue institution that has usurped plenary power over the financial system.
This is all based on implicit theories that eventually lead to a massive speculative blow-off, even as it sucks the vitality out of the Main Street economy in the interim.
The implicit theory is brazenly simple: The Fed believes that relentless credit expansion fosters greater economic growth and full employment. It believes that there is no practical limit to how much debt the household, business, and government sectors of the economy can tolerate or any notable adverse trade-offs from ever-higher leverage ratios.
Self-evidently, lower interest rates foster more debt issuance.
When economic growth falters for any reason, the Fed's first action is to push rates even lower. This ratcheting process has gone on for more than three decades, and interest rates have, for all practical purposes, been obliterated.
---
Once Navalny was in Berlin it was only a matter of time before it was declared that he was poisoned with Novichok. The Russophobes are delighted. This of course eliminates all vestiges of doubt about what happened to the Skripals, and proves that Russia must be isolated and sanctioned to death and we must spend untold billions on weapons and security services. We must also increase domestic surveillance, crack down on dissenting online opinion. It also proves that Donald Trump is a Russian puppet and Brexit is a Russian plot.
I should state that I have no difficulty at all with the notion that a powerful oligarch or an organ of the Russian state may have tried to assassinate Navalny. He is a minor irritant, rather more famous here than in Russia, but not being a major threat does not protect you against political assassination in Russia.
What I do have difficulty with is the notion that if Putin, or other very powerful Russian actors, wanted Navalny dead, and had attacked him while he was in Siberia, he would not be alive in Germany today. If Putin wanted him dead, he would be dead.
---
It's been a frustrating, dull, no-fun week, but precious metals investors have a lot to look forward to in the next year. Host Craig Hemke and legendary investor Eric Sprott break down all the gold and silver news you need to see the bright future ahead.
In this edition of the Weekly Wrap Up, you'll hear:
Why there's a "sobriety test" coming for the markets
What's behind the runs on palladium and platinum
Plus: Eric answers your listener-submitted questions
The PHOTOS and the FUNNIES
STAY INFORMED! Receive our Weekly Recap of thought provoking articles, podcasts, and radio delivered to your inbox for FREE! Sign up here for the HoweStreet.com Weekly Recap.