September 5, 2020 | Trading Desk Notes September 5 ,2020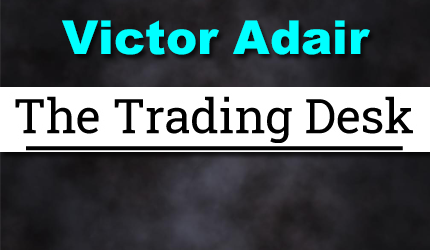 Victor Adair, author of The Trading Desk Notes, began trading penny mining shares while attending the University of Victoria in 1970. He worked in the mining business in Canada and the Western United States for the next several years and also founded a precious metals trading company in 1974. He became a commodity broker in 1977 and a stock broker in 1978. Between 1977 and his retirement from the brokerage business in 2020 Victor held a number of trading, analytical and senior management roles in Canada and the USA. Victor started writing market analysis in the late 1970's and became a widely followed currency analyst in 1983. He started doing frequent media interviews in the early 1980's and started speaking at financial conferences in the 1990's. He actively trades his own accounts from The Trading Desk on Vancouver Island. His personal website is www.VictorAdair.ca.
The Spuz and Nasdaq 100 raced to All Time Highs early this week...on surging volatility…as word circulated that a whale (apparently Softbank) was buying billions worth of call options…it wasn't just the Retail Army trading in their pajamas. The Put/Call ratio plunged to new lows…the CNN Fear/Greed index hit full-on greed…and then the fever broke and Naz futures tumbled as much as 10% from Wednesday's highs to Fridays lows. Our best advice the past two weeks…don't be short Volatility! (2nd chart is implied Vol on Naz call options.)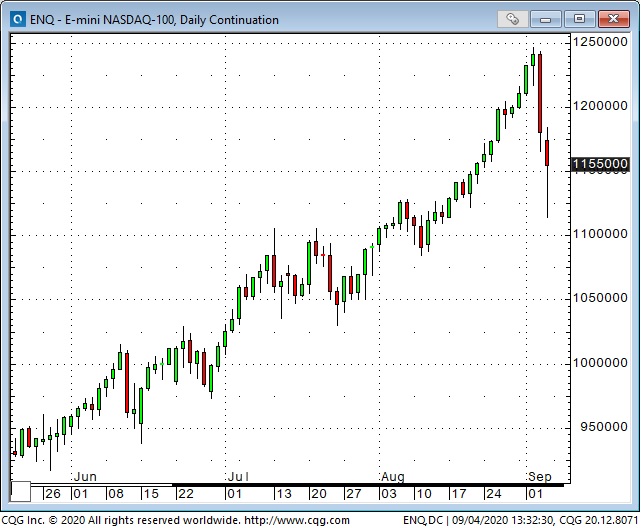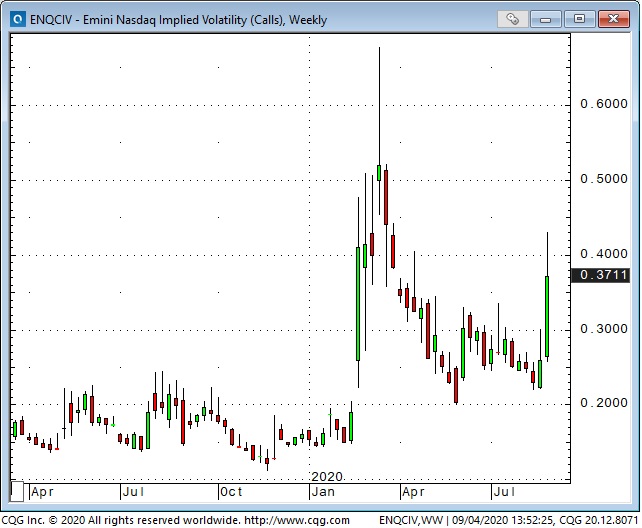 We got stopped for a small loss Wednesday trying to top pick the Naz…a "got a hunch / bet a bunch" trade but got the money back shorting Russell Thursday / covering Friday.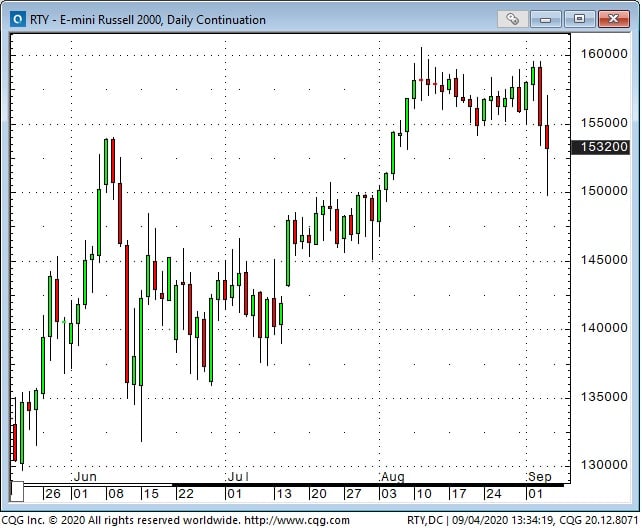 The US Dollar Index hit a new 28 month low early Tuesday as the Euro traded above 1.20 for the first time in a year and a half. The Euro couldn't sustain its gains and we went short on what looked like a possible key reversal. Also sold CAD and MEX thinking that a rising USD and a falling stock market would weaken those currencies. We covered the Euro Thursday for a decent gain when it couldn't stay below 1.18…got stopped for a small loss on MEX and covered Short CAD early Friday morning for a small profit when it "wouldn't fall" despite a strong USD, weak crude oil and the spuz hitting 2 week lows.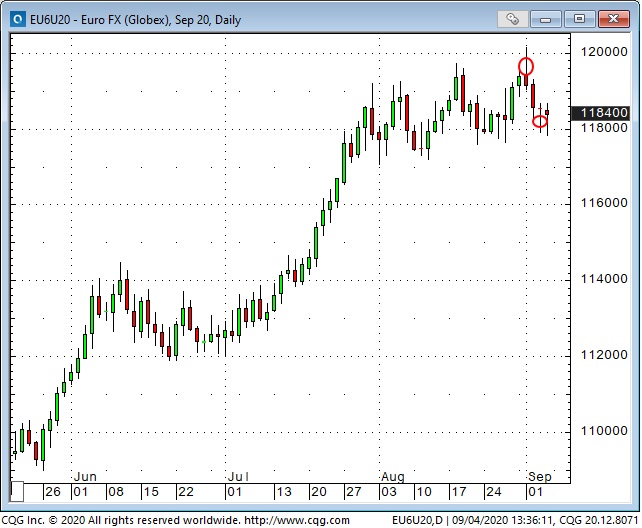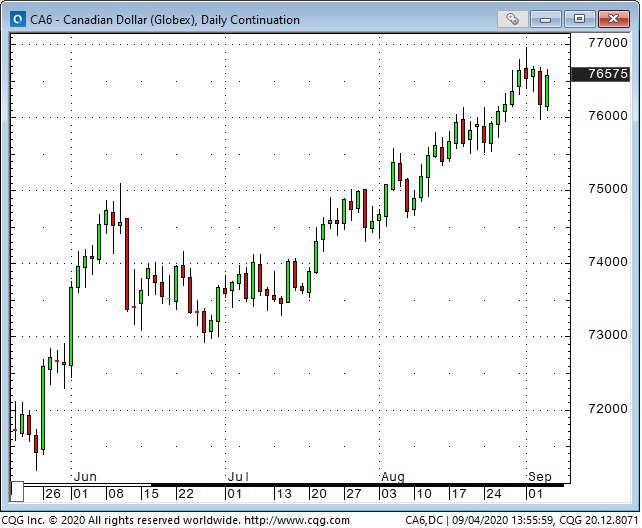 Gold traded through an $80 high/low range this week…hitting it's high on Tuesday while the USD hit 28 month lows. We've held a bearish put spread on gold for over a month and closed it out Friday for a small gain. We successfully traded gold from the short side twice in August and decided to just go flat into the long weekend. The ticking clock had reduced the risk/reward potential on the gold spread.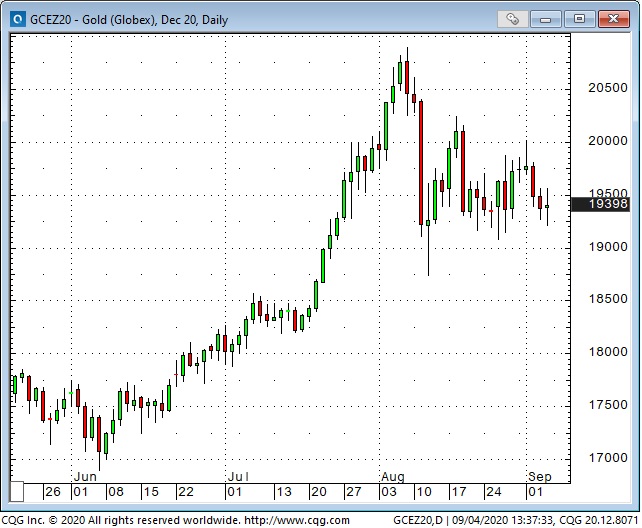 Bonds had a good 5 day rally from last week's lows…with prices hitting their best levels Thursday as stock indices were tumbling. We had a bearish view on bonds earlier in August (but didn't get short for fear they would rally if stocks broke) but saw last Friday's reversal as a short term buy signal and we bought TNotes Monday…covered them Thursday for a nice gain ahead of the employment report risk Friday morning. Bonds fell Friday on the UE report, stories about China (and others) reducing their Treasury holdings and a rebound in stocks.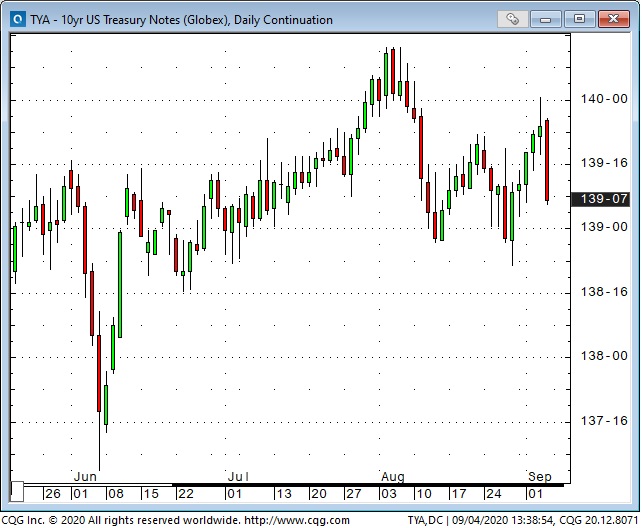 Crude oil continues to be a lack-of-demand story in our view and prices took a nasty break this week…October futures had their lowest weekly close in 10 weeks. We've held (and added to ) a bearish time spread in WTI (short Dec / long Mar) for about 2 months and that has been a great trade. (2nd chart shows Dec now at a $1.26 discount to Mar.)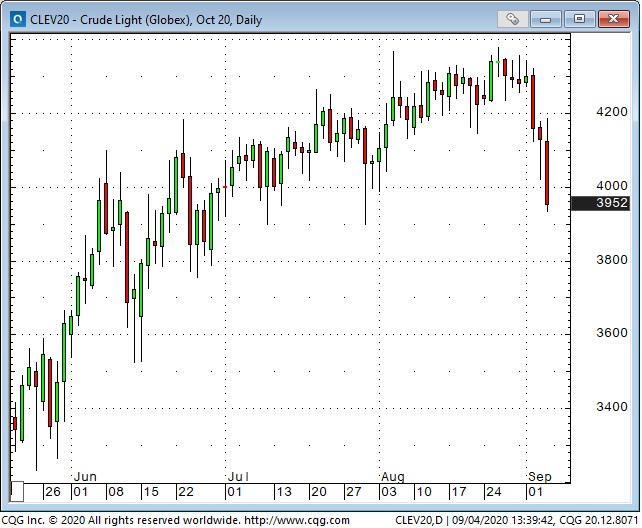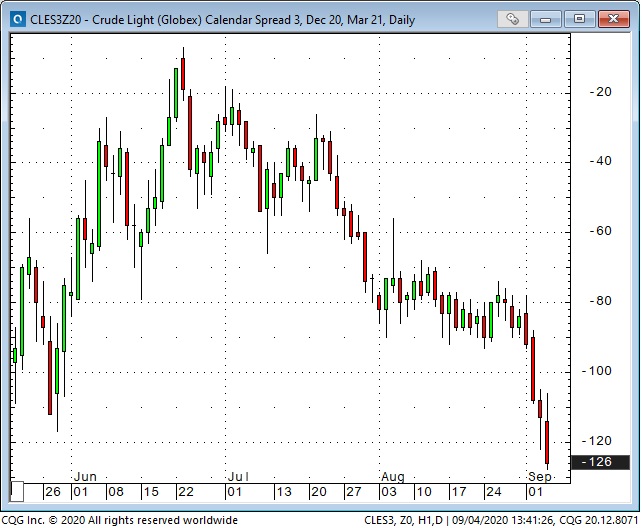 The key question facing equity markets after the long weekend will be: was the break from All Time Highs the start of something bigger…or just another BTD opportunity? We're essentially flat going into the long weekend (just hold the WTI spread and a legacy S+P put spread) so we have an open mind and will let price action be our guide. We'd expect some BTD activity but IF the major indices start to roll over we'll be back on the short side. If stocks fall we think the USD rallies.
If you'd like to know more about using the futures and options market to trade currencies, metals, interest rates, stock indices, energy and other commodities please contact Drew Zimmerman at PI Financial Corp in Vancouver.
PI Financial Corp. is a Member of the Canadian Investor Protection Fund. The risk of loss in trading commodity interests can be substantial. You should therefore carefully consider whether such trading is suitable for you in light of your financial condition. In considering whether to trade or the authorize someone else to trade for you, you should be aware of the following. If you purchase a commodity option you may sustain a total loss of the premium and of all transaction costs. If you purchase or sell a commodity futures contract or sell a commodity option or engage in off-exchange foreign currency trading you may sustain a total loss of the initial margin funds or security deposit and any additional fund that you deposit with your broker to establish or maintain your position. You may be called upon by your broker to deposit a substantial amount of additional margin funds, on short notice, in order to maintain your position. If you do not provide the requested funds within the prescribe time, your position may be liquidated at a loss, and you will be liable for any resulting deficit in your account. Under certain market conditions, you may find it difficult to impossible to liquidate a position. This is intended for distribution in those jurisdictions where PI Financial Corp. is registered as an advisor or a dealer in securities and/or futures and options. Any distribution or dissemination of this in any other jurisdiction is strictly prohibited. Past performance is not necessarily indicative of future results
STAY INFORMED! Receive our Weekly Recap of thought provoking articles, podcasts, and radio delivered to your inbox for FREE! Sign up here for the HoweStreet.com Weekly Recap.