September 3, 2020 | Bears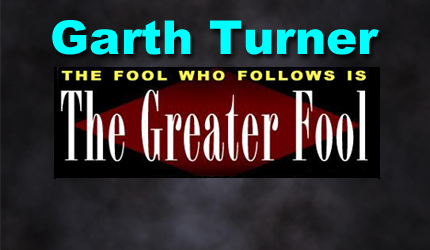 A best-selling Canadian author of 14 books on economic trends, real estate, the financial crisis, personal finance strategies, taxation and politics. Nationally-known speaker and lecturer on macroeconomics, the housing market and investment techniques. He is a licensed Investment Advisor with a fee-based, no-commission Toronto-based practice serving clients across Canada.
"We're scared," Terry told me yesterday.  "Yeah, I know it's emotional, but it's real. Whaddya think we should do?"
The Toronto entertainment exec called me to share his family's angst over the most tragic thing any household could ever consider. Leaving Toronto. Seriously. It's tearing them up. Of course (like everything else) this is Covid-related. The bug hit, sent Terry and Jane into remote-working mode, shuttered the schools their three kids were attending and, incredibly, set the value of their mid-town house on fire.
Here's the debate: should they sell, move down the 401 to London and start a new life on more secure footing, distant from the megalopolis?
Cough it up, I said. Tell me everything. Then you get an opinion.
So they're mid-forties, three pre-teenagers with a family income just south of $160,000. No pensions, save the usual crappy insurance-company mutual fund-laden group RRSP. No non-registered account. And about four hundred thousand in bank mutuals across tax-free accounts, RRSPs and an RESP for the spawn. Monthly savings (with three expensive children) is zero. When the last one is finishing up uni, Terry and Jane will be wanting to retire. Income then will be inadequate, without selling the house.
That property, by the way, is now worth about $2 million, or double the value of a decade ago – and has raced higher over the last two months as the Virus Boom hit Toronto. Fueled by cheap money, pent-up demand and panic buying of detached homes that people can turn into germ-free bunkers, sales have exploded 40% with prices up by a fifth and the average detached now fetching $1.2 million.
Plan A, then, is do nothing. Be frugal. Pray the kids go to university via the subway, not in another province. Stay employed. Hope like hell the property market holds on to its value even when the FOMO ends, mortgage rates advance and economic reality sets in.
Plan B is London. That city (pop 450,000) is a mini-version of Toronto, but without gridlock, 75-storey condo towers, Drake or a silly basketball team. The average house costs less than $500,000, even after a 17% year/year price surge. I told Terry I'd lived there a couple of times, both instances in the historic, leafy north end which smells a lot like Rosedale or Shaughnessy. Houses that cost $3 million in mid-town Toronto go for about seven large.
The advice? Simple. No brainer.
Sell in TO for two mill. Buy for seven. Invest one point three in a balanced, diversified, well-managed portfolio earning six or seven percent over the next decade and end up by age 60 with at least three million. That should throw off close to $200,000 in annual income for Terry and his squeeze for the rest of their lives, while they live in a paid-off home and have several million dollars of liquid assets.
What possible reason can you dream up for not doing this? I asked.
His best two were: (a) it's very scary leaving Toronto (there could be bears in London) and (b) my 13-year-old daughter will miss her friends.
After I recovered, we reviewed things.
Of course, staying put – taking no risk on the unknown – likely constitutes the greatest risk. Job loss (in a volatile industry) would be catastrophic for a family of five. It'd likely necessitate a house sale, hopefully when the market is still robust. A second wave and lockdown would change everything, trapping their equity and capping choices. Terry and Jane don't have enough saved for retirement, lack good pensions and have big financial demands coming. Why not grab windfall capital gains now and put the money to work? Will their $2 million beater house become a $4 million mcmansion in another decade? Will middle-class incomes double or triple by then to support that price? Can mortgages get any cheaper? Or is this, logically, the apex? If so, why not grab on?
The trade: one inflated house in a big city for a better house in a smaller place, plus income and financial security for life. Duh. How is it even debatable?
But could the stock market plop over time along with residential real estate? Sure, although there's never been a ten-year period since WW2 in which markets finished lower after a decade. Besides, a B&D portfolio contains no individual stocks, has global exposure, at least 40% safe assets, generates income whether equities rise or fall and – unlike a house – doesn't have everything concentrated in one asset on one street in one city.
"Don't be such a wuss," I gently and compassionately counseled. "And tell your spoiled kid to get over it. Sheesh."
He hung up. I may have to work on my technique.
STAY INFORMED! Receive our Weekly Recap of thought provoking articles, podcasts, and radio delivered to your inbox for FREE! Sign up here for the HoweStreet.com Weekly Recap.