October 10, 2020 | Silver & Gold, Plus Their Equities, Surge Higher on Friday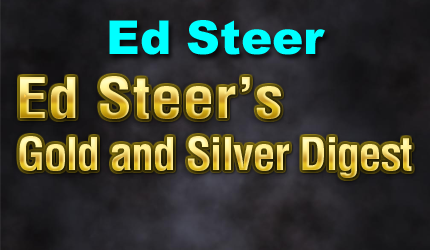 "Ed wrote the daily precious metal commentary for Casey Research starting in 2008. His stand-alone column became their most highly-rated blog [either free or paid] almost from the outset—and remained that way until he started his own subscription-based website in June of 2015."
YESTERDAY in GOLD, SILVER, PLATINUM and PALLADIUM
The gold price traded flat for the first two hours once trading commenced at 6:00 p.m. EDT in New York on Thursday evening.  It began to head higher starting at 8 a.m. China Standard Time on their Friday morning — and that continued until around 11:30 a.m. CST.  It was sold quietly lower until the 2:15 p.m. afternoon gold fix in Shanghai was done for the day — and from there it headed quietly and somewhat unevenly higher.  That lasted right into the close of trading at 5:00 p.m. in New York — and for all intents and purposes closed on its high tick of the day.
The low and high ticks in gold were reported as $1,898.00 and $1,936.80 in the December contract.  The November/December price spread differential in gold at the close on Friday was $4.30…December/February was $7.40…February/April was $5.90 — and April/June was $5.30.
Gold finished the Friday session in New York at $1,930.60 spot, up $36.70 from Thursday's close.  Net volume was nothing special at a bit over 211,500 contracts, but certainly the highest it's been all week.  There was a bit over 14,000 contracts worth of roll-over/switch volume in this this precious metal — and virtually all of it went into the first three delivery months of next year.
In most respects the price action in silver was the same as it was in gold, although the biggest part of Friday's rally didn't get underway until around 11:25 a.m. in London.
The low and high ticks in silver were recorded by the CME Group as $23.965 and $25.33 in the December contract.
Silver finished the Friday session at $25.12 spot, up $1.28 from its close on Thursday.  Net volume was fairly decent at a bit under 68,500 contracts — and there was just about 5,700 contracts worth of roll-over/switch volume on top of that…mostly into March and May.
Platinum generally followed the same price path as gold — and also began to head higher once the afternoon gold fix in Shanghai was put to bed on their Friday afternoon.  Its ensuing rally ran into 'something' a minute or two after 9 a.m. in New York — and from there, had a quiet down/up move until trading ended at 5:00 p.m. EDT.  Platinum was closed at $885 spot, up 17 bucks from Thursday, but would have obviously close materially higher, if allowed…which it obviously wasn't.
Palladium was higher by around 18 or so dollars by the 2:15 p.m. afternoon gold fix in Shanghai on their Friday — and at that juncture the rally really got serious.  So serious in fact that a not-for-profit seller appeared around 10:25 a.m. in New York — and from that point it was sold quietly and unevenly lower until very shortly after 3 p.m. in the very thinly-traded after-hours market.  It didn't do much after that.  Palladium was closed at $2,351 spot, up 73 dollars on the day…but I noted that it was up $104 at one point.
Computed manually, the Silver Sentiment/Silver 7 Index closed higher by 5.79 percent.
---
Here are the three usual charts that show up in every Saturday missive.  The first one shows the changes in gold, silver, platinum and palladium for the past trading week, in both percent and dollar and cents terms, as of their Friday closes in New York – along with the changes in the HUI and the Silver 7 Index.
No one is happy about the underperformance of the precious metal equities, which includes me of course.  And as I said in this space last week — and the week before…'da boyz' or the high-frequency traders, are still in firm control of precious metal prices in the COMEX futures market, although they appeared to take a break on Friday.  However, far brighter days will be ahead once these current engineered price declines are in the rear-view mirror.  That may have started yesterday, but it would be very premature to make that judgement.
As per the COT and Days to Cover discussion a bit further down, the Big 8 traders are still mega short gold and silver in the COMEX futures market — and that situation hasn't changed one bit from last week, or the week before, or for the last many months.  But as I've said before, more than enough gold has now been brought into the COMEX warehouses to cover their short positions by physical delivery, if that's its purpose. The short positions of the Big 8 traders in silver was basically unchanged from last week — and their short position in gold decreased by a mostly immaterial amount during this past reporting week.  I have more on on this in the COT discussion further down.
---
So far this month there have been 28,601 gold contracts issued/reissued and stopped — and in silver, that number is 1,896 contracts.  And for the first time I'll include platinum, as 5,052 contracts have been issued/reissued and stopped in that precious metal.  That's a monstrous amount — and has blown every prior delivery month totally out of the water.
---
---
The largest 'in' amount was 900,542 troy ounces that found a home over at Loomis International.  They were followed by the 840,760 troy ounces that was dropped off at CNT.  And last, but certainly not least, was the truckload…593,695 troy ounces…that was added to JPMorgan new record high COMEX silver stash, which now sits at 187.86 million troy ounces.
---
They arrived at that number by reducing their long position by 2,096 contracts — and also increased their short position by 901 contracts.  It's the sum of those two numbers that represents the change for the reporting week.
Under the hood in the Disaggregated COT Report, the Managed Money traders didn't do much — and all the big activity was in the 'Other Reportables' and 'Nonreportable'/small trader category.
The Managed Money traders decreased their net long position by only 403 contracts, while the other two categories increased their respective net long positions…the 'Other Reportables' by 930 contracts — and the 'Nonreportable'/small traders by 2,470 contracts.
Doing the math:  930 plus 2,470 minus 403 equals 2,997 COMEX contracts, the change in the Commercial net short position.
During the last month or so the 'Other Reportables' have gone from a short position of around 5,000 contracts, to a net long position of a hair under 6,000 contracts as of Tuesday's cut-off.
Ted has been commenting on this for several weeks now…wondering who these traders are — and what they might know that we don't.  The increase was even more stark in gold.
The Commercial net short position in silver now stands at 56,196 contracts, or 281.0 million troy ounces.  In last week's COT Report, the Commercial net short position by 53,199 contracts, or 266.0 million troy ounces.
The Big 8 traders are net short 71,367 COMEX contracts…356.8 million troy ounces…which is 127 percent of the Commercial net short position.
In last week's COT Report, the Big 8 traders were net short 70,946 COMEX contracts, so they've increased their short position by a rather smallish 421 contracts during the last five business days.
Ted said that it didn't look like JPMorgan did anything during the reporting week — and are still market neutral in silver for the second week in a row.
The Big shorts are still trapped like rats — and their short position in silver has remained about the same for a very long time.  From a COT standpoint, the structure is still very much on the bullish side.
---
They arrived at that number by decreasing their long position by 9,256 contracts — and also reduced their short position by 6,966 contracts — and it's the difference between those two numbers that represents their change for the reporting week.
Like in silver, the Managed Money traders did very little, decreasing their net long position by a paltry 240 contracts.  And also like in silver, the big action was with the other two categories.
The 'Other Reportables' increased their net long position to yet a new record high, this week by a chunky 4,688 contracts.  The 'Nonreportable'/small traders went in the opposite direction…decreasing their net long position by 2,638 contracts.
Doing the math:  240 plus 4,688 minus 2,638 equals 2,290 COMEX contracts…the change in the commercial net short position.
The commercial net short position in gold now sits at 28.85 million troy ounces, up from the 28.62 million troy ounces they were short in last week's COT Report.
The Big 8 traders are net short 23.83 million troy ounces of gold, or 82.6 percent of the commercial net short position.  Last week at this time, the Big were net short 24.24 million troy ounces, so they cut their short position by about 4,100 COMEX contracts, or 410,000 troy ounces of gold during this past reporting week…which is really nothing at all.
Ted said that there didn't appear to be any change in JPMorgan's position in the COMEX futures market in gold…which remains market neutral.
Like in silver, the Big 8 are still trapped on the short side, at least on paper — and it remains to be seen if any or all of this gold that's been brought into the COMEX depositories over the last six months is about to be used to extinguish it.  Maybe that's what these big deliveries in gold are all about, at least in part.  And from a futures market perspective, the set-up in gold is very bullish as well.
---
---
The reason for the difference in those numbers…as it always is…is that Ted's raptors, the 32-odd small commercial traders other than the Big 8…which includes JPMorgan…are net long that amount.
Another way of stating this [as I say every week in this spot] is that if you remove the Big 8 commercial traders from that category, the remaining traders in the commercial category are net long the COMEX silver market.  It's the Big 8 against everyone else…a situation that has existed for over three decades in both silver and gold — and in platinum and palladium as well.
As per the first paragraph above, the Big 4 traders in silver are short around 109 days of world silver production in total. That's a bit over 27 days of world silver production each, on average…unchanged from last week's report.  The four big traders in the '5 through 8' category are short 44 days of world silver production in total, which is 11 days of world silver production each, on average…up a bit from last week's report.
According to Ted — and for the second week in a row, JPMorgan is market neutral in both silver and gold from a COMEX future market perspective.
The Big 8 shorts are still hugely exposed in all four precious metal, at least in the COMEX futures market.  Their short position in silver remained virtually unchanged during the last reporting week — and they decreased their short position in gold by a tiny amount over the same period.
They've made virtually no progress at all in the last many months — and appear firmly locked into their current $14 billion in both realized and unrealized loses.  Any changes in that number since the Tuesday cut-off would show an increase of some size.
---
[The October Bank Participation Report covers the time period from September 1 to October 6 inclusive.]
Citigroup, HSBC USA, Goldman Sachs and possibly Morgan Stanley would hold the lion's share of this short position. As to who other U.S. bank might be that are short in this BPR, I haven't a clue, but it's a given that their short position would not be material.
Also in gold, 29 non-U.S. banks are net short 59,009 COMEX gold contracts.  In September's BPR, these same 29 non-U.S. banks were net short 49,345 COMEX contracts…so the month-over-month change shows a very decent increase of 9,664 COMEX contracts…which is also a bit of a surprise considering the price activity during the reporting month.
But at the low back in the August 2018 BPR…these same non-U.S. banks held a net short position in gold of only 1,960 contacts — and they've been back on the short side in a big way ever since.
However, as I always say at this point, I suspect that there's at least two large non-U.S. bank in this group, one of which would be Scotiabank/Scotia Capital.  However, I have my suspicions about Barclays, Dutch Bank ABN Amro, plus Australia's Macquarie as well.  Other than that small handful, the short positions in gold held by the vast majority of non-U.S. banks are mostly immaterial.
As in gold, the three biggest short holders in silver of the four U.S. banks in total, would be Citigroup, HSBC USA — and Goldman in No. 3 spot — and whomever is in the number 4 spot, like in gold, their short position would be immaterial.
Also in platinum, 15 non-U.S. banks are net short only 161 COMEX contracts in the October BPR, which is down significantly from the 2,249 COMEX contracts that 16 non-U.S. banks were net short in the September BPR.
[Note: Back at the July 2018 low, these same non-U.S. banks were net short 1,192 COMEX contracts…so this month's BPR shows a new record low short position]
Also in palladium, '7 or more' non-U.S. banks are net long 426 COMEX contracts-precisely unchanged from the 426 COMEX contracts that '8 or more' non-U.S. banks were net long in the September BPR.
And as I've been commenting for almost forever now, the COMEX futures market in palladium is a market in name only, because it so illiquid and thinly-traded.  Total open interest at Tuesday's cut-off was only 9,481 contracts.
So, for the seventh month in a row, the world's banks are no longer involved in the palladium market in a material way — and if they are, I suspect that it's their clients that are on the hook.
Except for palladium, only a small handful of the world's banks still have meaningful short positions in the other three precious metals — and in most cases, it's their clients that are the ones on the short hook, not the banks themselves.
I don't know if it means anything, but the one stand-out feature in this latest Bank Participation Report was the fact that, with no exceptions, the U.S. banks increased their short positions in all four precious metals.
A mentioned further up, JPMorgan sold its remaining long positions in both silver and gold — and is currently market neutral in both as of this week's COT Report.  It may be out in platinum and palladium as well, but there's no way to know that.
After the big down move after the COMEX close on Tuesday, the precious metals are certainly set up for a rocket ride higher when JPMorgan allows it — and we're already off the launch pad in all four after Friday's trading session.
But when things get really serious to the upside, it will be very much to the detriment of those Big 8 shorts in particular — and the rest of the shorts in general, as their short covering will be the rocket fuel that drives precious metal prices to the moon, particularly silver.
I don't have all that much in the way of stories, articles or videos for you today.
CRITICAL READS
Disney is laying off 28,000 workers. American Airlines and United Airlines plan to cut 31,000 workers. Last week's disappointing unemployment report shows that we have a long way to go. Perhaps a lot longer than we think.
I'm going to quote at length from my friend David Rosenberg, who I believe is absolutely spot on:
Know this: That which can't go on, won't. We can't keep piling on debt at this rate forever, and we can't repay what we have.
---
The country is struggling – many of our citizens and businesses are suffering. But at this point I'm leery that potential benefits justify the enormous risks associated with unchecked fiscal and monetary stimulus. A deeper and more problematic crisis awaits when this runaway Bubble has finally run its course. And don't for a second succumb to the notion that more "money" and spending will resolve problems. I fear the nightmare scenario where market confidence in the Fed and Washington falters right when the system is in the throes of a bursting financial Bubble.
A 12.5% U.S. corporate default rate would be incongruous with record stock prices. It would certainly conflict with current corporate bond yields (and ETF share prices). Why the extraordinary divergence between ebullient markets and a depressing spike in corporate defaults?
In spite of the dismal Credit backdrop for many companies, overall financial conditions remain extraordinarily loose. Weird. The vast majority of companies today enjoy ultra-easy access to cheap finance – compliments of bountiful monetary and fiscal stimulus. Yet the system is acutely vulnerable to any de-risking/deleveraging dynamic and attendant tightening of financial conditions.
How might this play out around the election? The dollar should be vulnerable to prospects for ongoing egregious monetary and fiscal stimulus. One would think massive supply on the horizon makes Treasuries susceptible, although bonds glare at the Weird stock market and see a Bubble very much on borrowed time. One of these days, instability in the dollar and Treasury market might have the Fed thinking twice about boundless QE. A clean sweep by the Dems might prove more of a test than currently anticipated by an irrationally exuberant stock market.
---
The U.K. economy grew 2.1% in August, according to data released Friday that showed the slowest monthly gain since the initial lock-downs.
The gain in gross domestic product leaves the U.K. economy 9.1% below February levels, according to the Office for National Statistics. It also was below economist expectations for growth of 4.6%.
U.K. GDP had climbed 6.4% in July, 9.1% in June and 2.7% in May. The slowing growth figures are concerning as the U.K. has subsequently tightened restrictions in several areas due to rising cases of coronavirus.
In August, construction improved by 3% and services output rose 2.4%, while production rose 0.3%, manufacturing rose 0.7% and agriculture fell 0.7%.
---
More than salvaging Syria from a nearly decade-long war – vitally important though that was – Russia's pivotal intervention also marked the strategic setback for a Western-backed campaign of regime change and wanton illegal war-making across the Middle East and North Africa.
That decisive blow against the presumed hegemony of the United States and its NATO allies is no doubt a factor in the seeming relentless efforts by the West to isolate and smear Russia with sanctions and other provocations, efforts that continue unabated to the present day.
Russia's intervention was a principled response to aid an historic ally, the Syrian Arab Republic. The Levantine nation was at the time already assailed for four years by an array of illegally armed militant groups which were threatening to over-run the country. These groups comprised hundreds of thousands of mercenaries from dozens of countries and were lionized in Western media as "rebels" in a deceptive propaganda cover for the fact that they were in reality hardcore terrorists slaughtering their way to Damascus. These "rebels" beloved by Western governments and media carried out beheadings and other unspeakable atrocities against civilians.
What the Western media also referred to as Syria's "civil war" is another cynical propaganda ruse to conceal the fact that the conflict was in reality a foreign-sponsored proxy war of aggression.
The plot to overthrow the Arab state was years in the making by Western powers which viewed its alliance with Russia and Iran as an unacceptable resistance to their imperialistic diktats and objectives.
The Russian leadership was under no illusion. President Vladimir Putin and the Kremlin knew what was at stake. Western powers were trying to turn Syria into a failed state, to break the nation with a brutal assault by ghoulish proxies, and in that way pave the way for regime change to create a client-state in Damascus that would henceforth do the West's bidding in terms of Middle Eastern geopolitics. The nefarious plan would come at the price of destroying Syria and its ancient multi-ethnic and multi-religious civilization along with hundreds of thousands of lives lost and millions of people turned into refugees.
---
China's central bank will issue 10 million yuan ($2 million) of digital currency to 50,000 randomly selected consumers in what some see as the country's first public test of the digital yuan payment system.
The People's Bank of China's (PBOC) campaign comes as central banks worldwide race to issue digital currencies to modernise payments systems and fend off potential competition from privately issued cryptocurrencies.
Starting Friday (local time), any individuals in China's southern city of Shenzhen can apply to join the program through the country's big four banks. But only some will be awarded a 200-yuan "red envelope" via a lottery, according to the local Government and the lenders.
Anyone in Shenzhen can apply to join the lottery until Monday, while winners will be awarded the red envelope on October 12 after they download an app for the digital currency and register for a digital wallet.
The winners can use the digital currency in 3,389 retail outlets in Shenzhen including Sinopec gas stations, Walmart stores, CR Vanguard malls and Shangri-La hotels.
He suggested the PBOC expand pilot schemes to more Chinese cities and officially launch the digital currency as soon as possible to meet public needs.
---
Legendary investor Eric Sprott discusses current events impacting the precious metals markets — and in the process rakes the CFTC over the coals.  He then looks ahead to the pending earnings releases of some of the major mining companies.
---
Physical gold was sold at a premium in India this week for the first time since mid-August as jewellers stocked up, hoping key festivals would bring customers back to stores.
Indians will celebrate Dussehra in late October and Diwali and Dhanteras in November, when buying gold is considered auspicious.
Dealers charged premiums of $2 an ounce over official domestic prices, inclusive of 12.5% import and 3% sales levies, versus last week's $6 discounts. Local gold futures traded around 50,550 rupees per 10 grams on Friday.
In neighbouring Bangladesh, some people resorted to selling gold with the coronavirus outbreak having shuttered businesses and choking incomes.
The PHOTOS and the FUNNIES
STAY INFORMED! Receive our Weekly Recap of thought provoking articles, podcasts, and radio delivered to your inbox for FREE! Sign up here for the HoweStreet.com Weekly Recap.