August 8, 2020 | Ted Butler: Don't Forget the Silver Users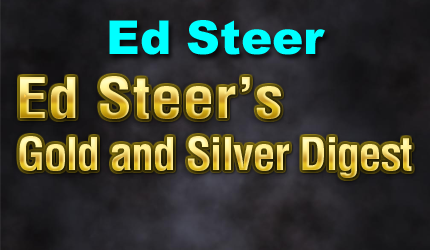 "Ed wrote the daily precious metal commentary for Casey Research starting in 2008. His stand-alone column became their most highly-rated blog [either free or paid] almost from the outset—and remained that way until he started his own subscription-based website in June of 2015."
YESTERDAY in GOLD, SILVER, PLATINUM and PALLADIUM
---
The gold price spiked higher shortly after trading commenced at 6:00 p.m. EDT in New York on Thursday evening — and that was the high tick of the day.  It was sold lower until shortly after 12 o'clock noon China Standard Time on their Friday afternoon — and although it rallied from there, that ended at the 2:15 p.m. afternoon gold fix in Shanghai.  It was quietly down hill from there until the job numbers hit the tape in New York — and at that juncture, the price blasted higher.  It ran into 'da boyz' about ten minutes later — and as the dollar index 'rallied'…the engineered price decline in gold began, with the low tick of the day coming about five minutes before the COMEX close.  Shortly after that it began to rally anew, but the price was capped and turned sideways at 2:45 p.m. in after-hours trading — and it didn't do much after that.
The high and low ticks in gold were recorded by the CME Group as $2,089.20 and $2,024.80 in the December contract…$2,078.00 and $2,015.00 in October.  The August/October price spread differential at the close yesterday was $7.90… October/December was $10.00 — and December/February was $10.50.
Gold was closed in New York on Friday afternoon at $2,034.80 spot, down $28.40 from its close on Thursday.  Net volume in October and December combined was an astronomical 407,000 contracts — and there was about 18,000 contracts worth of roll-over/switch volume in this precious metal.
Silver soared out of the gate at 6:00 p.m. in New York on Thursday evening — and was up $1.01 at its 8 a.m. China Standard Time high tick of the day.  But by minutes after 12 o'clock noon CST, it was down 98 cents!  After that, its price path was guided in a similar fashion as gold's, except for the fact that silver's low tick was set minutes before 10:30 a.m. in New York.  Its secondary New York low came at the same time as gold's low…minutes before the COMEX close.
The high and low ticks in silver were reported as $29.915 and $27.430 in the September contract.  The September/December price spread differential at the close on Friday was 25.7 cents — and December/March was 24.5 cents.
The silver price was closed on Friday afternoon in New York at $28.32 spot, down 57 cents from Thursday.  Net volume was another stunning new record at 239,500 contracts — and there was about 49,500  contracts worth of roll-over/switch volume out of September and into future months…mostly December, plus a bit into March.
Palladium's high of the day came at the same time as platinum's — and from there it was forced to wander quietly and unevenly lower, with the low tick of the day being printed around 10:20 a.m. in New York.  It managed to rally a respectable amount from there until the market closed at 5:00 p.m. EDT.  Palladium was closed at $2,031 spot, down 81 bucks from Thursday — and miles off its Kitco recorded $1,981 spot low tick of the day.
Palladium traded 2,691 contracts in total on Friday — and of that amount, there was 498 contracts worth of roll-over/switch volume out of September and into December.
Compared to its prior lows, the U.S. dollar's fall from grace has barely started.  The only thing that concerns me, as I've pointed out before on numerous occasions, is how long this engineered counter-trend dollar index 'rally' will continue, as it's monstrously oversold — and there's a huge existing short position in it that 'da boyz' can use to their advantage if they wish to do so.
Time will tell.
---
---
Here are two of the usual three charts that show up in every Saturday missive.  The first one shows the changes in gold, silver, platinum and palladium for the past trading week, in both percent and dollar and cents terms, as of their Friday closes in New York – along with the changes in the HUI and the Silver 7 Index.
Although no one is happy about the underperformance of the precious metal equities, I'm hoping that the worst is now far behind us, now that we have this not-unexpected engineered price decline mostly out of the way.
As per the COT and Days to Cover discussion a bit further down, the Big 8 traders are still mega short gold and silver in the COMEX futures market — and that situation hasn't changed one bit from last week.  But enough gold has now been brought into the COMEX that they could cover by physical delivery if that becomes necessary — and even though the deliveries have been huge so far in August, it hasn't change the short position of the Big 8 shorts in gold by any meaningful amount…nor in silver, either.
---
---
And if any of the authorized participants had been shorting the shares of GLD and SLV in lieu of depositing real metal over the last week or so, they were certainly covering those positions during yesterday's engineered price declines…which they most likely instigated.
Month-to-date they've sold 28,500 troy ounces of gold eagles — 6,500 troy ounces of those one-ounce 24K gold buffaloes — and 918,000 silver eagles.
---
Ted mentioned on the phone yesterday that this was the first week since the big deliveries began in March, that more gold was shipped out of these COMEX warehouses than was shipped in — and I'm sure he'll comment on this in his weekly review later this afternoon.
---
They arrived at that number by increasing their long position by 3,906 contracts, but they also increased their short position by 7,592 contracts — and it's the difference between those two numbers that represents their change for the reporting week.
Under the hood in the Disaggregated COT Report, the Managed Money traders didn't do much on either the long or short side, as Ted was hoping…decreasing their net long position by a paltry 648 contracts.  It was the traders in the other two categories that did all the work this past reporting week, as the 'Other Reportables' decreased their net short position by 3,229 contracts — and the 'Nonreportable'/small traders increased their net long position by 1,105 contracts.
Doing the math: 1,105 plus 3,229 minus 648 equals 3,686 COMEX contracts, the change in the Commercial net short position.
The Commercial net short position in silver now stands at 51,170 contracts, or 255.9 million troy ounces.  The Big 8 traders are short 76,756 COMEX contracts, so the short position of the Big 8 traders is larger than the Commercial net short position by 142 percent…which is grotesque and obscene by any measure.
The short position of the Big 8 traders is up about 5,600 contracts from last week's COT Report.
The Big 8 shorts are still behind the proverbial eight-ball — and this past week showed that they dug themselves a bit deeper.  However, they may have gotten some relief after Friday's engineered price decline, but how much that was, won't be know until next Friday.
---
They arrived at that number by reducing their long position by 20,694 contracts, but they also decreased their short position by 22,726 contracts — and it's the difference between those two numbers that represents their change for the reporting week.
Under the hood in the Disaggregated COT Report it was both the Managed Money traders and the traders in the 'Nonreportable'/small trader category that decreased their net long positions…the former by 3,664 contracts and 3,977 contracts respectively.  It was the 'Other Reportables' that were aggressive buyers on the long side, as they increased their net long position by a further 5,609 contracts.
Doing the math: 3,664 plus 3,977 minus 5,609 equals 2,032 COMEX contracts, the change in the commercial net short position.
The commercial net short position in gold is down to 27.63 million troy ounces, so the change from last week is not material.  The Big 8 traders on the other hand are net short 21.07 million troy ounces, or 76 percent of the commercial net short position.  Both of these numbers are up a hair from last week.  So despite all the deliveries and the short covering, their short position remains unchanged.  Ted will certainly have something to say about this in his weekly review later today.
Ted also noted that the huge drop in open interest in gold was mainly due to huge spread trade positions being lifted, plus physical delivery — and that made his estimates in gold a little foggy.
So it was yet another week where there were big price advances in both silver and gold that involved no huge Managed Money buying and/or commercial selling — and that is wildly bullish on its face.
Of course there have been some rather dramatic price moves, both up and down in silver and gold since the Tuesday cut-off.  But that doesn't change anything, as the Big 8 are still firmly trapped on the short side in both these precious metals — and improvements, if any, as of Friday's close, won't be material.
The other thing that I'll point out once again is the fact that the Big 8 traders actually increased their short position in gold by a whisker during the reporting week — and increased their short position in silver by more than a bit.  So none of the expected short covering occurred.
And lastly, as Ted has been pointing out for quite a while now, the commercial traders haven't been adding to their short positions since these rallies in gold and silver began back in March — and that fact is extremely bullish for the price going forward…as it has been since then.
---
---
The reason for the difference in those numbers…as it always is…is that Ted's raptors, the 28-odd small commercial traders other than the Big 8, are net long that amount.
As per the first paragraph above, the Big 4 traders in silver are short around 108 days of world silver production in total. That's about 27 days of world silver production each, on average…up a bit from last week's report.  The four big traders in the '5 through 8' category are short 48 days of world silver production in total, which is 12 days of world silver production each, on average…unchanged from last week.
According to Ted, JPMorgan is still net long 2-3,000 contracts in silver, down from about 5,000 contracts he said they were long a week ago.  In gold, Ted figures that they sold their entire approximately 5,000 contract long position — and are now market neutral.
The Big 8 shorts are still hugely exposed in all four precious metal, at least in the COMEX futures market — and for the reporting week, their short position in gold was up a hair — and also up a small amount in silver.  For all intents and purposes, this week's COT Report showed virtually no change in anything.
But there's no question about it, there are big things going on under the hood in the precious metals world…with all the signs point to a paradigm shift in their respective prices in the not-too-distant future.  That process has already begun in both silver and gold.
---
[The August Bank Participation Report covers the time period from July 8 to August 4 inclusive.]
Citigroup, HSBC USA and I suspect Goldman Sachs would hold the lion's share of this short position — and that's certainly been born out when you look at August gold deliveries. As to who other U.S. bank might be that is short in this BPR, I haven't a clue, but it's a given that their short position would not be material.
Also in gold, 30 non-U.S. banks are net short 63,576 COMEX gold contracts.  In July's BPR, 32 non-U.S. banks were net short 80,523 COMEX contracts…so the month-over-month change shows a very decent decrease…13,872 contracts.
But at the low back in the August 2018 BPR…these same non-U.S. banks held a net short position in gold of only 1,960 contacts — and they've been back on the short side in a big way ever since.
However, as I always say at this point, I suspect that there's at least two large non-U.S. bank in this group, one of which would be Scotiabank/Scotia Capital.  I'm starting to have suspicions about Dutch Bank ABN Amro, plus Australia's Macquarie as well. But August deliveries show that French bank BNP Paribas is another big foreign bank that is short.  Other than that small handful, the short positions in gold held by the vast majority of non-U.S. banks are immaterial.
As in gold, the three biggest short holders in silver of the four U.S. banks in total, would be Citigroup, HSBC USA — and Goldman in No. 3 spot — and whoever the remaining U.S. bank may be, their short position, like the short position of the smallest U.S. bank in gold, would be immaterial in the grand scheme of things.
Also in platinum, 16 non-U.S. banks are net short 2,674 COMEX contracts in the August BPR, which is up from the 1,659 COMEX contracts that 17 non-U.S. banks were net short in the July BPR.
[Note: Back at the July 2018 low, these same non-U.S. banks were net short only 1,192 COMEX contracts.]
And as I've been commenting for almost forever now, the COMEX futures market in palladium is a market in name only, because it so illiquid and thinly-traded.
Except for palladium, only a small handful of the world's banks still have meaningful short positions in the other three precious metals — and judging from August deliveries, a lot of their clients are the ones on the short hook.
JPMorgan is out of its short positions in both silver and gold — and may be in platinum and palladium as well, but there's no way to know that.
The precious metals are certainly set up for a rocket ride higher when JPMorgan allows it — and we're already off the launch pad.  But when things get really serious to the upside, it will be very much to the detriment of those Big 8 shorts in particular — and the rest of the shorts in general, as their short covering will be the rocket fuel that drives precious metal prices to the moon, particularly silver.
I have a decent number of stories, articles and videos for you today.  And included in the list are a couple that I've been saving for today's column for length and/or content reasons.
CRITICAL READS
With analyst and trader expectations about today's payrolls report fluctuating wildly, with some expecting a sizable drop after this week's disappointing ADP report and ISM employment components not to mention rolling over high frequency date…
… while others hoping the recent trend of payrolls increases continues after president Trump tried to stoke optimism saying to expect a "big number", moments ago the BLS reported that in the end the good news won out with the US economy adding 1.763MM, which while above the 1.48 million estimate was still well below June's record 4.8MM surge.
Looking at the details of the jobs report, the largest employment increases in July occurred in leisure and hospitality, government, retail trade, professional and business services, other services, and health care.
---
The U.S. dollar surged Friday after President Trump issued executive orders banning the Chinese messaging app WeChat and video-sharing app TikTok. The ban will take effect in 45 days has sparked further deterioration in Sino-U.S. relations.
The dollar rebound against the Swiss franc, the pound, and the euro, as the safe-haven trade was ignited by what could seemingly be a technology war between the U.S. and China.
Morgan Stanley said its Combined Market Timing Indicator for equity markets triggered a "sell" signal, the first time since January 2018.
Shorting the dollar accelerated this summer. Goldman's FX strategist continues to push out bearish notes…
---
In total, June consumer credit rose 2.6% at an annual rate to $4.125 trillion up from $4.116 trillion in May, according to the latest G.19 statement.
Broken up into its components, revolving credit actually posted another modest drop, but nothing compared to the record credit card repayment seen in April when credit card balances shrank by nearly $60 billion.
Finally, when looking at the biggest component of U.S. household debt after mortgages, namely auto loans and student loans, it's as if nothing every happened, with both series hitting new all time highs.
With total credit now once again positive, and revolving credit likely having gone green in July, it appears that life in America – where virtually everyone spends well beyond their means – is back to normal. At least until the next forced state shutdowns a few weeks from now to ensure that the economy is in complete shambles by the time November 3 rolls by.
---
If you want to understand America's dangerously deepening travails, you have to start at the Federal Reserve's Eccles Building.
It has become the heart of mushrooming darkness taking prosperity, liberty, and democracy down for the count.
How do we get 50 million unemployed… the stock market at record highs… companies trashing their balance sheets to buy back stock and do vastly overpriced M&A deals… doctors and politicians savaging the economy and the livelihoods of millions… and Washington going incontinent on the fiscal front?
The answer is simple: the rapidly-spreading dysfunction is rooted in the giant financial fraud embedded in the Federal Reserve's $7 trillion balance sheet.
---
Whee!
What fun! Like visiting an insane asylum every day, just for laughs.
But first, let's look at the grim news:
The big CARES Act giveaways are winding down. The Paycheck Protection Program, for example, expires tomorrow…
But last week, 1.2 million people filed for U.I. (unemployment insurance compensation)… the 20th week in a row with more than 1 million new claims.
Already, the U.I. checks are coming in a little light, since the $600 per week supplement is drying up, too.
And landlords are now free to evict their tenants.
But don't give up – you farmers, longshoremen, brain surgeons (and especially you, cronies and insiders) – more help is on the way.
Though temporarily stalled in a partisan battle between Republicans and Democrats, each side trying to score political points in the run up to the election, we have 100% confidence that more fake money is practically on its way.
---
March's financial dislocation – the "seizing up" of global markets – corroborated the global Bubble thesis. International data along with myriad anecdotes over recent years have pointed to an unprecedented post-crisis expansion of global leveraged speculation. March saw the powerful explosion of de-risking/deleveraging swiftly bring global finance to its knees.
It was integral to my analysis that the Fed's restart of QE last September – so-called "insurance" stimulus – stoked "terminal phase" speculative excess at home and abroad.
An even greater dislocation erupted in international markets for dollar-denominated bonds and dollar-related derivatives. This followed years of unprecedented growth in dollar debt globally, along with corresponding levered speculation in these instruments (and related derivatives).
The Fed's interventionist leap into corporate bonds and ETFs clearly exerted profound market impact. Suddenly, the Fed was viewed as providing a direct liquidity backstop, boosting the attractiveness (and prices!) of corporate Credit and fixed-income ETFs in particular. Not generally as appreciated – yet arguably more momentous – the Fed's aggressive liquidity measures and expansion of swap lines with the international central bank community were seen as creating a liquidity backstop for the massive offshore markets for dollar-denominated instruments (bonds and derivatives).
It's not difficult to envisage a scenario where the Fed finds itself stuck deep in geopolitical muck. Pressure to lend to our allies and avoid the others – a process that would seemingly accelerate the transformation to a more bi-polar world. I've for a while now pondered the relationship between the Fed and PBOC when things turn sour between Washington and Beijing. There are enormous amounts of dollar-denominated debt in China and Asia – too much held by leveraged speculators.
The bursting of the global dollar debt Bubble will likely coincide with a major deterioration in the dollar's value as the world's reserve currency. And this seems like a pretty good explanation for surging precious metals prices. Markets these days see nothing that could keep the Fed from aggressively employing endless QE necessary to sustain market Bubbles. There are myriad complexities and challenges being ignored today by the risk markets.
---
Earlier this year, Wall Street On Parade reported that the Chairman of the Federal Reserve, Jerome Powell, had an upward range of $11.6 million invested with the investment management firm, BlackRock, and its iShares Exchange Traded Funds, according to Powell's 2019 financial disclosure form.
Powell's 2020 financial disclosure form is now available. It was signed by Powell on May 15, 2020 and it shows that Powell's holdings in BlackRock investments have reached an upward range of $24.95 million – an increase of $13.35 million over the prior year's upward range.
The date that Powell signed his latest financial disclosure, May 15, is noteworthy. It means that more than 45 days after the New York Fed had hired BlackRock to manage its commercial mortgage-backed securities program and its $750 billion primary and secondary purchases of corporate bonds and ETFs in no-bid contracts, Fed Chairman Powell saw no reason to avoid the conflict of interest of allowing BlackRock to continue managing upwards of $25 million of his own personal money.
According to a statement released by the New York Fed, BlackRock was retained on March 24 to manage the $750 billion corporate bond buying programs for the Fed. The commercial mortgage-backed securities contract was entered into with BlackRock on March 25.
The ethical wall between the New York Fed and BlackRock would have no reason to include the Chairman of the Federal Reserve Board of Governors in Washington, D.C. Despite that, Powell has conducted four confidential phone calls with BlackRock's CEO, Larry Fink, since March, lasting a total of 90 minutes. The first call on March 19 lasted 30 minutes; there were two calls in April, one on April 3 and one on April 9, both lasting 15 minutes. May is the last month of Powell's calendar that is currently available. It shows a call between Powell and Fink on May 13 lasting 30 minutes.
---
Seventy-five years ago today, the United States unleashed the only nuclear war in history.
Among the truths held self-evident by millions of Americans is the notion that the atomic destruction of Hiroshima and Nagasaki saved lives, both American and Japanese.
The choice, Americans learn, was between atomic bombs and an even bloodier invasion of Japan, whose fanatical citizens would have fought to the death defending their homeland and their emperor.
This narrative is deeply flawed.
Japan had in fact been trying to find a way to surrender for months and U.S. leaders knew it. Japan could no longer defend itself from the relentless U.S. air onslaught; ferocious firebombing had reduced most Japanese cities, including Tokyo, to ash.
The Allies, through a secret crypt-analysis project code named Magic, had intercepted and decoded secret transmissions from Shigenori Togo, the Japanese foreign minister, to Naotaki Sato, the ambassador in Moscow, stating a desire to end the war.
However, saving face was imperative to the Japanese, which meant retaining their emperor. Unconditional surrender was, for the time being, out of the question.
---
In his weekly review with the TF Metals Report's Craig Hemke at Sprott Money, mining entrepreneur Eric Sprott marvels at the recent explosion in gold and silver prices. He says that last week for the first time in history the bullion banks were covering their short positions in monetary metals futures contracts.
This short-covering, Sprott says, caused the recent price increases in gold and silver. For years only the bullion banks had been selling, Sprott says, and now, as physical demand begins to overtake derivative selling and the banks want to cover, there is no one else to take their place as sellers.
Sprott compliments silver market analyst and market manipulation whistleblower Ted Butler and says he followed the advice of Butler's newsletter to buy out-of-the-money calls on the exchange-traded silver fund SLV.
Sprott reiterates his enthusiasm for silver's prospects — he foresees the gold-silver ratio returning to the historic level around 15 to 1 — and discusses several mining companies in which he has invested.
---
South African gold miners are looking to cut debt and boost dividends as bullion hits record highs, with analysts and fund managers predicting a sectoral growth spurt over the next two years amid rising investor interest.
Shunned by investors due to mines that are old, deep, and difficult to extract metal from, the country's gold miners have traded at a discount to their global peers for years.
Higher prices, as spot gold roared past $2,000 an ounce for the first time, coupled with a weaker rand currency, come as a lifeline.
Interviews with companies executives, analysts, and fund managers show that higher gold prices could see some local miners bring their net debt to zero and pay healthy dividends over the next 18 to 24 months.
---
Hong Kong's wealthy are moving increasing amounts of their gold out of the financial hub after Beijing imposed a new national security law on the city last month, dealers in the precious metal say.
Private-sector investors have shifted about 10 percent of their physical gold from the territory to countries such as Singapore and Switzerland over the past 12 months, according to Joshua Rotbart, head of J Rotbart & Co, a Hong Kong-based gold dealer and storage provider.
The trend started last year during anti-government protests in the city and has picked up with the passing of the security law, as investors fret about political uncertainty and the rule of law.
---
Today, I would like to take a stroll down memory lane and revisit an issue that dominated the endless and often heated daily conversations I had with my dearly departed old friend, Israel Friedman. In the early days (circa the mid-1980's), Izzy's interest in my allegations of a short selling scam on the COMEX went to the motivations behind the price suppression and not so much the mechanics of the manipulation. He did issue me the challenge to come up with the explanation for why silver was so cheap in the face of a documented physical shortfall between supply and demand and it did take me a year to come up with the answer – but for some reason, Izzy didn't latch onto it immediately (not many -or actually any – people did).
So Izzy looked instead to the motivation, sort of accepting my COMEX short selling explanation, but shifting the conversation to who was benefiting from the depressed silver prices under the assumption that those benefiting the most were the likely forces behind the paper short selling on the COMEX. It was logical enough to steer me in that direction and I quickly discovered the highly unusual circumstance that silver was the only commodity to have an industrial users association – aptly named the Silver Users Association (SUA). The big members were Eastman Kodak, DuPont and 3M and a slew of silverware manufacturers.
While the Silver Users Association is for all intents a thing of the past, what's still of utmost importance is the coming role of the world's industrial silver consumers, many of which did not exist back in the late to mid-1980's in my heated discussions with Izzy Friedman. Solar panels and electric cars, to say nothing of I-phones and electronic devices of every type imaginable, simply did not exist back then. So even though the names of the big silver industrial users have changed drastically over the decades, the core of the basic premise that Izzy and I hatched out in incessant daily conversations hasn't changed a bit.
The PHOTOS and the FUNNIES
STAY INFORMED! Receive our Weekly Recap of thought provoking articles, podcasts, and radio delivered to your inbox for FREE! Sign up here for the HoweStreet.com Weekly Recap.