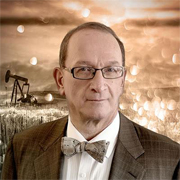 Josef Schachter
As a 40 year veteran of the Canadian Investment Management Industry, Josef Schachter has experienced several exceptional and turbulent global economic and stock market cycles. With his primary focus on the Energy Sector, Josef is able to weave global political, economic and monetary issues with current energy data into a compelling story of what's going on in the sector, what is to come, and why.
HoweStreet.com Radio
- Africa and Asia will keep increasing demand for fossil fuels.  Special Offer For New Subscribers! $100 off regular price for the first quarter (Note: automatically renews unless canceled) Offer ends April 30, 2021.  Enter Promo Code HSR21.
HoweStreet.com Radio
- Will California's push for electric vehicles hurt oil? Great buying opportunity in Energy coming in Q4/20. Special offer! $50 off your first quarter. Enter Promo Code: HOWE2020
Schachter Energy Report
- Coronavirus-19 Update:   The virus case count is rising sharply as more people are tested. As of today the case count is over 120,000 worldwide and the fatality rate is now over 4,200 people. The recent rapid rise in cases in Italy to over 10,000 cases has pushed the country to lockdown and full quarantine. It […]