November 20, 2023 | Videos Prove January 6 was an Inside Job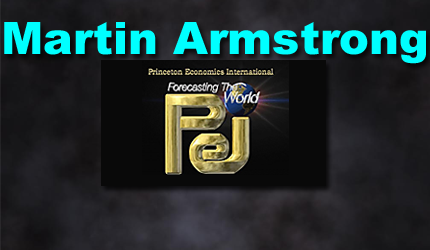 Martin Arthur Armstrong is the former chairman of Princeton Economics International Ltd. He is best known for his economic predictions based on the Economic Confidence Model, which he developed.
House Speaker Mike Johnson plans to release all of the hidden footage from the January 6 planned insurrection. We know from countless sources that the FBI was on the ground that day and hiding within the crowd. Ray Epps urged the protesters to go inside the building, and the following day, someone opened the doors and encouraged the protesters to enter the building. Kamala Harris has likened January 6 to Pearl Harbor and 9/11. Joe Biden is using footage from that day in his latest campaign ads, as the left wants the mindless sheep to believe that "MAGA extremists are the biggest threat to our country."
The footage is being leaked incrementally, but it is clear that the people sitting in jail are political prisoners. Similar to other ruthless dictators, Joe Biden wanted to stifle those questioning the 2020 election results. He publicly arrested anyone remotely close to the Capitol building to use as examples. "This decision will provide millions of Americans, criminal defendants, public interest organizations, and the media an ability to see for themselves what happened that day, rather than having to rely upon the interpretation of a small group of government officials," Johnson said on his decision to release the footage.
The protestors did not harm anyone, and yet the court of law views them as domestic terrorists who no longer belong in society. The DOJ arrested 1,200 people; 800 have been found guilty and 700 have been sentenced. Of those 700, two-thirds were given prison sentences, with some receiving a sentence of 22 years behind bars. Around half a dozen people involved committed suicide because they fear prosecution. These Americans are POLITICAL PRISONERS suffering under the brutality of the Biden regime. This is no different from someone like Kim Jung-Un arresting someone for not hanging his picture on the wall of their home and explaining to the public that they were an enemy of North Korea for their actions.
The neocons on both sides were in on the planned and staged "riot." "Why didn't Liz Cheney and Adam Kizinger ever refer to any of these tapes? Maybe they never looked for them. Maybe they never even questioned their own narrative. Maybe they were just too busy selectively leaking the text messages of Republicans they wanted to defeat," Senator Mike Lee questioned.
"The J6 committee was a sham," Texas Republican Rep. Troy Nehls said on X. "I knew it then. Everyone knows it now. Let's investigate the investigators." We cannot allow the Biden regime to lock up those who disagree. It may start with the J6 protestors, but soon they will come after anyone who disagrees if they believe they can get away with such a perverse abuse of power.
STAY INFORMED! Receive our Weekly Recap of thought provoking articles, podcasts, and radio delivered to your inbox for FREE! Sign up here for the HoweStreet.com Weekly Recap.