Recession Guessing Game — DiMartino Booth and Charles Payne of FBN Answer Questions. Here is a direct video link.

The five most expensive tech companies now comprise 25.7% of the S&P 500 (a record since the infamous Nifty Fifty stocks in 1972). Rebounding 33% year-to-date, the tech-centric Nasdaq 100 (30.51% weighted in information technology companies and 28.46% in electronics and hardware) has risen the most compared with the economically-sensitive Russell 2000 (small cap index) since the stock market peak in March 2000 (as shown below since 1985, courtesy of ISABELNet.com). In the 2000 cycle, the US Fed paused tightening efforts in May 2000, with the first rate cut in January 2001, and a mild recession was officially declared (after the fact) to have started in March 2001. Broad stock markets fell 42% in the 29 months after the Fed pause.

When such rare mania pricing reversed historically, the splatter hurt stocks broadly and produced a generational investment opportunity a couple of years after the cycle tops. Sadly, by then, buy-and-holders were in the fetal position with little cash or mental strength to take advantage of anything. Most liquidated in losses after the crash and did not buy back in until valuations and capital risks were high again.
A long-term view of Canada's TSX index tells a similar story (shown below since 2008 courtesy of my partner Cory Venable). Even with a 3% rebound year-to-date, the Canadian stock market has gone nowhere in 24 months, with very poor risk-adjusted returns since its commodity-mania top 15 years ago.  A retest of the pink band below is the base case during a recession and would evaporate all capital gains since 2008.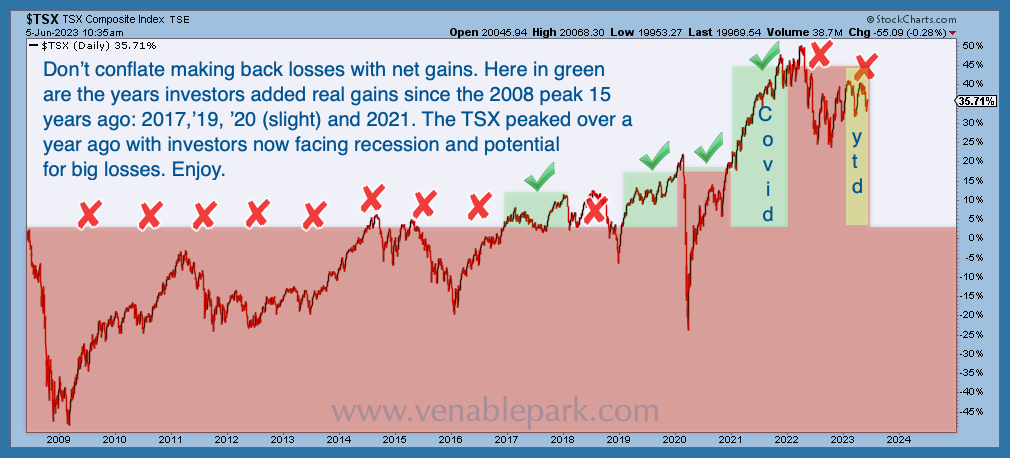 Maintaining a valuation discipline is hard, but not having one is much worse.