June 6, 2023 | Art Of The Collapse, June 2023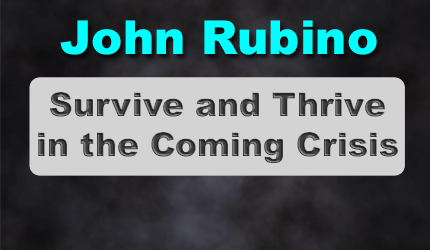 John Rubino is a former Wall Street financial analyst and author or co-author of five books, including The Money Bubble: What To Do Before It Pops and Clean Money: Picking Winners in the Green-Tech Boom. He founded the popular financial website DollarCollapse.com in 2004 and sold it in 2022.
Let's start with the ongoing debate over who owns public spaces. In New York's subways, is it mental patients or commuters (with their "sometimes delicious faces")?
In Australia, is it government bureaucrats or so-called "peaceful protesters"?
---
On a less contentious note, Oxi-Clean has released a new 'Clinton-Strength' Formula guaranteed to get blood out of carpet:
In a stunning breakthrough for the cleaning industry, Oxi-Clean announced today the release of their most powerful cleaning product yet: Oxi-Clean Clinton-Strength! The revolutionary stain remover was specifically designed to tackle the toughest of stains, including stubborn bloodstains that have been plaguing carpets worldwide.

"Oxi-Clean 'Clinton-Strength' promises to obliterate even the most stubborn and hard-to-remove marks left by unfortunate accidents," said spokesman Anthony Sullivan in a new infomercial. "Whether you're a clumsy cook, a messy eater, or just trying to hide all traces of a murder — Oxi-Clean's 'Clinton-Strength' formula has got you covered!"

"Our product is proven to cover up one-hundred percent of evidence, just as if nothing ever happened," added Sullivan. "It's like having the full force of the Clinton Foundation, right at your fingertips. Now everyone can unlock the power to make pesky, incriminating crime scenes a thing of the past!"
---
And we've got the latest episode of "Tent Hunters," where host Mavis Mangdorian helps California couples find their dream home.
---
Last but certainly not least, corporate earnings continue to rise.
Lockheed Martin Boosts Earnings Outlook Citing Billions Of Innocent People Still Left To Kill

Adjusting revenue expectations in light of resilient demand for massacring those who just want to live their lives, defense contractor Lockheed Martin boosted its earnings outlook in a conference call with investors Friday, citing billions of innocent people still left to kill. "Given that the total addressable market for our lethal killing devices is essentially every blameless man, woman, and child on Earth, we expect our net income to skyrocket in the coming months and years," said CEO James Taiclet, explaining that Chinese and Indian markets alone accounted for nearly 3 billion guiltless individuals who were already primed to meet an untimely end. "Every day, we are penetrating emerging markets for the ruthless slaughter of innocent civilians in Africa, the Middle East, and Southeast Asia, where we believe there is the greatest opportunity for new bloodshed. And with potential murder victims being born everyday, we don't see any reason for a slowdown in demand anytime soon."

Taiclet concluded the call by adding that while the company faced increased competition from wartime famine and drought, he was still confident the company was still well positioned to capitalize on human suffering.
---
And the memes keep coming…
---
---
---
---
---
---
---
---
Ending on an ambiguous note, I'm planning a post on VPNs this week, after which we'll all understand this joke:
STAY INFORMED! Receive our Weekly Recap of thought provoking articles, podcasts, and radio delivered to your inbox for FREE! Sign up here for the HoweStreet.com Weekly Recap.