March 27, 2023 | Science or Political Propaganda?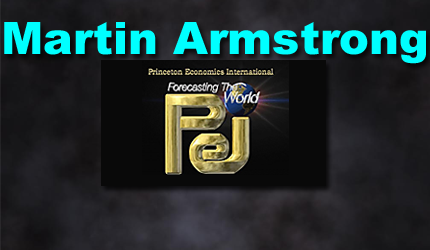 Martin Arthur Armstrong is the former chairman of Princeton Economics International Ltd. He is best known for his economic predictions based on the Economic Confidence Model, which he developed.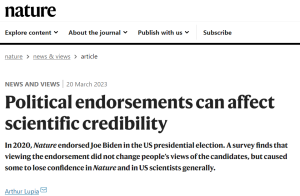 Politics has no place in science. I mentioned the publication Nature in my article on Fauci's failed door to door vaccine campaign, and how it claimed that incentivizing vaccinations did not have negative consequences. I am already skeptical about most scientific studies since I always follow the money. A reader pointed out that Nature, like so many other "science" publications, has been compromised by the left.
Nature publicly endorsed Joe Biden during his 2020 campaign and produced a three-part series on why. The publication repeatedly bashed Trump during his candidacy, with one article alone calling him a racist, xenophobe, white supremacist, womanizer, who was pushing the US into a nuclear war. That certainly does not sound like unbiased science. It is an opinion that is unfounded. Their largest criticism was how his administration handled the pandemic. "Joe Biden must be given an opportunity to restore trust in truth, in evidence, in science and in other institutions of democracy, heal a divided nation, and begin the urgent task of rebuilding the United States' reputation in the world," the October 14, 2020 article stated. The article continued:
"No US president in recent history has so relentlessly attacked and undermined so many valuable institutions, from science agencies to the media, the courts, the Department of Justice — and even the electoral system. Trump claims to put 'America First'. But in his response to the pandemic, Trump has put himself first, not America.
His administration has picked fights with the country's long-standing friends and allies, and walked away from crucial international scientific and environmental agreements and organizations: notably, the 2015 Paris climate accord; the Iran nuclear deal; the United Nations' science and education agency UNESCO; and even, unthinkable in the middle of a pandemic, the World Health Organization (WHO)."
So it supports all the major health organizations fighting to remove our freedoms. Nature failed to mention that scientists rely on grants for funding, and those grants are provided by organizations that expect a specific outcome from their studies. Stanford economist Floyd Zhang published a study on March 20, 2023, claiming that Nature's endorsement of Biden caused Trump supporters to distrust "the science."
"The endorsement message caused large reductions in stated trust in Nature among Trump supporters. This distrust lowered the demand for COVID-related information provided by Nature, as evidenced by substantially reduced requests for Nature articles on vaccine efficacy when offered. The endorsement also reduced Trump supporters' trust in scientists in general. The estimated effects on Biden supporters' trust in Nature and scientists were positive, small and mostly statistically insignificant. I found little evidence that the endorsement changed views about Biden and Trump. These results suggest that political endorsement by scientific journals can undermine and polarize public confidence in the endorsing journals and the scientific community."
Scientific studies are now propaganda tools that are used to push forth a certain agenda. We must question everything. If you follow the money, you can usually see where an organization's loyalty lies.
STAY INFORMED! Receive our Weekly Recap of thought provoking articles, podcasts, and radio delivered to your inbox for FREE! Sign up here for the HoweStreet.com Weekly Recap.