February 24, 2023 | The Russia Ukraine Conflict Drags on into a Second Year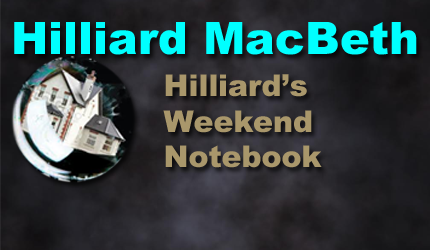 Author of "When the Bubble Bursts: Surviving the Canadian Real Estate Crash"
The Russia Ukraine "special military operation" is now one year old and showing no signs of ending.
A surprise visit of US President Joe Biden to Ukraine promising "unwavering support" ensures that the US will not cut back on assistance and that Ukraine forces will not be defeated on the battlefield in the near future.
Is there any way for this conflict to end soon?
President Biden and Volodymyr Zelensky of Ukraine met and hugged during a surprise visit of the Commander in Chief of the US Armed Forces to Ukraine. Originally the visit was announced as a trip to Poland only.
Biden announced his support for "(Ukraine's) independence, sovereignty and territorial integrity". This means that there will be no permanent annexation of territory for the rest of the Biden term, which lasts until January 2025, unless Ukraine wishes to settle, which is unlikely.
Around the same time President Putin of Russia gave an address to recognize the one-year anniversary of the start of the "special military operation" as Russia calls it or the war as many in the West are referring to the conflict. It is now the biggest conflict of European countries for many decades now, having surpassed the Bosnia wars of the 1990s.
The problem with seeking a quick end to this conflict is the annexation by Russia of some key parts of Ukraine. These latest territorial incursions are in addition to Russia's annexation of Crimea in 2014.
Because countries like the US, Poland, Germany and others are providing support with substantial volumes of weapons, ammunition and even tanks to Ukraine there is little chance of a Russian victory on the battlefield. On the other hand it would be difficult or impossible for Ukrainian forces, even with that substantial backing, to force the Russians to give up on those territories. Ukrainian forces claim to have recovered about 1/5 of the territory that had been occupied by the Russians in the last twelve months.
In a podcast Tracy Alloway and Joe Weisenthal of "Odd lots" interviewed an expert, retired CIA senior executive Robert Papp, who also has a PhD in Russian history, about this war. While the Russians made many mistakes initially the war has settled down to a conflict similar to WWI, a slugfest, with many artillery shells launched every day. According to Papp it has become a test of "Who can take the most pain?"
The problem, according to Papp, is that all sides are digging in. "The U.S. has said we're all in. NATO has said we're all in. And Russia is certainly all in as a matter of national survival and political survival at this point." In Papp's opinion the Russians are thinking that Donetsk, Luhansk, Zaporizhian and Kherson are destined to become Russian. They are also looking at areas further west on the Black Sea, close to Moldova.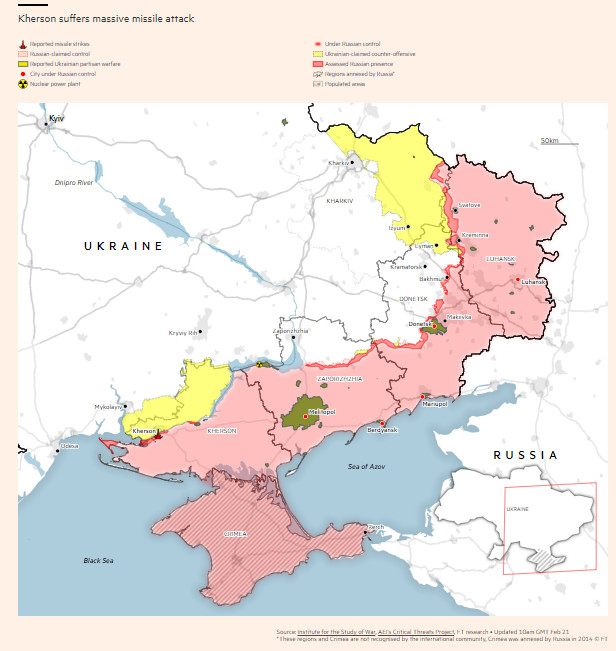 Source: Institute for the Study of War, Financial Times
With little chance of settlement or victory for either side, this conflict could continue for another year, or longer.
Hilliard MacBeth
The opinions expressed in this report are the opinions of the author and readers should not assume they reflect the opinions or recommendations of Richardson Wealth or its affiliates. Assumptions, opinions and estimates constitute the author's judgment as of the date of this material and are subject to change without notice. We do not warrant the completeness or accuracy of this material, and it should not be relied upon as such. Before acting on any recommendation, you should consider whether it is suitable for your particular circumstances and, if necessary, seek professional advice. Past performance is not indicative of future results. The comments contained herein are general in nature and are not intended to be, nor should be construed to be, legal or tax advice to any particular individual. Accordingly, individuals should consult their own legal or tax advisors for advice with respect to the tax consequences to them, having regard to their own particular circumstances.. Richardson Wealth is a member of Canadian Investor Protection Fund. Richardson Wealth is a trademark by its respective owners used under license by Richardson Wealth.
STAY INFORMED! Receive our Weekly Recap of thought provoking articles, podcasts, and radio delivered to your inbox for FREE! Sign up here for the HoweStreet.com Weekly Recap.