February 12, 2023 | The Coming War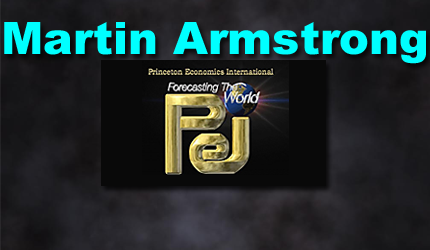 Martin Arthur Armstrong is the former chairman of Princeton Economics International Ltd. He is best known for his economic predictions based on the Economic Confidence Model, which he developed.
COMMENT:
Hi Marty,
As it appears the US is marching toward war, what is notable this time, unlike what happened in the run-up to US participation in WW2, was the sense of isolationism in this country. Roosevelt was clearly walking a fine line, knowing there was no stomach for US involvement in Europe. US involvement in WW1 also started out similarly with many in the US, in particular those of Irish descent who opposed helping the British in their battle in Europe. Wilson, another Democrat, also walked the straight and narrow, professing neutrality which history shows was a lie. Later, his 14 points, the forerunner to an imposed peace on Germany, would backfire. The League of Nations would die off.
But today, unlike the prior two world wars, both democrats and republicans appear to embrace an escalation in conflict. And with an old, decrepit mannequin in the WH, it looks like there's nothing stopping this push toward war. Republicans especially are a total disgrace. They stabbed Trump in the back repeatedly or let him twist in the wind for 4 years and for the first two when they were the majority party…did little to show their one chance to lead. Trump did more for peace than any president since Kennedy. Trump at least tried to engage Xie, met with the North Korean leader and focused more on building up the US domestic economy. He tore up US participation in these climate pacts. He focused on building the wall to stem the flow of illegals crossing the border. Her met with the Mexican president and forced his counterpart to accept an arrangement that kept illegals inside Mexico pending and petitions later to the US government for entry based on their applications.  And for all this, he was the target for a fraud based on collusion to get elected with Russian help. Which turned out to be baseless. Later, he was implicated in the Jan 6 insurrection…courtesy of both parties. Which itself was a total fabrication.
Both Dems and R's are now marching lockstep toward war. It's no wonder public opinion toward the government is sinking to all-time lows. In both parties. Both of which will be swept away in the years ahead for betraying this country on so many levels.
MS
REPLY: Hillary, started this whole mess by launching the fake dossier and blaming Putin for interring in the election. She managed to convince 70% of Democrats that Russia was the enemy. RussiaGate, despite being discredited, set in motion this hatred for Russia. Still, 65% of Americans support Ukraine when in fact what they are doing is relying on a border drawn by Kruschev for administrative purposes and demanding that the Donbas is their territory when NEVER for even a single day have Ukrainian people ever been the majority in that region. This is a land grab and nothing more that is engulfing the entire world all because our idiot politicians want to destroy the world economy so they can blame it on war and default on all the debt.
I get hate mail and death threats from Ukrainian Nazis pretty regularly now. This only shows that we are historically on the wrong side. In WWII, we fought against the Nazo movement. This time, we support ethnic cleansing.
Americans fled here to escape the political chaos and warmongering in Europe. So when WWI and WWII took place, the American people saw no reason to go support a political movement that they had fled. Indeed, FDR' solemn campaign promise was no boys would be sent to fight in a foreign war. That is why he did everything possible to get Japan to attack Pearl Harbor for that was the ONLY way to overcome the anti-war position of Americans. They have done the same to get Russia to act to protect the Donbas from the Ukrainians who began the civil war.
FDR repeated that solemn promise in Boston which was predominantly Irish. They refused to defend Britain openly recalling what the English did to the Irish. That was why FDR needed Japan to attack Pearl Harbor. Today, they needed Russia to launch its special operation which was absolutely legal under the United Nations Rules for he was protecting the Donbas, not seeking to conquer Ukraine.
All of those memories of past wars are long gone. Today, we cheer on war because we think it will be like watching Iraq on CNN after nightly dinner. As they say:

STAY INFORMED! Receive our Weekly Recap of thought provoking articles, podcasts, and radio delivered to your inbox for FREE! Sign up here for the HoweStreet.com Weekly Recap.