September 26, 2023 | Wolf Richter On Why We Should Short The Homebuilder Stocks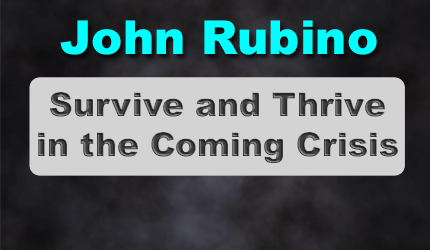 John Rubino is a former Wall Street financial analyst and author or co-author of five books, including The Money Bubble: What To Do Before It Pops and Clean Money: Picking Winners in the Green-Tech Boom. He founded the popular financial website DollarCollapse.com in 2004 and sold it in 2022.
Wolf Street's Wolf Richter is doing a great job of dissecting the real estate market. Definitely consider supporting his efforts.
His latest post is particularly on point for us since our portfolio contains short positions in three big homebuilders. Here's an excerpt featuring some charts that illustrate the industry's (apparently insoluble) problem:
Cut the price, and they will not come? Homebuilders, in a tough market, compete with homeowners who are still delusional.

Homebuilders are trying all kinds of stuff to get sales going in this environment of 7%-plus mortgage rates, including cutting prices, building at lower price points, piling on incentives (such as free upgrades), and the biggie, buying down mortgage rates, which can get expensive for builders. Neither incentives nor mortgage-rate buydowns are reflected in the prices of homes sold, and yet prices have dropped, and sales have dropped too below 2019 levels, and inventory increased, and months supply jumped. For homebuilders, who cannot sit out this market because their business is to build and sell homes no matter what the market does, it's not an easy environment.

The median price of new single-family houses sold in August dipped by 1.4% from July, by 2.3% year-over-year, and by 13.4% from the peak in October, to $430,300, back where it had first been in November 2021, according to data from the Census Bureau today.

Median-price data jumps up and down a lot, but you can see in the chart that after dropping a bunch in early 2023, it has now roughly stabilized over the past five months at these lower levels. But these prices do not include the costs for builders of mortgage-rate buydowns and other incentives.

Inventory for sale in all stages of construction rose to 443,000 houses. And that's a good thing for prices, which are still way too high and would need to come down a whole lot more to make sense, given these mortgage rates:

New houses now compete with used houses on price. Homebuilders have to build and sell houses no matter what the market is. And they responded by offering deals, though parts of their deals are not reflected in prices – such as mortgage-rate buydowns and incentives – while homeowners who are trying to sell are still delusional, hence the plunge in sales of existing homes.

And we can see these dynamics in the median price of new single-family houses and existing ("used") single-family houses, whose sales have plunged to the lows of the Housing Bust and the lockdown:
The resulting scenario
Two freight trains are heading toward the homebuilders from different directions: soaring mortgage rates have doubled the cost of financing a purchase, while the inventory of houses for sale is rising. And this is before the coming tsunami of Airbnb and private equity properties, as those once irrationally exuberant gangs realize that they loaded up at the peak of a bubble and will be crushed if they don't bail immediately. That stage of the process will be devastating for the homebuilders who, as Wolf Richter notes, have to keep building no matter what because that's who they are.
So … homebuilders are forced to simultaneously scale back their spec-house building and cut their prices, causing earnings to evaporate. Their quarterly reports become bloodbaths, investors dump their stocks and speculation begins on which homebuilder will go bankrupt first. The only happy people in the general area are the shorts who bet on things playing out this way.
STAY INFORMED! Receive our Weekly Recap of thought provoking articles, podcasts, and radio delivered to your inbox for FREE! Sign up here for the HoweStreet.com Weekly Recap.