September 28, 2023 | Did Gold Bars Just Become An Impulse Buy?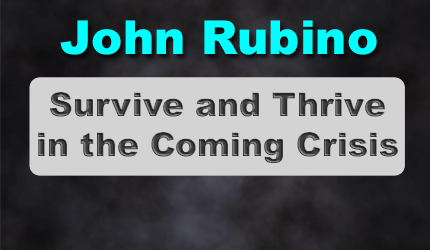 John Rubino is a former Wall Street financial analyst and author or co-author of five books, including The Money Bubble: What To Do Before It Pops and Clean Money: Picking Winners in the Green-Tech Boom. He founded the popular financial website DollarCollapse.com in 2004 and sold it in 2022.
One of the tough things about buying gold is the complexity. You have to find a dealer and look up their prices, choose a coin or bar from dozens of options, call in the order, and wire a large amount of money to people you've never met. Then comes the stressful wait while your cash is gone but your gold hasn't yet arrived. To jump through all these hoops, you really, really have to want the stuff.
Gold sales would be a lot higher if it was an impulse buy, the kind of thing you can see, think "Hey, I want that," and just take it home
Well, that day may have just arrived, with (no real surprise) Costco leading the way. From the warehouse chain's website:
Here's a MarketWatch story implying that this is not a hoax:
'When we load them on the site, they're typically gone within a few hours, and we limit two per member,' warehouse retailer's CFO says

Costco Wholesale Corp. sells lots of things you might or might not expect from a big-box retailer: caskets, caviar, six-pound tubs of Nutella. Add to that list 1-ounce bars of gold, which the company on Tuesday said were selling out within a matter of hours.

"I've gotten a couple of calls that people have seen online that we've been selling 1-ounce gold bars," Chief Financial Officer Richard Galanti said on Costco's COST, +1.91% quarterly earnings call on Tuesday. "Yes, but when we load them on the site, they're typically gone within a few hours, and we limit two per member."

Costco did not immediately respond to a request for more information about the type of gold bars it sells, how much they cost or the factors behind the demand. On Wednesday, the site showed a price of $1,979.99 per ounce for the bars. Shares of Costco were up 1.3% on Wednesday.
Two thoughts:
It's a bit surprising that Costco started with gold when silver would make a lot more sense from an impulse buy perspective. But if gold works, silver certainly won't be too far behind. And just like that millions of people will start picking up an ounce of silver with each weekly Cosco visit.
If precious metals turn out to be popular for Costco, the chain's competitors will be forced to enter the game. The resulting math is mind-blowing.
This still might be a hoax of some kind, so I'll track the story and follow up as soon as anything else is announced.
STAY INFORMED! Receive our Weekly Recap of thought provoking articles, podcasts, and radio delivered to your inbox for FREE! Sign up here for the HoweStreet.com Weekly Recap.