August 24, 2023 | BRICS Summit Ends With a Bang — And a Tease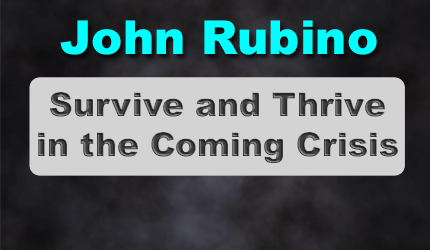 John Rubino is a former Wall Street financial analyst and author or co-author of five books, including The Money Bubble: What To Do Before It Pops and Clean Money: Picking Winners in the Green-Tech Boom. He founded the popular financial website DollarCollapse.com in 2004 and sold it in 2022.
In a nice bit of misdirection, the BRICS countries distracted the West with hints of a "gold-backed currency" at their August 22 – 24 meeting. Then, while everyone was looking over there, they did something potentially even bigger by admitting Saudi Arabia and the United Arab Emirates as members, with Iran, Argentina, Egypt, and Ethiopia scheduled for the following year.
Along the way, they of course threatened to bypass the dollar by cutting more bi-lateral trade deals:
"The objective, irreversible process of de-dollarization of our economic ties is gaining momentum, and efforts are being made to work out effective mechanisms for mutual settlements and monetary and financial control," Putin said. "As a result, the share of the dollar in export-import transactions within the BRICS is declining: last year it amounted to only 28.7 percent."
The former president of Nigeria reportedly got a standing ovation for this:
I want to buy from India. Why should I use dollars? It's a payment and settlement system that will allow me to buy whatever I want to buy in India, whatever I want to buy in Brazil, without looking for dollars.
And they tossed off another currency tease:
"The creation of a currency for commercial transactions and investments between BRICS members improves our payment conditions and reduces our vulnerabilities," said Brazilian President Luiz Inacio Lula da Silva, who has been the most vocal proponent of the common currency project among the five leaders.
Going forward, the one BRICS certainty is that the world's second and third-largest oil producers (Saudi Arabia and Russia) will be operating at least partially outside the dollar-centric financial system and within an aspirationally dollar-free system.
In purchasing power parity terms, the BRICS now account for a bigger share of global GDP than the G7 countries.
Geographically, they control a big part of the total landmass:
They also represent a significant share of the world's population (led by people who are, for now, mostly unfamiliar to Westerners):
Meanwhile, the 2024 BRICS chairmanship will pass to Russia, which guarantees a lot of trash-talk before, during, and after the next meeting.
International bank ING was quick to post an analysis of the "Saudi surprise". Here's an excerpt:
The big surprise from the BRICS summit in South Africa is that Saudi Arabia has been invited to join the group of major emerging countries. And that's adding fresh impetus to the de-dollarisation debate, which is a potential challenge to the dominance of the US dollar in global trade

Accelerated expansion

We knew that the expansion of the BRICS grouping was top of the agenda at this 15th BRICS summit in South Africa. We had thought that the United Arab Emirates (UAE), Egypt and Bangladesh would be invited to join given they were already part of the BRICS's New Development Bank. In the end, it was not only the UAE and Egypt invited to join, but also Saudi Arabia, Iran, Argentina and Ethiopia.

The biggest surprise is Saudi Arabia. It had been rumoured that the country wanted to enter the group, but the geo-political situation – given tense relations with the West – raised doubts about whether Saudi Arabia would formalise political and economic ties with the BRICS.

Together with fellow oil and gas exporters Iran and the UAE, the admission of Saudi Arabia to the BRICS grouping will inevitably focus debate on the use of non-dollar currencies in trade. As an aside, at this conference, Brazil proposed to Argentina that Brazil would guarantee Argentine payments for Brazilian exports in renminbi. This is perhaps a reflection of Argentina's ability to tap renminbi swap lines and expose the scarcity of dollars. Additionally, Argentina remains in dire financial straits as it struggles to source hard currency to service largely dollar-denominated debt.

Saudi switch to non-dollar invoicing?

The recently-announced news that a handful of countries, including Saudi Arabia, the UAE and Iran have been invited to join BRICS increases the energy dominance of the group, specifically when it comes to crude oil. As it stands, BRICS members make up around 20% of global oil output. The addition of Saudi, the UAE and Iran would see the BRICS group make up almost 42% of global crude oil output.

As for Saudi Arabia, it is the largest crude oil exporter. In 2022, the Kingdom exported around 7.3m b/d of crude oil, which makes up a little more than 17% of global crude oil exports. The bulk of these exports (76%) go to Asia, of which 35% go to BRICS members China and India.

Therefore, given the ambitions of the BRICS to de-dollarise, there certainly will be increased speculation that this latest move could see Saudi Arabia increasingly switching to non-dollar-denominated currencies for oil trade. To some, it might make sense that Saudi Arabia starts accepting the Chinese yuan and Indian rupee from China and India for its crude oil. And there has been plenty of noise and reportedly discussions between Saudi Arabia and China on the matter. However, up until now, it does not appear as though the Saudis have been willing. The fact that the Saudi riyal is pegged to the US dollar might mean that the Saudis are reluctant to start making the shift.

However, where we have seen a shift is obviously in relation to Iran. Given sanctions, any buyers of its crude will be paying in non-dollar currencies. China is the largest buyer of Iranian oil at the moment and is reportedly paying in yuan.
Some thoughts
None of this should come as a surprise. Numerous mistakes by the West — led by the US — have led countries with half the global population and 40+% of GDP to want out of the current system. Our two biggest mistakes are:
Accumulating insane amounts of debt that can only be resolved through a brutal financial crisis and global currency reset. What sane developing country would volunteer for such a thing?
Weaponizing the world's reserve currency and related systems to the point that emerging nations see themselves as either current or future victims of US predation. Again, who wants to sit around waiting for the inevitable sanctions/asset theft/CIA coup?
The BRICS are, in short, a threat made in the USA. But today it went global.
STAY INFORMED! Receive our Weekly Recap of thought provoking articles, podcasts, and radio delivered to your inbox for FREE! Sign up here for the HoweStreet.com Weekly Recap.