Elon Musk, founder and CEO of the leading electric vehicle company Tesla, is making a possibly reckless gamble that will affect the automobile industry deeply.
After several price cuts the most popular Tesla Model Y is now less expensive than the average new car in the U.S.
Will Elon's latest gamble pay off?
Tesla's latest results showed that Tesla's gross profit margin has shrunk from over 25 percent to less than 20 percent. Musk has stated his willingness to accept lower profits in order to grow faster.
Now Musk is going even further by introducing more price cuts. The price of a Tesla Model Y, the bestseller sport utility vehicle, has dropped by almost 33 percent since the beginning of the year, from $65,000 to $47,000. This new price is lower than the average new car price in the U.S.
Without these price cuts Musk would have no chance of meeting his goal of 50 percent annual growth in sales. His longer term goal is 20 million vehicle sales annually by 2030. Currently Tesla's sales are under 2 million.
The lower cost for a Tesla is a threat to the big manufacturers. Ford, Stellantis and GM command 37 percent of the U.S. market which translates to 5.6 million units, more than 10 times Tesla's volume in the U.S.
The pressure on these larger manufacturers is enormous. Their BEV divisions are losing money while the legacy ICE divisions are still mostly profitable. How does a CEO convince the board of directors to reduce investment in the most profitable divisions while investing more in the new money-losing BEV department? One CEO tried it, and things did not go well for him.
Herbert Diess, CEO of Volkswagen, committed that company to go fully electric and was removed shortly after in August 2022, after only 4 years in the job. His replacement, Blume of Porsche, has reversed direction and plans to produce ICE vehicles for many years to come.
Diess made himself very unpopular when he invited Elon Musk to make a presentation to top management and to tour the company's facilities. This surprise move was not well received as you can imagine. But Diess was trying to introduce a more innovative approach.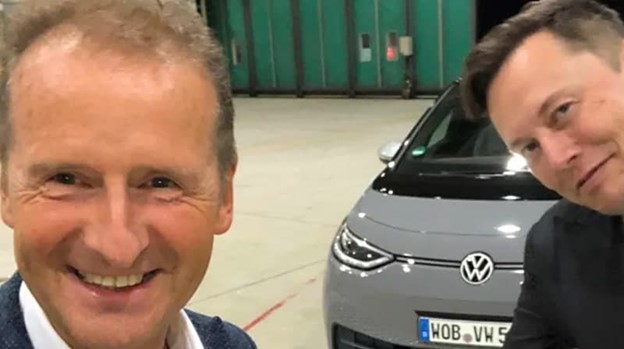 Diess and Musk – Source: Herbert Diess
Diess felt that he had to shock his management with the idea of a rapid transition to BEVs. They rejected his push.
Now that Musk is cutting prices to below average levels the task of converting to BEVs becomes substantially more difficult for GM, Ford and Volkswagen. Their BEV divisions will become even more unprofitable. And yet they must compete with the newcomer.
Tesla has several important advantages. Tesla is manufacturing in new plants, designed for BEVs, using less labour, and has no unions. Tesla has no advertising costs and no dealers to take a cut of the profits.
The eventual transition to BEVs will be full of bumps in the road but Tesla will grow its leadership position for many years to come.
Hilliard MacBeth
The opinions expressed in this report are the opinions of the author and readers should not assume they reflect the opinions or recommendations of Richardson Wealth or its affiliates. Assumptions, opinions and estimates constitute the author's judgment as of the date of this material and are subject to change without notice. We do not warrant the completeness or accuracy of this material, and it should not be relied upon as such. Before acting on any recommendation, you should consider whether it is suitable for your particular circumstances and, if necessary, seek professional advice. Past performance is not indicative of future results. The comments contained herein are general in nature and are not intended to be, nor should be construed to be, legal or tax advice to any particular individual. Accordingly, individuals should consult their own legal or tax advisors for advice with respect to the tax consequences to them, having regard to their own particular circumstances.. Richardson Wealth is a member of Canadian Investor Protection Fund. Richardson Wealth is a trademark by its respective owners used under license by Richardson Wealth.