Philip Lowe, governor of the Reserve Bank of Australia (RBA), made a public apology for the statements that were made about interest rates. He told people that rates would stay low and now that rates have risen substantially many people are in trouble with very large mortgages.
Reserve Bank Governor Philip Lowe said that "he was sorry that people listened to what we've said and acted on that and now find themselves in a position they don't want to be in."
This central bank guidance stated that interest rates would stay low until 2024, as the central bank of Australia was more worried about boosting the economy in 2020. He said that the economy at the time was in dire straits, and he was intent on injecting stimulus into the economy. The best way of doing that has been to push more households to take on more debt by encouraging them to borrow more to buy residential real estate.
This strategy worked very well in both Australia and Canada, as Australians have not seen a recession for many decades. Canada did go into a shallow recession in 2008-09 but came out of it quickly as real estate prices rebounded and the growth of household debt resumed its relentless climb.
In Canada in June 2020 Bank of Canada Governor Tiff Macklem made a similar promise. He said that rates would stay low for a long time.
At that time the five-year fixed rate mortgage in Canada was 3.77 percent, but people could get a variable rate mortgage for less than 2 percent in some cases. Of course, there normally is some risk in variable rate mortgages but with the assurance from head of the Bank of Canada that rates would stay low for a long time it seemed to be a slam dunk to take the variable rate option.
In November 2022 rates for both the five-year fixed and the variable rate are above 5 percent. And next week the central bank is widely expected to raise rates by 25-75 basis points, which might bring the 6 percent benchmark into view for most mortgages.
Imagine taking out a mortgage at 2 percent and waking up in less than three years forced the pay 6 percent with much larger monthly payments!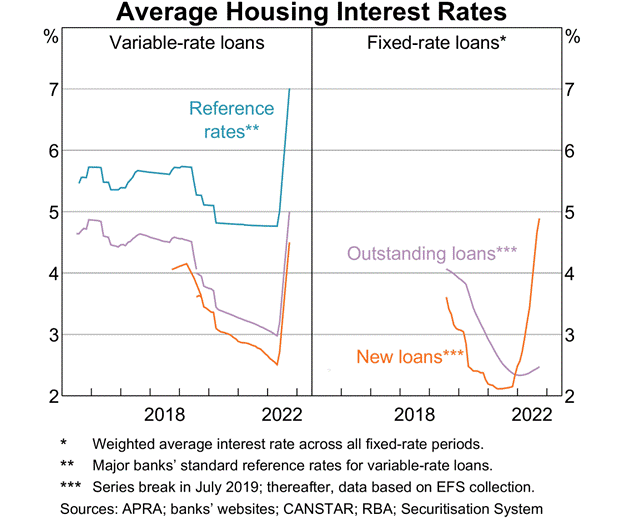 It is clear that rates in Australia for mortgages went very low when the central bank was promising to keep rates low and then surged higher, as high as 7 percent for variables, when the RBA was forced to aggressively increase rates to combat inflation.
As in Canada the Australian central bank initially claimed that the inflation surge was temporary. But soon it became clear that inflation would not go away quickly, and rates started to rise rapidly.
Homeowners who listened to central bankers are getting burned as rates are three times what they expected.
There should be more apologies, and hopefully central banks will stop pushing people to take on more debt than they can afford.
Hilliard MacBeth
The opinions expressed in this report are the opinions of the author and readers should not assume they reflect the opinions or recommendations of Richardson Wealth or its affiliates. Assumptions, opinions and estimates constitute the author's judgment as of the date of this material and are subject to change without notice. We do not warrant the completeness or accuracy of this material, and it should not be relied upon as such. Before acting on any recommendation, you should consider whether it is suitable for your particular circumstances and, if necessary, seek professional advice. Past performance is not indicative of future results. The comments contained herein are general in nature and are not intended to be, nor should be construed to be, legal or tax advice to any particular individual. Accordingly, individuals should consult their own legal or tax advisors for advice with respect to the tax consequences to them, having regard to their own particular circumstances.. Richardson Wealth is a member of Canadian Investor Protection Fund. Richardson Wealth is a trademark by its respective owners used under license by Richardson Wealth.