March 20, 2023 | Can AI read your mind?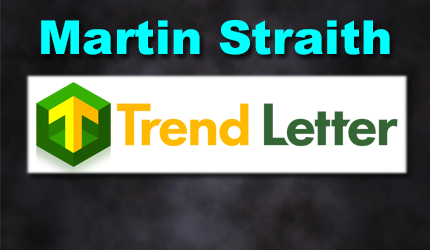 Trend News Inc. was founded in 2002 by Martin Straith. Martin had been a successful investor in the markets for over 20 years & after the DOT COM stock market crash, he felt that there needed to be an investment newsletter that helped educate investors on how to protect their wealth, & become better, more successful investors.
Some of our past articles have discussed Chat GPT & the huge buzz it has created, starting back in about November 2022. Since then, AI technologies have been moving forward rapidly, and we see it making major inroads into commercial applications. Microsoft is prepared to invest $10b as it integrates AI into its MS-OFFICE products, helping users with composing email, creating and debugging spreadsheets, and composing documents on virtually any topic. Not only is AI making moves into commercial spaces, but AI technologies are advancing on their own to be even more amazing. Here are two examples of AI on the move:
ChatGPT- 4: this version was released on March 13, 2023, & is more capable than the previous version 3.5. The latest version can understand images, process 8 times as many words, and is more difficult to trick or fool. Version 4 is available only with a PAID subscription, so the monetization of ChatGPT continues, as we expected. The free version is still available to use, and it has done an incredible job of showcasing AI to a very large and attentive audience. ChatGPT is still be accessed via the OPEN AI website, and it is still very busy, so you may not get in right away: https://chat.openai.com/auth/login.
One of the capabilities involving the use of images is the ability of ChatGPT-4 to generate recipes based on your image of a few food staples. It can take on complex tasks with much better results than version 3.5, such as computer programming, website code generation, achieving good marks on exams, like a Bar Exam, generating Law Suits, plus it can better understand and analyze humour.
Can AI do mind reading? A team of researchers in Japan have developed a form of AI called diffusion models and have applied a diffusion model to functional MRI (fMRI) imaging technology, in an attempt to read the brain (mind reading). The early results are very convincing as the images below illustrate. The top row of images was shown to a test subject, but not to the AI. The bottom row of images is what the AI produced based on the neural activity measurements from the fMRI scans. The diffusion model proved capable of reading the test subject's mind just from analyzing their brain activity. And the reconstructed images are clear enough for us to discern what they represent.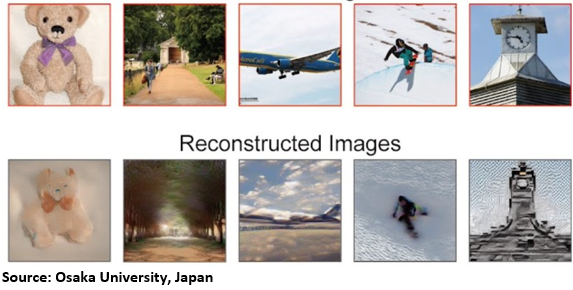 There are several issues to consider with this kind of AI, such as:
Law enforcement having the ability to ask questions, and reconstruct what the subject saw. Lie detectors could become obsolete, but privacy concerns and rights may have to be addressed, and perhaps a new kind of Warrant would be required. A subject being questioned may choose to lie, or not say anything at all, but it may be impossible for a subject to NOT think about it, and have true images and true memories flash in their brain, to be detected and reconstructed by the AI / fMRI technology.
If we consider our minds to be the only private space left for our thoughts, there may be considerable resistance to letting AI take away that privacy space. On the other hand, the technology may be able to provide a valuable new way to communicate for those who have no other way, such as victims of stroke and/or spinal cord injuries. Legal and ethical concerns may require a lot of discussion in order to get it right.
If technology can truly deliver on reading thoughts, then deploying the technology will be one of the biggest challenges humans have to face in the years ahead. Perhaps AI technology itself could help us in asking the right questions, and providing us with sensible, legal, and beneficial options for moving forward.
The goal of TREND DISRUPTORS is to discover and monitor technical developments that have the potential to DISRUPT market sectors. We look for the best ideas, and generate actionable investment recommendations for subscribers. As a general rule, these recommendations are speculative, and we advise caution, discretion, and thorough research. We strive to identify investment opportunities that can lead to success for the well-informed investor.
Stay tuned!!
STAY INFORMED! Receive our Weekly Recap of thought provoking articles, podcasts, and radio delivered to your inbox for FREE! Sign up here for the HoweStreet.com Weekly Recap.