January 27, 2023 | The Bank of Canada Hikes Rates Again But Promises An End To The Pain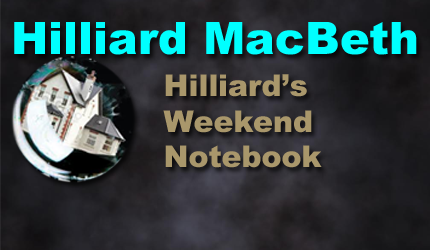 Author of "When the Bubble Bursts: Surviving the Canadian Real Estate Crash"
The Bank of Canada (BOC) met expectations Wednesday with a 25-basis point increase in rates, and hinted that it might go on hold. This was the eighth consecutive interest rate increase from the BOC. Markets expect inflation to fall quickly allowing the BOC to cut rates, perhaps as soon as the middle of 2023.
Until recently, businesses and borrowers had become complacent and expected central bankers to keep doing "whatever it takes", to quote Mario Draghi from a decade ago, to keep the economy and markets rolling ahead. That period of contentment ended when surprisingly strong inflation appeared shortly after the COVID-19 economic crash. This inflation was triggered when governments pumped massive amounts of liquidity into the economy to stave off the end of the world. Canada was the world leader in injecting money into the system with large increases in the ratio of debt to GDP for all three sectors — government, corporate and household.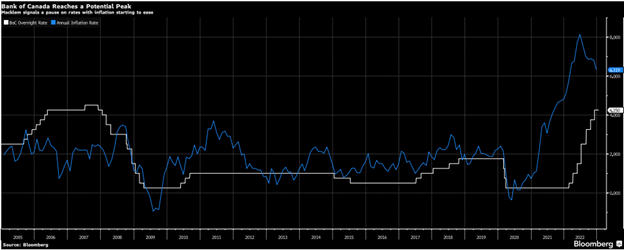 Source: Bloomberg
Inflation (blue) is still well above rates (white).
Central banks consider their main task is fighting inflation. In most democracies there is a strict policy of independence from the politician class, so that central bankers can do nasty but necessary things to keep inflation under control. The main tool of central bankers for dampening inflationary forces is to push the economy into a recession by restricting liquidity and raising the cost of money. Of course, every time this happens politicians are unhappy because governments that face the electorate never get voted back in if the economy is crashing, businesses are going bankrupt, and families are losing their homes because they cannot pay their mortgage.
It has been so long since central bankers actually inflicted this kind of pain in order to accomplish their objective that most people had come to believe that they never will do it again. Both politicians and investors expect central banks to do only things that help markets, like keeping rates at zero for more than a decade because the economy was not as strong as people would like. So, it is understandable that people are surprised when central bankers act contrary to the experience of the last decade or two.
Some of us were working when inflation got out of control in the 1970s and early 1980s. Back then central bankers were expected to act aggressively to stop inflation. But even with that mandate it took several years of rate hikes and tight money policy before inflation peaked and started to come back down to earth. Rates went much higher than the rate of inflation.
This time investors expect that pushing rates up to 4.5 percent will cure inflation. The popular consensus is that a weak economy will stop inflation without rates going any higher — the expected soft-landing scenario.
Inflation could fade away quickly without higher rates but that indicates a recession is imminent.
Otherwise, the Bank of Canada will have to resume hiking rates — eventually above the rate of inflation — and become very unpopular.
Hilliard MacBeth
The opinions expressed in this report are the opinions of the author and readers should not assume they reflect the opinions or recommendations of Richardson Wealth or its affiliates. Assumptions, opinions and estimates constitute the author's judgment as of the date of this material and are subject to change without notice. We do not warrant the completeness or accuracy of this material, and it should not be relied upon as such. Before acting on any recommendation, you should consider whether it is suitable for your particular circumstances and, if necessary, seek professional advice. Past performance is not indicative of future results. The comments contained herein are general in nature and are not intended to be, nor should be construed to be, legal or tax advice to any particular individual. Accordingly, individuals should consult their own legal or tax advisors for advice with respect to the tax consequences to them, having regard to their own particular circumstances.. Richardson Wealth is a member of Canadian Investor Protection Fund. Richardson Wealth is a trademark by its respective owners used under license by Richardson Wealth.
STAY INFORMED! Receive our Weekly Recap of thought provoking articles, podcasts, and radio delivered to your inbox for FREE! Sign up here for the HoweStreet.com Weekly Recap.