January 26, 2023 | Bank of Canada: "We're Pausing to Assess Whether We've Done Enough," Hikes by 1/4% to 4.5%, QT Continues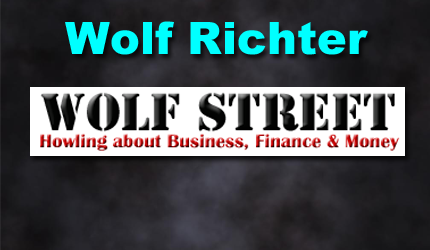 On his site WOLFSTREET.com, Wolf Richter slices into economic, business, and financial issues, Wall Street shenanigans, complex entanglements, debacles, and opportunities that catch his eye in the US, Canada, Europe, Japan, and China. He lives in San Francisco.
he Bank of Canada hiked its policy rates by 25 basis points on Wednesday, the 8th rate hike in a row, totaling 425 basis points in 10 months, bringing the target of the overnight rate to 4.5%. QT will continue and "is complementing the restrictive stance of the policy rate," the BOC said in the statement.
The coming pause at 4.5%: "If economic developments evolve broadly in line" with BOC's outlook, it "expects to hold the policy rate at its current level while it assesses the impact of the cumulative interest rate increases."
BOC Governor Tiff Macklem said later on Wednesday in an interview with Reuters that the BOC would pause as long as needed to judge the effectiveness of the cumulative increase in rates and think carefully about the next steps.
But with inflation still at 6.3%, "the question really we're asking ourselves is, 'Have we done enough?,' We're pausing to assess whether we've done enough," he said.
More rate hikes if inflation doesn't cooperate: Inflation was still over three times the BOC's target, though it slowed from 8.1% in June 2022, as gasoline prices plunged and some durable goods prices dropped. The BOC is now projecting that it will come down rapidly to 3% by the end of this year and to 2% by the end of next year. But the statement and Macklem separately pointed out that this may be illusory.
The risks to the projections come from services inflation, the tight labor market along with wage growth, and the reopening of China's economy, the BOC and Macklem pointed out.
Services inflation is in full bloom and got a worried nod from Macklem in the interview. If services inflation sticks around, "you're not going to see inflation come down as we forecast and yes, in that case, we probably will need to do more," he said.
In its statement, the BOC said that it "is prepared to increase the policy rate further if needed to return inflation to the 2% target.
Rate cuts not on the table: "We're not talking about cuts. We're not even thinking about cuts…," Macklem said.
The idea is this: If inflation doesn't follow the BOC's projected path, if instead inflation dishes up surprises, as inflation typically does, and if services inflation is entrenched and won't budge, then there may be more rate hikes.
If inflation follows the instructions issued by the BOC, and "as things start to get more back to normal, at some point, yes, we probably will be thinking about some modest cuts in interest rates," Macklem said.
Pricking the housing bubble. The housing bubble had become an official issue for the BOC back in April 2021. "You won't be surprised to hear that we also spent some time discussing what is happening in the housing market," Macklem said back then in his opening statement following the BOC meeting, and he has been talking about it ever since.
And what was once one of the biggest most breath-taking housing bubbles in the world is now deflating at a rapid pace.
Home prices in Canada dropped by 17.4% in December from the peak in March 2022, and by 7.5% year-over-year, according to the Canadian Real Estate Association. Sales plunged by 39% year-over-year. The composite benchmark price of the Canada MLS Home Price Index for all types of homes has now dropped by C$151,300 in nine months since the rate hikes started.
Whether or not the BOC's tightening will knock down inflation the way the BOC is projecting remains to be seen. But tightening has started to take down this splendid housing bubble that the BOC had so vigorously inflated and then so vigorously fretted about: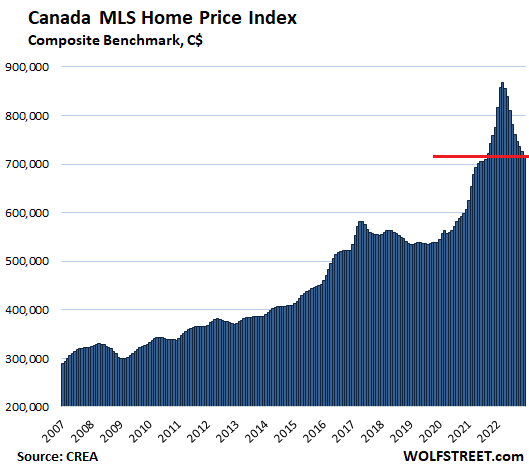 STAY INFORMED! Receive our Weekly Recap of thought provoking articles, podcasts, and radio delivered to your inbox for FREE! Sign up here for the HoweStreet.com Weekly Recap.