October 23, 2022 | Trading Desk Notes For October 23, 2022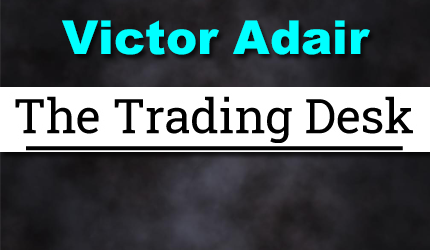 Victor Adair, author of The Trading Desk Notes, began trading penny mining shares while attending the University of Victoria in 1970. He worked in the mining business in Canada and the Western United States for the next several years and also founded a precious metals trading company in 1974. He became a commodity broker in 1977 and a stock broker in 1978. Between 1977 and his retirement from the brokerage business in 2020 Victor held a number of trading, analytical and senior management roles in Canada and the USA. Victor started writing market analysis in the late 1970's and became a widely followed currency analyst in 1983. He started doing frequent media interviews in the early 1980's and started speaking at financial conferences in the 1990's. He actively trades his own accounts from The Trading Desk on Vancouver Island. His personal website is www.VictorAdair.ca.
Markets may be turning
I'm writing the TD Notes on Sunday afternoon this week. I left my desk last Thursday morning, flew to Calgary to attend Joseph Schachter's fantastic annual energy conference (more on that below), and got home Sunday afternoon. The Notes will have to be shorter this week – I'll comment on several different charts, but my main message is that I think the markets made a turn this week that could have legs.
Currencies
The Fed's relentless determination to bring down inflation by raising short-term interest rates (and by shrinking its balance sheet – now down ~$200B since April) has probably been the KEY consideration across markets for the past several months. Stock markets have been trending lower while the US Dollar and interest rates have soared. Markets have been hunting for "Peak Fed" for several months – without success!
Last week, in the "On my radar" section, I wondered if the soaring US Dollar might be the "dark horse" that would set off a chain of events (something breaks because of the super-strong USD) leading to a Fed pause or pivot.
Since the January 6, 2021, inflection point, I've generally been bullish on the USD, but recently I've been anticipating an end to the rally.
The US Dollar Index hit a 20-year high in late September and has turned lower. Friday's price action created a daily and weekly Key Reversal. It looks toppy!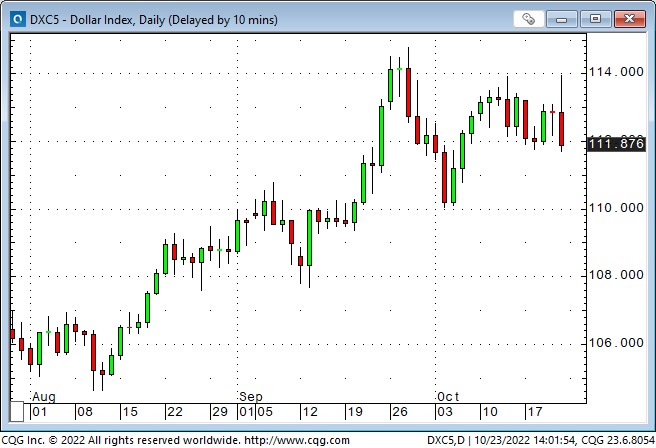 The Japanese Yen fell ~33% from last year's highs to Friday's lows. It hit a 32-year low early Friday before intervention caused a spike higher. The intervention happened during the North American day session – I don't know if the intervention was solely from the Japanese or if other countries also participated, but the intervention caused a significant spike in the Yen and "kicked off" the Friday rally in other currencies, gold and the stock market.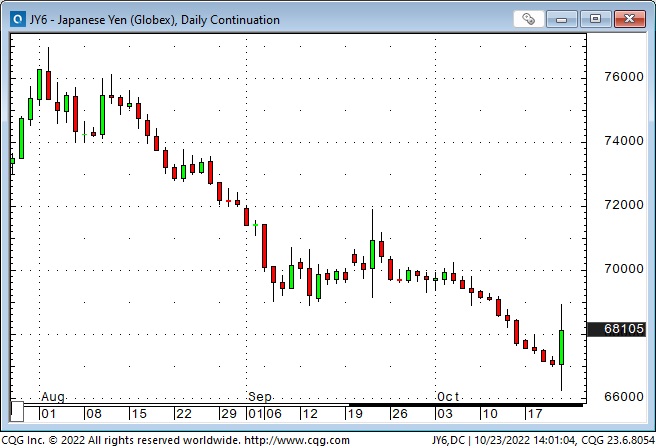 Given the recent "news" from the United Kingdom, people who don't trade currencies might imagine that the British Pound was hitting record lows – but the GBP hit 37-year lows last month and then bounced back ~10%.
The Swiss Franc has weakened against the Euro for the past four weeks after hitting an All-Time high against the Euro in September. The Swiss National Bank has been drawing down billions of USD from the Fed's currency swap line facility. Are there banking problems in Switzerland?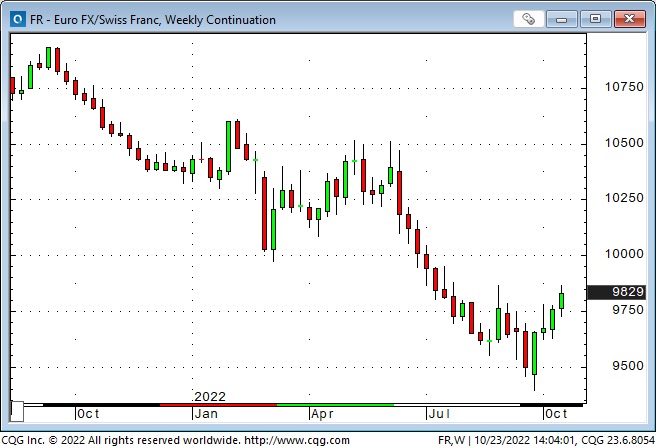 The Canadian Dollar fell more than five cents in five weeks, beginning in mid-September, as the Looney moved in virtual lock-step with the weakness in the American stock indices. Still, the CAD registered a Daily Key Reversal higher on Friday, closing at its best level since October 5. The market is expecting the BoC to raise interest rates by at least 50bps on Wednesday, October 26.
Credit
The 10-year Treasury yield hit a new 15-year high of ~4.3% early Friday morning before the Japanese Yen intervention and before Nick Timiraos' comments in the WSJ and comments from the Fed's Mary Daly caused traders to think that the Fed may be contemplating a "slowdown" in the pace of their interest rate increases as early as the December 13 & 14 FOMC meeting.
The 10-year hit an All-Time low yield of ~0.50% in August 2020 and was as low as 2.5% in early August. Prices on the 10-year futures contract have closed lower for 11 of the past 12 weeks.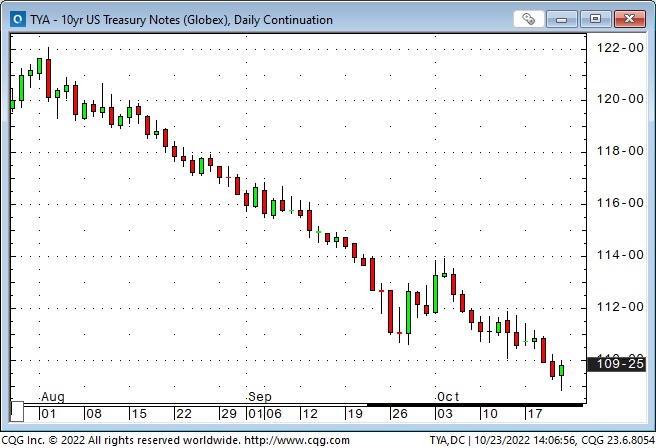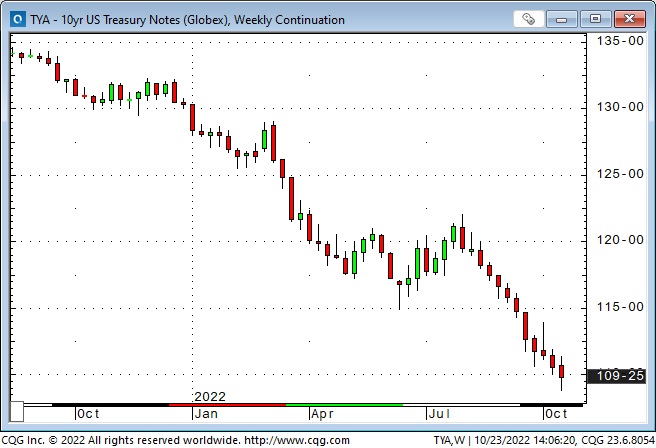 Equity Indices
The leading American stock indices hit their lowest levels in nearly two years on October 13, following the stronger-than-expected CPI report. Still, they have rallied since then (in a very volatile fashion!), with the Dow futures closing Friday up ~2,500 points from the October 13 lows.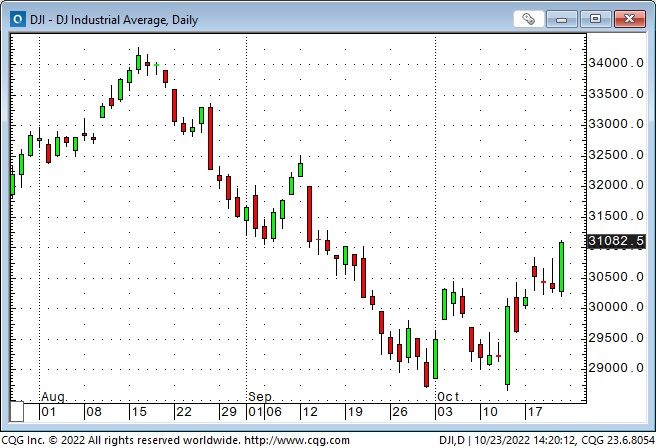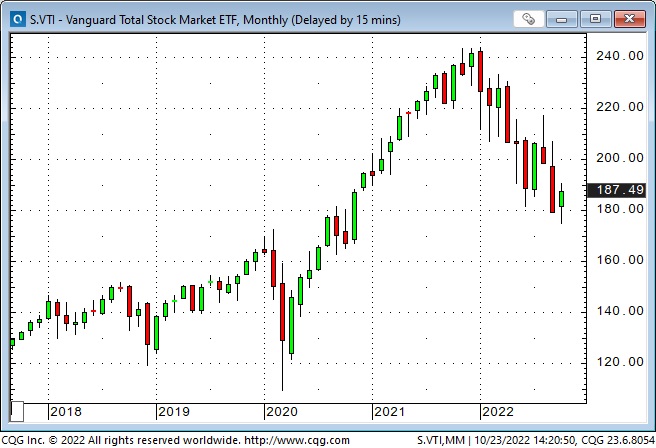 Metals
Gold hit a 30-month low early Friday morning but surged >$40 higher as the USD tumbled.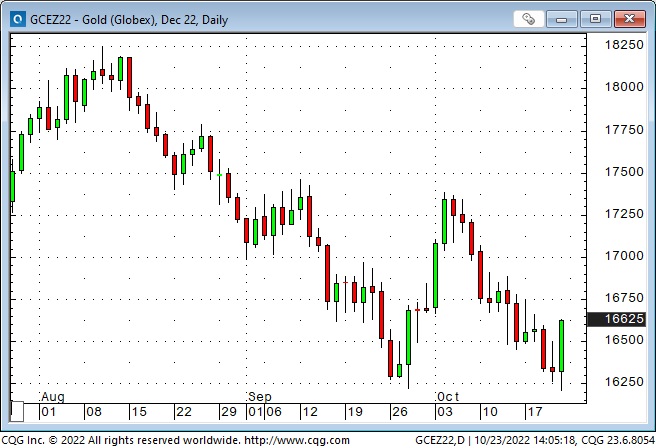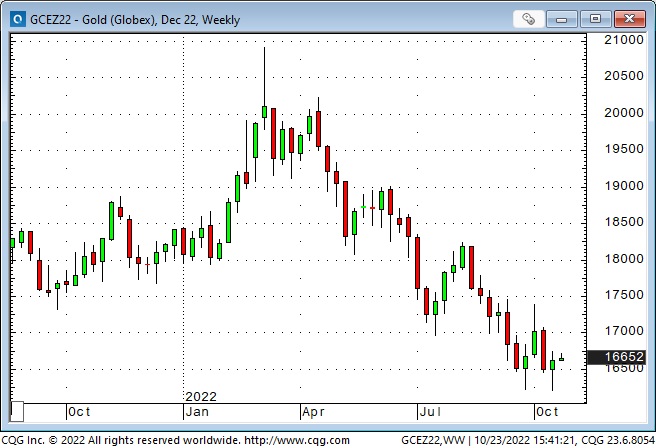 Copper rallied nearly 20 cents on Thursday/Friday.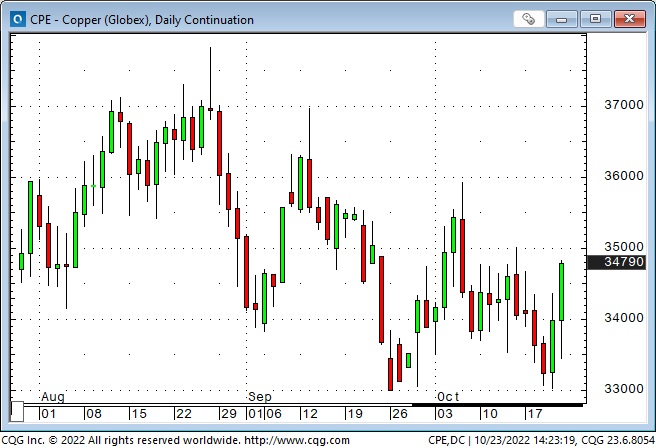 Energy
WTI futures were within two dollars of making a new low for the year on September 26 (the day the Nordstream pipelines damage was discovered), but instead, WTI began to rally on the anticipation (and subsequently the reality) of OPEC+ announcing cuts to production quotes at their October 5 meeting. The two-week rally saw prices rise ~$17, but then prices fell ~$11 over the next seven trading days! Crude oil prices are volatile!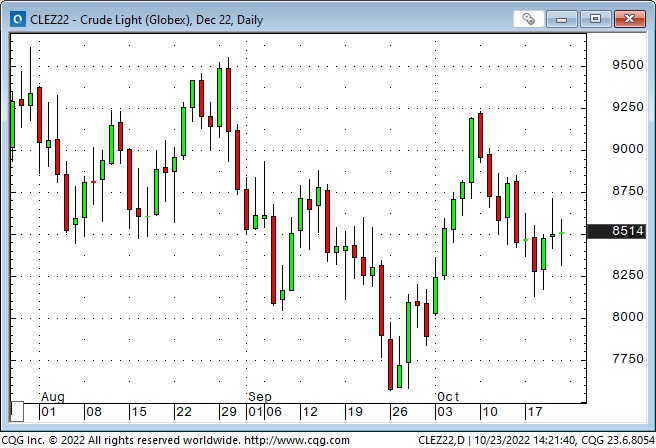 Natural gas volatility makes crude oil look tranquil! These are HUGE price swings!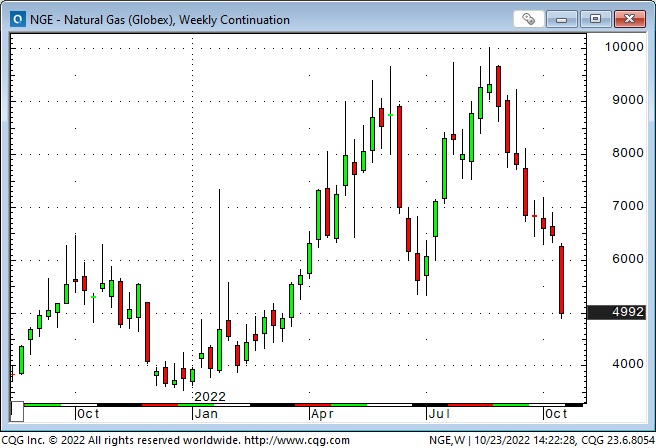 My short-term trading
I've been buying the stock index futures for the past two weeks – looking for a short-term bounce. I've been trading small sizes and using tight stops. This past week I gave back most of the profits I made the previous week when the market rallied off the October 13 lows. I was stopped for a slight loss on Thursday (when flying to Calgary), and I missed the big Friday rally. I was flat at the end of the week.
On my radar
As I mentioned at the top of this blog, I think the financial markets (stocks, interest rates, and especially currencies) may be turning, and I'll look for trades that fit with that idea.
The Barney report
Barney had his first-ever stay at a lovely dog kennel this weekend. (My wife had a "girls" weekend in Tofino while I was in Calgary.) I picked him up Sunday around noon, and he was happy to see me. The ladies who run the kennel told me that Barney had a great time playing with the other dogs.
When we got home, I took him for a one-hour walk, a chance for me to relax after four days in Calgary and for Barney to "chill" after being in a kennel with two dozen other dogs (he had his own "room," but it was a noisy hotel!) When we got home after the walk, he stretched out on the hall carpet and fell asleep.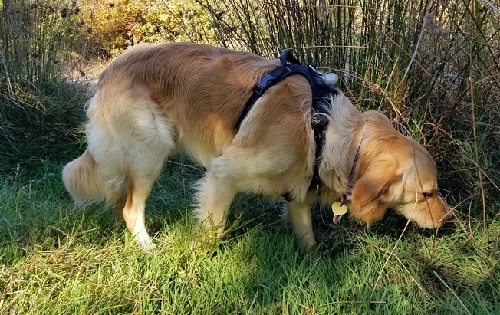 The Josef Schachter Energy Conference in Calgary
The conference was a massive success in that it was sold out, with a long waiting list, and attendees were treated to genuinely dynamic presentations from about thirty different energy companies. I was very impressed with the quality of the corporate presentations and the sophistication of the questions from the audience. I was also "blown away" by the technological innovations used by today's energy companies. I'm glad I went, and I look forward to returning next year!
Listen to Victor talk about markets
I've had a regular weekly spot on Mike Campbell's extremely popular Moneytalks show for >22 years. The October 22 podcast, with Ryan Irvine as Mike's special guest, is at: https://mikesmoneytalks.ca.
I did my regular 30-minute monthly interview with HoweStreet Radio on October 15 – talking about the macro markets I trade. Ross Clark and Marty Armstrong were also on the program. You can listen here.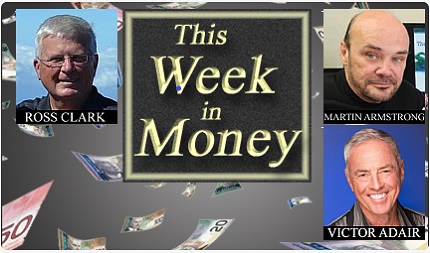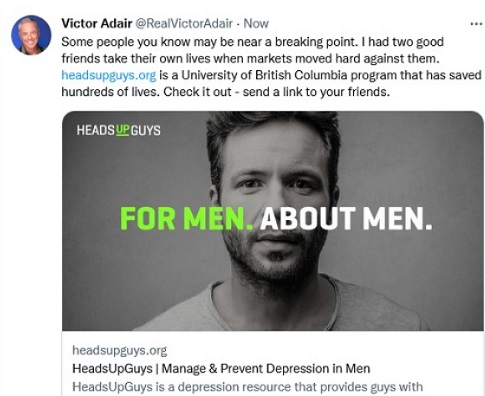 Subscribe: You have free access to everything on this site. Subscribers receive an email alert when I post something new – usually 4 to 6 times a month.
Victor Adair retired from the Canadian brokerage business in 2020 after 44 years and is no longer licensed to provide investment advice. Nothing on this website is investment advice for anyone about anything.
STAY INFORMED! Receive our Weekly Recap of thought provoking articles, podcasts, and radio delivered to your inbox for FREE! Sign up here for the HoweStreet.com Weekly Recap.