January 29, 2022 | Doug Noland: Prepare For A Volatile Few Weeks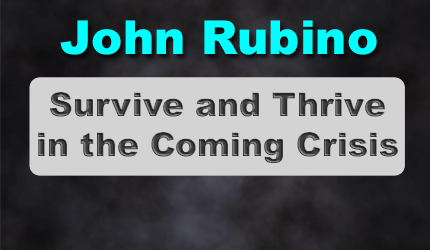 John Rubino is a former Wall Street financial analyst and author or co-author of five books, including The Money Bubble: What To Do Before It Pops and Clean Money: Picking Winners in the Green-Tech Boom. He founded the popular financial website DollarCollapse.com in 2004 and sold it in 2022.
Excerpted from Doug Noland's January 29 Credit Bubble Bulletin:
No one can seriously believe the 'Fed Put' has met its maker. It's this murky new strike price that will create restless nights. What will it take in the markets to force another big pivot from the Fed Chair? And what are the consequences if he drags his pivot foot?
There's a narrative that seemed to gather some momentum as a wild market week came to an end: "Peak hawkishness and policy mistake fear." With BofA calling for seven rate hikes this year, it won't be easy to turn much more hawkish on rate hikes. Yet I don't believe policy mistake fears will revolve around the course of interest-rates. It's when the Fed fails to quickly come to the markets' defense, as de-risking/deleveraging dynamics gather momentum, that will provoke shrieks of "policy mistake!"
I've been closely following the Fed for a few decades. I have similar questions today as I've had more than a few times over the years, all the way back to 1990. Are they attuned to heightened systemic risks – and just putting on brave faces? Or are they less informed than they should be – sometimes bordering on oblivious? Inquiring minds want to know.
I'm not sure actual investors have much to do with this extreme volatility. It's about speculative dynamics, and this week there were indications of rising probabilities of a dislocation/crash scenario. And this development unleashes some panic selling, huge amounts of hedging, erratic sell and buy programs from derivatives-related algorithmic "dynamic trading," destabilizing flows within the ETF complex, along with aggressive speculative trading (some betting on a "crash," but with hair-triggers to reverse bearish bets on rallies).
The VIX Index traded Monday to almost 39, the high since October 2020. It was five sessions of unrelenting volatility. Monday trading saw the gap between intraday lows and highs in the S&P500 of 4.6%. Tuesday it was 2.9%, Wednesday 3.3%, Thursday 2.7%, and Friday 3.25%.
Importantly, risk aversion began seeping more steadily into the Credit market. Investment-grade CDS traded as high as 65 bps Friday morning, the high since November 2020 (ending the week up 3 to 61bps). High-yield CDS jumped to 358 early Friday (high since November 2020), before ending the week up 13 to 343 bps. Bloomberg: "Junk Sees Biggest Loss in 15 months as Risk Cut." Junk bond funds saw outflows jump to a chunky $2.81 billion, making three straight weeks of negative flows.
Bank credit default swaps (CDS) were under notable pressure. JPMorgan CDS jumped six this week to 60 bps, the high since July 2020. BofA CDS rose seven to 62 bps (high since July 2020), and Citi seven to 68 bps (July 2020). Goldman Sachs CDS gained four to 79 bps. It was curious to see the major U.S. financial institutions on top of this week's global bank CDS leaderboard (and, for the most part, year-to-date).
"Munis Post Biggest Weekly Slump in 11 Months as Rate Hikes Loom." After all the hullabaloo about the hawkish Fed, 10-year Treasury yields this week added one basis point (to 1.77%). WTI crude jumped another $1.68 to $86.82, with the Bloomberg Commodities Index's January gain rising to 8.0%.
Heightened instability is a global phenomenon. European high-yield CDS surged 16 to 285 bps, trading Friday to a 15-month high. Bloomberg: "Global Junk-Bond Markets Wobble, Spelling Risk for M&A Financing." Asian equities were under heavy selling pressure. Major indices sank 6.0% in South Korea, 5.6% in Hong Kong, 4.8% in Australia, 3.1% in India, 3.0% in Taiwan and 2.9% in Japan. "Risk off" saw the Dollar Index jump 1.7%, with a lot of EM and "carry trade" currencies taken out to the woodshed.
While global markets are generally synchronized to the downside, it's notable that China joins the U.S. for some of the biggest losses. The Shanghai Composite sank 4.6% this week, with a 2022 decline of 7.6%. The growth-oriented ChiNext Index dropped 4.1%, boosting y-t-d losses to 12.5%. This week's self-off is notable for rebuffing recent rate cuts and measures to loosen real estate finance.
For a while now, my analytical framework has focused on the interplay of two separate yet interdependent Chinese and U.S. Bubbles. That China's Bubble is faltering significantly elevates U.S. Bubble risk – and vice versa – which essentially places a world of Bubbles in jeopardy.
Global markets have entered a highly uncertain and volatile backdrop. The White House warns that a Russian invasion of Ukraine could be "imminent." The Beijing Winter Olympics opening ceremony is next Friday, with closing ceremonies on the 20th. Putin is expected to attend opening festivities and meet directly with Xi in Beijing. While Russia has orchestrated a couple invasions during recent Olympics, I doubt Putin would risk displeasing Xi, while it's difficult to believe Xi would embrace a highly destabilizing development as his nation showcases such a prestigious global occasion. Yet mobilizations – Russian and NATO – will continue, and the standoff will surely intensify.
There have been record put option purchases over recent sessions. February options expiration is on the 18th. I'd be prepared for a volatile few weeks.
STAY INFORMED! Receive our Weekly Recap of thought provoking articles, podcasts, and radio delivered to your inbox for FREE! Sign up here for the HoweStreet.com Weekly Recap.