June 29, 2021 | The Showdown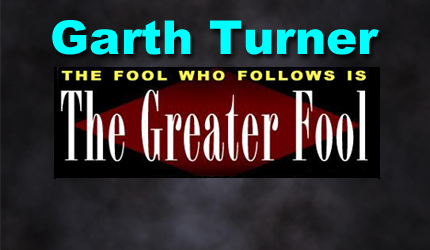 A best-selling Canadian author of 14 books on economic trends, real estate, the financial crisis, personal finance strategies, taxation and politics. Nationally-known speaker and lecturer on macroeconomics, the housing market and investment techniques. He is a licensed Investment Advisor with a fee-based, no-commission Toronto-based practice serving clients across Canada.
The exit of Lib cabinet star Catherine McKenna this week birthed immediate speculation legendary Mark Carney will be running this autumn in the 100%-guaranteed-election that's yet to be announced. Carney was head snort at the Bank of Canada. Then he ran the Bank of England (during the Brexit mess). Then US special envoy for climate action. Then vice-chair of Brookfield Asset Management. And director of fintech rising star Stripe. Don't mess with Marc.
Carney has creds. And baggage. He wants to be prime minister. To get there (once Trudeau quits after winning the next election) he'll have to go through Chrystia. Could be ugly. She's a force.
But how does any of this political ambition affect Mr. & Mrs. Frontporch?
We're at an intersection of politics and economics, actually. The federal deficit is outta control, rising from $19 billion to $354 billion in one year. The national debt passed $1 trillion (that equals half the economy). Households are steeped in loans. The government is starved for money, but can't stop spending. It's a mess-in-the-making. Justin Trudeau will leave office after adding more debt than any politician in history (even his father) to the nation's books. The next guy (or gal) will be doing clean-up.
Meanwhile, after 15 months of lockdowns and bidding wars, the locals are restless.
Take toasty BC, for example. The socialists and Comrade Premier Horgan were elected (mostly) to corral house prices. They failed. Multiple taxes later (anti-Chinese tax, anti-Alberta spec tax, empty house taxes, uber property taxes) things are even worse. Now Covid's not the issue most on the minds of voters. Once again it's real estate. And the NDP is out of bullets as places like Squamish and Kelowna – not just Kits and Burnaby – rage out of control.
Ditto in Ontario. Premier Doug once had ambitions to be the federal Con leader. Now squished. His poll numbers suck and he's headed for a one-term premiership. Real estate is a disaster in the vote-rich non-urban areas that gave him power, and where families are now locked out. Ample vaccines saved Ford's butt from viral disaster, but the longest lockdowns in the entire world took a huge bite out of Main Street. Worse, housing inflation crept from the GTA to infect towns, hick cities and places like Dogsnest (look it up), so now millions of people – literally – can never afford to purchase, no matter how far they drive.
Meanwhile society embraces risk. Loads of it. The more we borrow, the more we gamble.
Look at comments this week from Benny Tal, the big economics guy at CIBC. "The number one risk facing the housing market at this point," he told BNN (which you should never watch) "is if the Bank of Canada waits, and waits, and waits, and then starts raising interest rates very quickly in a panic – let's say in 2023; that would be very devastating for the housing market, if you have a rapid-speed increase in interest rates."
So, Tal adds, it's good news that mortgage rates will start climbing next year, so that the steady, inexorable and unstoppable trending up in the cost of money can at least be gradual. Like boiling the frog. Still, he says, this process will have a major impact on residential real estate – worth remembering for every person now stretching to get some.
"Clearly, we have to ask the following question: to what extent are people sensitive to the risk of higher interest rates? And the short answer is now 'very sensitive'. It's a record high level of sensitivity. I estimate that a one per cent increase in interest rates now is about 30-40 per cent more effective than just a few years ago. So the sensitivity of households to higher interest rates has risen."
This is the world the next squad of leaders will move into. Over 90% of people without one cannot afford a house in a nation where there's a 70% home ownership rate. Bizarre. Taxes and rates will have to increase. There is no alterative for the Bank of Canada but to follow the Fed, as it has done 92% of the time. The country will become increasingly crippled by debt service charges. Taxing 'the rich' won't work since we don't have nearly enough of them. Whacking corps costs jobs. Only one solution works: to live within your means.
And what leader has the courage to say so, or spell out the consequences of the current path?
Exactly. Prepare.
Yesterday I waved my flag in your face, showing photos of the Peace Tower banner being nailed up on the wee bank in the bucolic burg where I have hunkered out during the assault of the slimy little pathogen. It's Canada Day this week, after all. It's a good nation. Imperfect, as we all know, but better than most. Sometimes mindless patriotism and a few beer ain't such a bad thing.
Silly me. I am not woke.
As I watched the banner rise, down the street the Town council was issuing a media release cancelling Canada Day. Just like Victoria, Fredericton, Penticton, Guelph, St.Catharines and dog-knows where else. On the community Facebook page it took less than five hours for me to be called 'white privileged' and 'racist' – for hoisting Canada's pennant on my own building.
I may need more flags.
STAY INFORMED! Receive our Weekly Recap of thought provoking articles, podcasts, and radio delivered to your inbox for FREE! Sign up here for the HoweStreet.com Weekly Recap.