June 17, 2021 | Cashing Out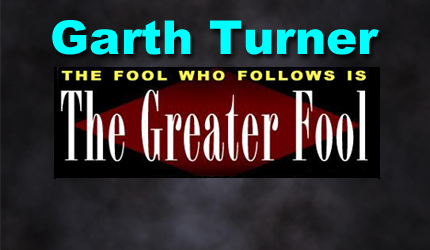 A best-selling Canadian author of 14 books on economic trends, real estate, the financial crisis, personal finance strategies, taxation and politics. Nationally-known speaker and lecturer on macroeconomics, the housing market and investment techniques. He is a licensed Investment Advisor with a fee-based, no-commission Toronto-based practice serving clients across Canada.
Believe it or not, I have a day job. Working out of the wee-bank-by-the-sea plus the giant (currently mostly empty) bronze tower on Bay Street, my colleagues and I look after a mess of money for folks. Average ones. And I enjoy it all.
The practice is unique in the financial world because it's national. A third of these families are in Van, the Lower Mainland and the rest of BC, for example. An equal number live in Ontario and the rest are all over everywhere. Also different is the demographic mix. The big bank brokerages cater to clients north of 60. Mostly retired. Our folks average early 40s, in the thick of their working lives. That makes everything a whole lot more interesting, plus we're seven times bigger than the average. That provides a good snapshot of the maple middle class.
And, finally, we ain't cowboys. It's B&D all the way, plus lots of advice on saving taxes and improving marriages as well as pet maintenance. My assumption is everyone has the same two goals: (a) don't lose money and (b) give me a reasonable return. Makes sense.
Here's the point: never in the past decade have I see so many clients selling houses. It's been remarkable. And wise. The typical move is to cash in paid-for real estate at what's obviously a time of peak house, dump a bunch of money in the investment/retirement portfolio then think about buying again in a year of so using a 20% down payment and cheap mortgage funds to finance it. (Others keep the house and HELOC out equity for a tax-deductible borrowing,)
The benefit: unleashing windfall equity bestowed by an insane, amped-up, virus-whipped, house-horny society and investing predictably for the future. Assets start earning a return two or three times higher than the cost of a mortgage. People still have a house, plus the future looks far more financially secure when a job can be replaced  later in life by portfolio cash flow.
The risk: FOMO, crazed buyers and cheap money will keep real estate rocketing higher. Those who sell eventually may have to buy again at a higher price, or adopt a long-term rental strategy. Plus all mothers-in-law think you're nuts.
How do you weigh the odds?
Let's look at the facts. First, real estate will be impacted by rates. Yesterday the US Fed said there'll be two hikes next year, which probably means we'll see four. Inflation in the States is at 5% – huge – and Canada just had the biggest cost-of-living increase in ten years. If you don't think mortgage rates can double (or more) by the time your loan renews, you're not paying attention. There is an inverse relationship between rates and house prices. Factor that in.
Second, FOMO. It's a major driving force at the moment. And nothing has ever fueled it like Covid did. The slimy little pathogen has mucked up every aspect of life for the past 15 months. Fear of the virus caused a condo exodus and a rush to SFDs. The advent of WFH unshackled people from their workplaces causing a rush into the suburbs and beyond. Quarantines, restrictions, travel bans and lockdowns slashed household spending and diverted serious money into real estate. Government largesse deposited over $100 billion into personal bank accounts which helped finance down payments. And as prices drove higher, human nature was on full display goosing demand. It all worsened thanks to revolting realtor tactics like blind auctions.
So what's changed?
Only everything. We're 70% vaccinated. The global leader. Borders are opening. The airlines are rehiring. Bars, restaurants, clubs, concerts and pro games are reviving. The parks and campgrounds are open. Traffic is a thing again. The downtown cores are repopulating. Employers are weighing the return-to-work agenda. Toronto condo sales, concurrently, upped 79% in the last three months.
The world is moving towards normality at a faster clip than was imaginable a few months ago. People will be outside, socializing, dining, shopping, travelling and doing stuff rather than being in domestic captivity. Real estate will go from obsession to diversion. You can be assured the number of new listings will grow, price pressures will dissipate and the market calm. There's no need for FOMO when buyers have lots of choice and the time to browse, then make rational offers with conditions on financing and inspections.
Yes, and as this pathetic blog has warned you, WFH for many (most, in fact) won't survive. It may linger for a while or turn into a hybrid model or be embraced by some organizations, but in general it's a rogue model. Employees who don't want to go to work will pay the career price. And those on a hybrid schedule will still face commuting. Thus there are compelling reasons why the aberrant surge in house prices in the burbs and the hick hinterlands will be peeled back over time. Those places were always lower for a reason. That reason's returning.
In conclusion: you (and I and Re/Max) have no lock on where real estate's going. But it is irrefutable you'll get old and need money. Don't leave it too long.
STAY INFORMED! Receive our Weekly Recap of thought provoking articles, podcasts, and radio delivered to your inbox for FREE! Sign up here for the HoweStreet.com Weekly Recap.