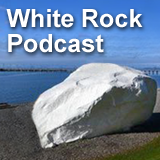 White Rock Podcast
Interviews focusing on White Rock, BC, Canada. Hosted by veteran investigative reporter Jim Goddard.
White Rock Podcast
- Ross Buchanan – Awareness of Toxic Stew Growing.   For More Information on White Rock Water Visit WhiteRockSafeWaterAlliance.com 
White Rock Podcast
- Dennis Lypka – Is any amount of Arsenic, Manganese, Chloramine and other chemicals safe in your water?  Read about the Public forum on Arsenic in The Peace Arch News.  View Global News report by Ted Chernecki on White Rock Water Supply.