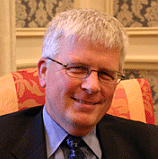 Ross Clark
Ross Clark has worked almost forty years in the investment business both as a trader and analyst in the commodity futures business and until recently as an financial advisor and technical analyst with a major investment firm. Ross is well known for his proprietary technical tools which in an integrated fashion, his methods have been successful in credit spreads, the yield curve, industrial commodities, currencies, precious metals and equity markets. His work contributes to a weekly report written for the portfolio manager and individual investor and ChartsandMarkets.com, which publishes on opportunity, supplements the skills of both personal investors and professional traders.
Charts and Markets - Ross Clark
- Crude oil has now achieved the optimum 35% decline from this summer's high.  This matches the declines into the 10-year cycle lows in 1988 and 1998.  It has also given back half of the $50 rally from 2016. What might a bottom look like?  The climactic lows of 1986, 1988, 1993, 1998, 2001, 2009 and […]
Chart Works
- The last time we saw a Sequential Buy Setup in the S&P was the Friday before the election of Trump. It also coincided with a low under the 50-day Bollinger Band and was the last time it generated one of our Capitulation Alerts.