June 8, 2023 | Canadian Wildfires – Climate Lockdowns Begin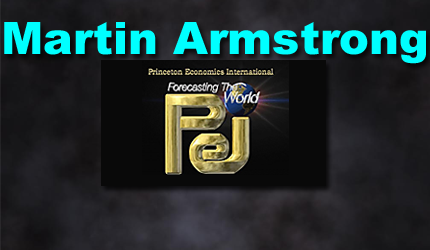 Martin Arthur Armstrong is the former chairman of Princeton Economics International Ltd. He is best known for his economic predictions based on the Economic Confidence Model, which he developed.
There is something strange in the air. Are we to believe that what is occurring is simply the result of wildfires in Canada all occurring simultaneously? Official reports claim that droughts caused the conditions for the fires. Quebec said that the fires were ignited by lightning, Alberta admitted the cause of their fires is still unknown. Other provinces also blame lightning and dry conditions, but no one seems to have a clear answer for why over 9.4 million acres in Canada have burned.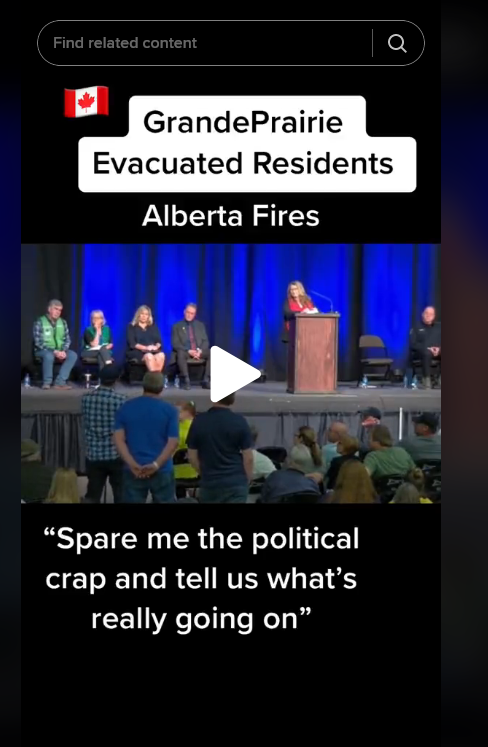 Trudeau seemed unemotional and unsurprised during his press conference. He was utterly tone-deaf for a leader of a country where millions of people were just displaced from their homes. This will certainly fuel his desire to implement harsher carbon taxes. The people of Canada were not properly warned, as you can see in the video above. I share videos from the TikTok platform because it is one of the only peer-to-peer sites available where users can share their uncensored experiences. The man speaking learned that his home was burning down through posts shared on Facebook, not the Canadian government.
And the claims of lightning storms? The weather trackers did not seem to pick up on any extreme storms: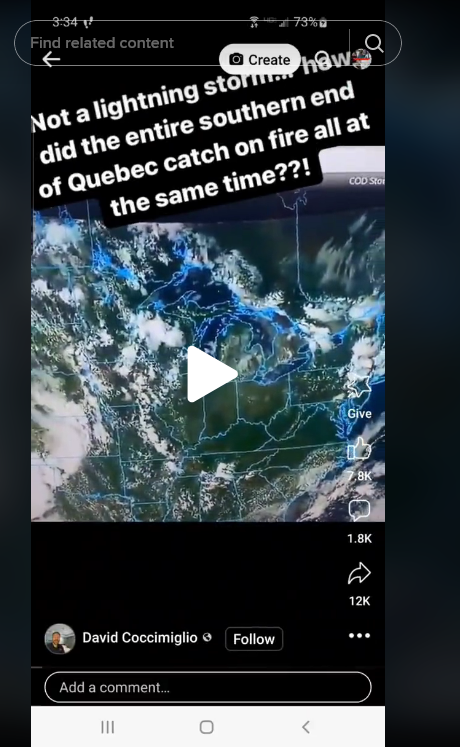 Some may say they are strategically burning areas to prevent the fire from spreading. What's really happening here?
https://www.tiktok.com/@businesscord56/video/7240978374665981211?is_from_webapp=1&sender_device=pc
President Joe Biden is already blaming "the climate crisis" for these unexplainable events. The smoke spread to the US in 18 states from South Carolina to New Hampshire. The New York skyline turned a vibrant shade of apocalyptic orange. The smoke contains fine particulate matter, or PM2.5, the tiniest yet most dangerous pollutant. The Air Quality Index (AQI) is safe at levels around 50. New York and New Jersey experienced levels of over 400 this week. New York topped global charts and had the worst AQI in the world.
Experts say breathing in the air is equivalent to smoking half a pack of cigarettes. "There is no safe aspect of wildfire smoke," explained Kari Nadeua, Naddisy Foundation Professor of Pediatric Food Allergy, Immunology and Asthma at Stanford University, in an October 2020 Stanford Woods Institute for the Environment wildfire research report. "Exposure to wildfire smoke over 5 to 7 days can cause damage to the lungs, blood, and heart and cause strokes. There is no safe distance from smoke."
New York Governor Kathy Hochul has urged residents to wear masks and stay indoors. We're entering a lockdown once again. New York even provided over 1 million N95 masks, and this time around, people may want to put them on. Schools and sporting events across New Jersey and New York have closed along with some businesses. The governments are testing an ECONOMIC LOCKDOWN.
Conspiracy theories are spreading faster than the fires. Some believe that the missing 30 tons of ammonium nitrate were used for this attack, and are calling it economic terrorism. Others believe that Canada deliberately started the fires. With countless areas covered in smoke, the people cannot see. This would be a great way to test a potential attack in broad daylight. Some are concerned that there are chemicals in the air that they intend to use to start the next pandemic, as numerous agencies have said they are preparing for a second one. I won't even go down the rabbit hole of the conspiracy theories regarding the sun or the Chinese balloons. No one trusts the government or the mass media anymore.
One thing is for sure – the governments will blame this on climate change when they allegedly do not have a clear answer. We are experiencing our first economic lockdown, unofficially.
STAY INFORMED! Receive our Weekly Recap of thought provoking articles, podcasts, and radio delivered to your inbox for FREE! Sign up here for the HoweStreet.com Weekly Recap.