May 19, 2023 | Real Estate Icon Sam Zell: Right One Last Time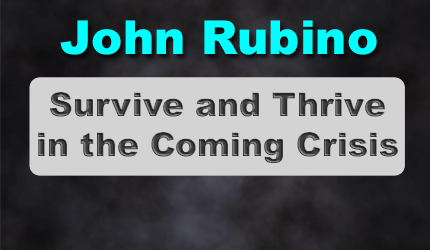 John Rubino is a former Wall Street financial analyst and author or co-author of five books, including The Money Bubble: What To Do Before It Pops and Clean Money: Picking Winners in the Green-Tech Boom. He founded the popular financial website DollarCollapse.com in 2004 and sold it in 2022.
I'm old enough to have followed Sam Zell during the second half of his storied real estate career. And in that time he's been right in a big way on the major financial turning points. At the bubble peaks of 1999 and 2007, for instance, he sold most of his commercial real estate and loaded up on cash. Then he swooped back in at the subsequent bottoms and bought up distressed assets for pennies on the dollar. That's how you become a legend.
Sam died this week. But despite his apparently failing health, he was doing interviews right up to the end in which he once again predicted a crash and claimed to be selling off his properties.
Here's one from three months ago in which he says "I've never seen the Fed get lucky"… "Prepare for higher costs… " and "The real estate industry has to deal with all kinds of things related to an unrealistically low cost of capital."
The next video is from two months ago: "We're in this mess because the Fed didn't do their job." … "This is the Weimar Republic." … "The correction is going to take a lot longer than people expect."
Assuming Sam Zell was right again, another 2000 or 2008 (or something worse) is headed this way. Real estate and stocks will tank, and bonds (the Weimar reference) might follow. The smartest investors will stockpile cash and return to the market when there's blood in the streets.
Speaking of blood in the streets
Wolf Richter, who's doing a great job of covering the commercial real estate that Sam Zell was selling, recently posted this:
What Are Older Office Towers Worth? Here's the First Sale in San Francisco's New Era of Office CRE

We have been tracking what older office towers, many of them from the 1980s and 1990s, are worth when they finally do sell, either in a foreclosure auction or in a regular transaction. Two towers in Houston sold at a foreclosure auction at a price where the lenders – holders of Commercial Mortgage-Backed Securities (CMB) – lost 80% and 88% respectively. In the foreclosure sale of the vacant 46-story 1980s "One AT&T Center" in downtown St. Louis, CMBS holders took a 100% loss.

Foreclosure sales are brutal, and these are among the extremes. Regular sales are a little less brutal, and we've documented a bunch where investors in CRE debt have taken losses in the range of 35% to 50%.

These losses on CRE debt are on top of the equity losses that landlords took. So far with big losses on office debt, it has been investors that were on the hook and not banks.

Now we have the first sale in the new-era of working-from-home and office-downsizing in San Francisco, which has surpassed Houston and Dallas as the worst major office market in the US. There are a number of office towers on the market. One of them, the headquarters of Union Bank at 350 California Street in the Financial District, has found a buyer.

Union Bank, which owns the 300,000-square-foot tower, and occupies a portion of it, put it on the market as a sale-lease-back, where it would lease back a small portion of the tower. The rest would be vacant. It listed it in 2020 at $250 million, amid zero interest. In 2022, it pulled the listing. During that time, Mitsubishi UFJ sold Union Bank to U.S. Bancorp, the fifth largest bank in the US; the deal closed in December 2022.

Union Bank then relisted the tower in February 2023 at $120 million.

It has now made a deal to sell the building for $60 million to $67 million to San Francisco-based SKS Real Estate Partners and South Korea-based Genesis, according to sources cited by San Francisco Business Times. This would be about 75% off the original listing price.

The $200 to $225 per square foot price will set a benchmark in San Francisco for what older office towers are worth. A sense of reality is setting in. And it might make other deals possible. Until this sale, no one knew what anything was worth in this new era when about one-third of the office space in San Francisco is on the market for lease.
STAY INFORMED! Receive our Weekly Recap of thought provoking articles, podcasts, and radio delivered to your inbox for FREE! Sign up here for the HoweStreet.com Weekly Recap.