August 6, 2022 | Trading Desk Notes For August 6, 2022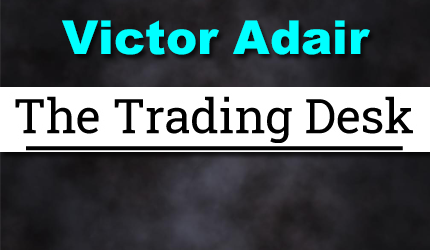 Victor Adair, author of The Trading Desk Notes, began trading penny mining shares while attending the University of Victoria in 1970. He worked in the mining business in Canada and the Western United States for the next several years and also founded a precious metals trading company in 1974. He became a commodity broker in 1977 and a stock broker in 1978. Between 1977 and his retirement from the brokerage business in 2020 Victor held a number of trading, analytical and senior management roles in Canada and the USA. Victor started writing market analysis in the late 1970's and became a widely followed currency analyst in 1983. He started doing frequent media interviews in the early 1980's and started speaking at financial conferences in the 1990's. He actively trades his own accounts from The Trading Desk on Vancouver Island. His personal website is www.VictorAdair.ca.
Markets that don't fall on "bad" news probably go higher
My macro bias over the past few weeks has been that inflation would stay higher for longer than markets were pricing. I thought stock indices were in a bear market rally, based on the notion that Peak Fed had come and gone with the June FOMC meeting. I was shorting S+P futures with small positions and tight stops, trying to catch a breakdown, and I took several small losses – and only a few small wins!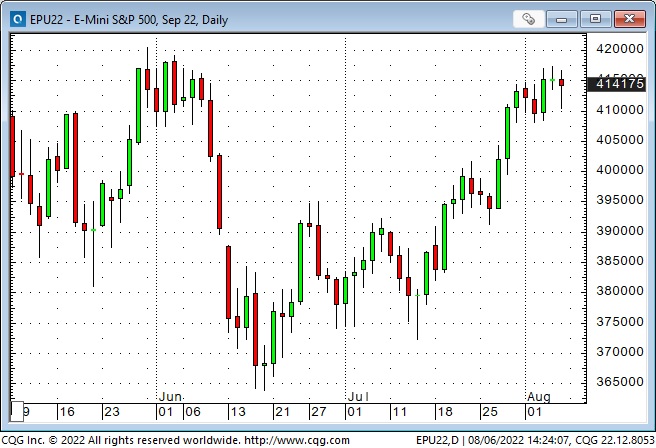 The Pelosi/Taiwan trade: The S+P surged ~200 points from Wednesday to Friday last week and seemed to be WAY overbought as we started this week. I got short the S+P Monday when it dropped below Friday's close and then bought long-dated OTM S+P puts thinking that if "will-she-or-won't-she" Nancy Pelosi landed in Taiwan the market might sell off hard – given the bluster coming from China.
During the overnight session, I discovered that ~750,000 people were using Flight tracker to keep track of Nancy. I began to worry that I was in a crowded trade, and when the market didn't break when she landed in Taiwan I covered my short futures (small gain) and my S+P puts (small loss.)
On Wednesday, the market rallied above last week's highs despite significant "war games" by China around Taiwan. I shorted a break from new highs early Thursday (the trade looked good for a while) but was stopped for another small loss in the overnight session.
The WAY stronger than expected employment report: The S+P broke hard (down 50+ points) on Friday's employment data, roared back, failed again, and then rallied back to just below Thursday's close near the end of the day.
I was impressed with the continuing stock market strength given that this week (and especially following the employment report) credit markets were pricing the Fed to be more hawkish.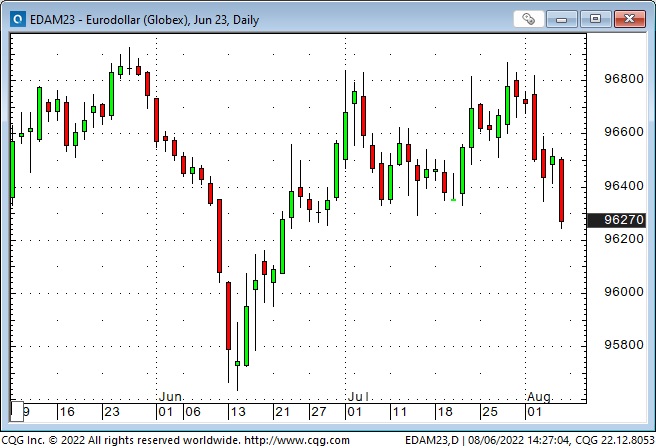 I bought Dow futures on Friday, and I could easily have bought Russell small-cap futures instead (both closed green on the day while the S+P and NAZ closed red.) It looks like the tech-heavy NAZ is more vulnerable to rising interest rates, while the "not-tech heavy" Dow and Russell love the prospect of "no recession anytime soon."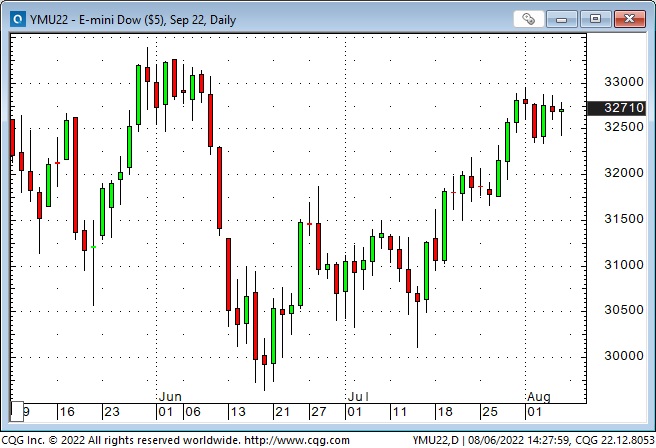 The stock indices had two great opportunities to roll over this week with Pelosi/Taiwan and the employment report, but they didn't. A market that won't fall on "bad" news probably goes higher.
Bonds
The 10-year Treasury hit an All-Time low yield of ~0.50% in August 2020. The yield rose to ~3.5% around the June FOMC meeting, but from mid-June to the beginning of August bond prices rallied (and yields fell) as the market seemed to embrace the "Fed-will-tighten-into-a-recession" narrative. Bonds also caught a bid as capital shifted from the stock markets (TINA died – there is an alternative to stocks) and as foreign capital came to America for safety and opportunity. It also looks like speculative capital that had built a big short bond position over the last several months unwound that trade.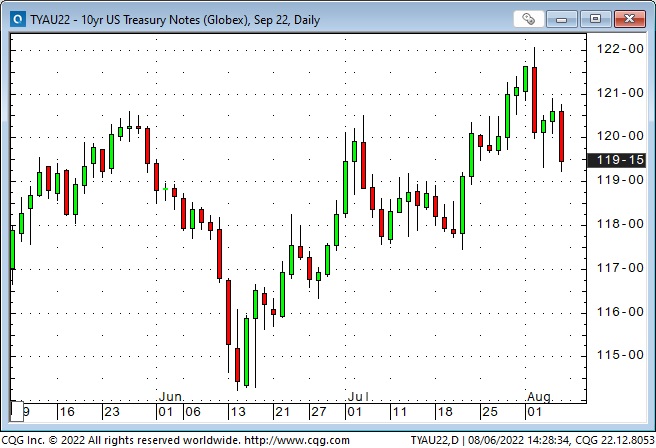 The 3-point break from Tuesday to Friday could be a correction to the rally off the mid-June lows or the beginning of a return to the downtrend that began a year ago. I have no position.
Currencies
The US Dollar Index made a pivotal low on January 6, 2021, when the world was shocked by the storming of the Capitol building in Washington, DC. The USDX tested those lows in the summer of 2021 and then began to rally in earnest last fall when forward markets began to price in higher American interest rates. Markets expected the Fed to be more aggressive than other central banks, and America looked safe – relative to other countries. I keep repeating: money comes to America for safety and opportunity.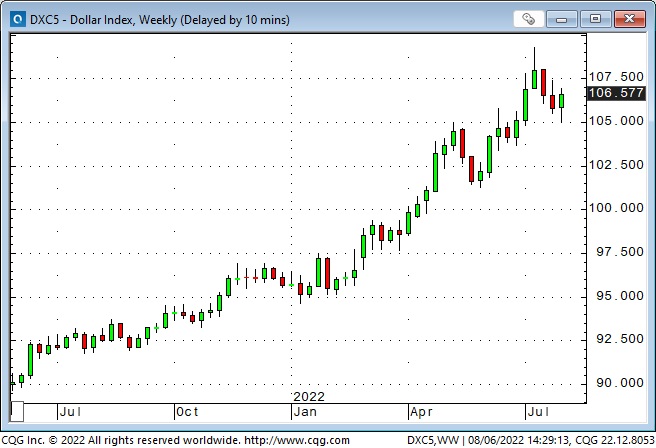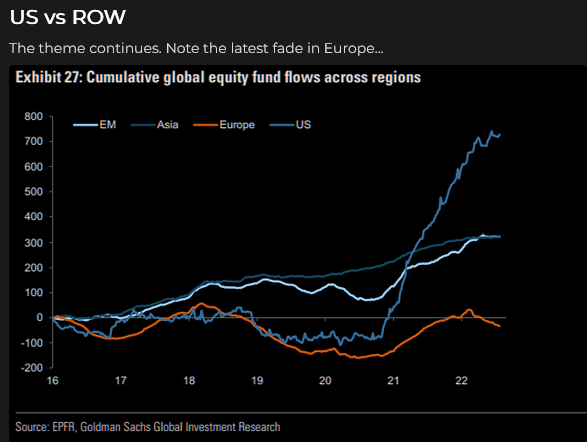 The USDX rallied to 20-year highs in mid-July as the Euro currency fell to par with the USD – a 20-year low. There has been a ~4% correction in the USDX from the highs (perhaps due to softening US interest rate expectations) but the market closed near its highs this week.
The Eurozone seems to be in an existential crisis, especially with respect to energy. Prices have soared on supply shortages and rationing looks to be a real possibility – which would cripple the economy. One of my long-time favourite stress metrics is the Euro/Swiss spread. It has fallen to All-Time lows.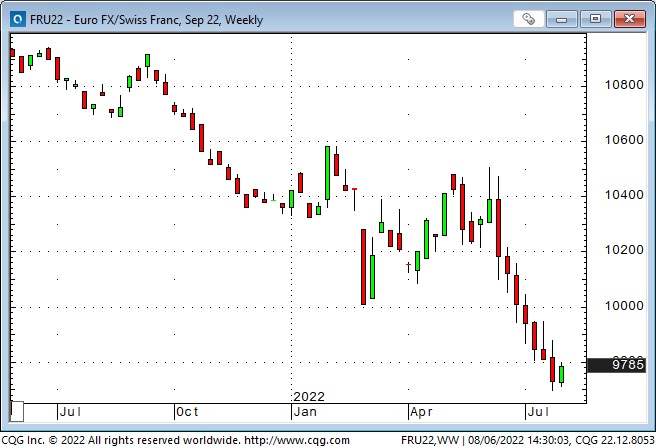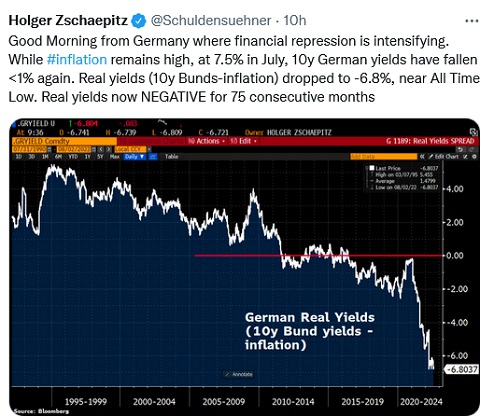 Gold
Gold made an All-Time High of ~$2,080 following the Russian invasion of Ukraine, but then trended lower and fell ~$400 (19%) to a 16-month low in mid-July. (The leading gold-share ETF, the GDX fell ~40%.) Rising American interest rates (especially real rates) and a stronger USD were toxic for gold. The market bounced >$100 from those lows to this week's highs but turned lower Friday as both the USD and American interest rates rallied on the employment report.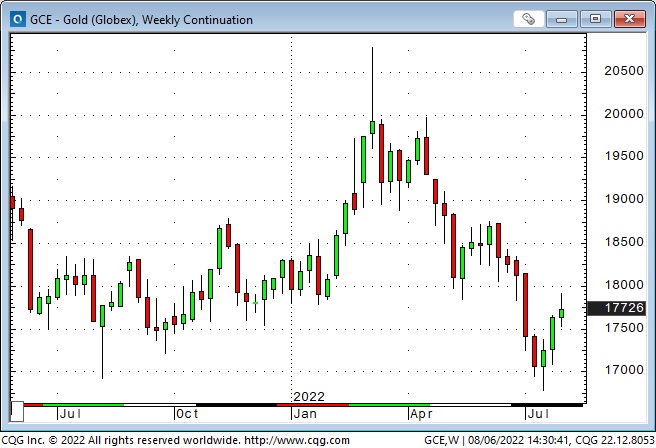 The net long/short positioning of Managed Money in Comex gold has declined sharply since the March highs and went net short in mid-July as gold made new lows.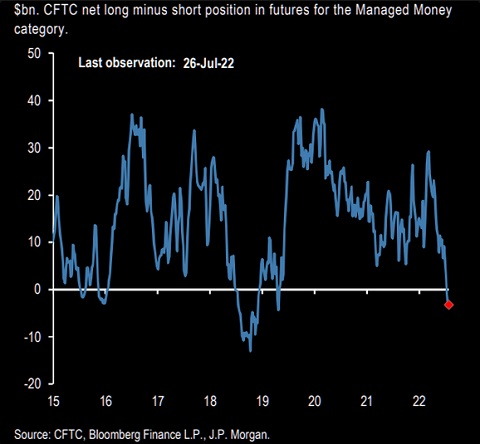 Fossil fuels
Fossil fuel prices have had a spectacular rise, amid spectacular volatility, over the past twelve months. At their recent highs, WTI and gasoline had both more than doubled from year-ago levels. American NatGas also more than doubled while European NatGas soared 8 to 10X from where it was this time last year.
Worries about supply shortages, both mundane and existential, have been the driving force behind these gains. The spectacular volatility has caused futures market participants to "back away" from the markets: open interest across all of the principle markets is at multi-year lows.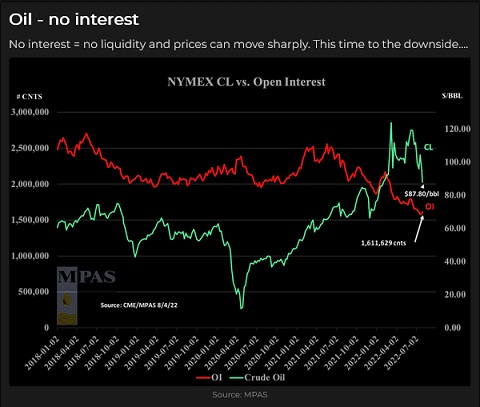 September WTI reached a high of ~$118 in early June but closed ~$30 (25%) lower this week, lower than where front-month WTI traded prior to the Russian invasion of Ukraine.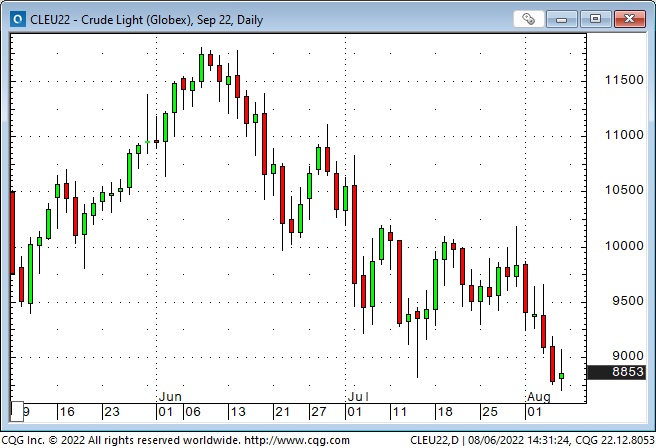 NYMEX wholesale gasoline is down ~35% from the All-Time Highs it hit in early June.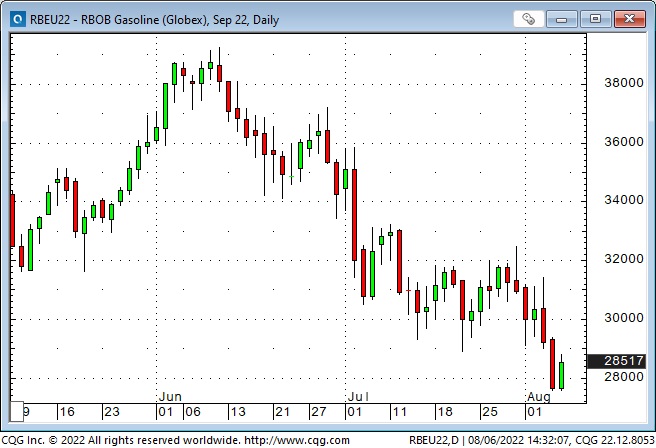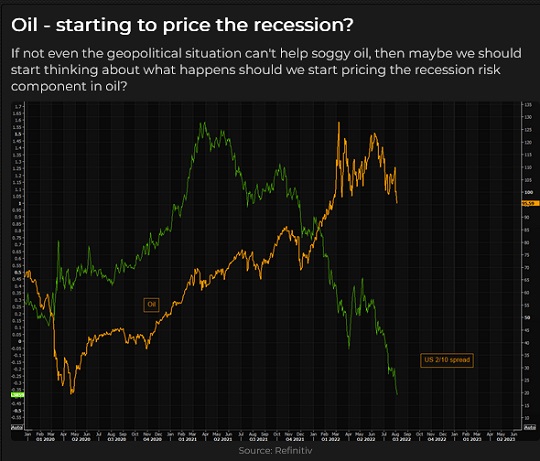 The share prices of many energy companies and energy ETFs topped out in early June after a fabulous run from last year's lows.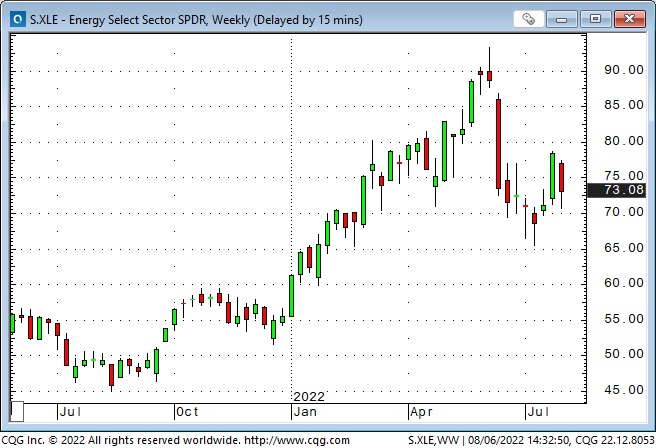 The WTI forward curve also reached its peak backwardation (front months trading at a premium to deferred months) in early June and has tumbled since then.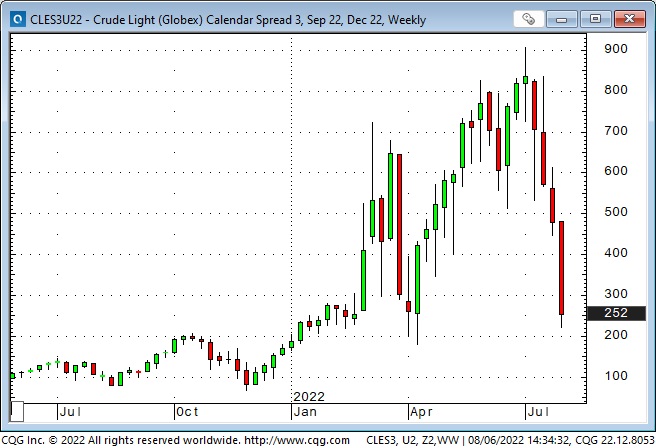 Narratives drive positioning. Positioning drives price trends
I take a macro view of markets. I watch stocks, interest rates, currencies, commodities and the inter-market relationships between those markets. I try to identify trends and turning points in trends. I pay a lot of attention to sentiment and how changes in sentiment may impact capital flows. If I'm buying a market, I want to believe that more buying will come into that market after I've taken my position.
I don't use the term "narrative" in a pejorative sense (as in only suckers believe stories.) For instance, there was a very persuasive narrative around copper over the past few years: electrification was going to cause an astonishing increase in demand, far out-stripping supply and therefore prices HAD to rise. As capital "flowed" into copper investments, as people were "positioning" themselves to benefit from rising copper prices, their "behaviour" caused prices to rise, which, in turn, "validated" the narrative, so people bought more copper. Rinse and repeat.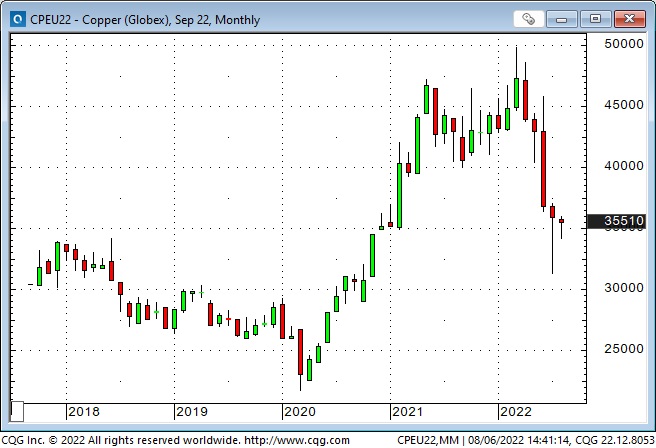 The Minsky Moment: the onset of a market collapse brought on by the reckless speculative activity that defines an unsustainable bullish period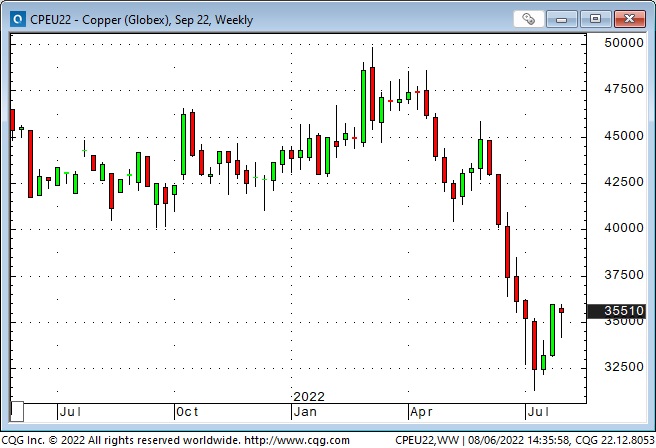 Copper more than doubled in price in the two years from the Covid Panic lows to the All-Time High of $5 in March 2022. It then dropped ~60% over the next four months. My guess is that a "forced" change in "positioning" (speculators were selling – voluntarily or otherwise, and their selling begat more selling) was a more powerful factor in driving the price decline than any change in the "fundamental" prospects of future copper demand.
The Barney report
I didn't take Barney swimming in the ocean this week. We fell back on our old program of long off-leash walks on forest trails and chasing the ball in the dog park. Barney has been eating less lately, and with all the exercise he was getting, he was starting to look a little skinny. I wondered if the summer heat was putting him off his food or if he was getting tired of eating the same old dog food every day. I bought a few cans of dog food and mixed that in with his usual kibble and he immediately went back to wolfing down his food and licking his bowl clean. A well-fed (and well-walked) dog is a happy dog!
A request
If you like reading the Trading Desk Notes, please forward a copy or a link to a friend. Also, I genuinely welcome your comments, and please let me know if you'd like to see something new in the TD Notes.
Listen to Victor talk about markets
I've had a regular weekly spot on Mike Campbell's extremely popular Moneytalks show for >22 years. The August 6 podcast is available at: https://mikesmoneytalks.ca.
I did my regular 30-minute monthly interview with Jim Goddard for the good folks at Howe Street Radio. I talked about my Pelosi/Taiwan trade, the employment report, currencies, energy, gold, the Canadian dollar, my Macro views and what I think is "the most important thing" impacting all of those markets. You can listen here or here.
Subscribe: You have free access to everything on this site. Subscribers receive an email alert when I post something new – usually 4 to 6 times a month.
Victor Adair retired from the Canadian brokerage business in 2020 after 44 years and is no longer licensed to provide investment advice. Nothing on this website is investment advice for anyone about anything.
STAY INFORMED! Receive our Weekly Recap of thought provoking articles, podcasts, and radio delivered to your inbox for FREE! Sign up here for the HoweStreet.com Weekly Recap.