July 31, 2022 | How Bad News Trapped Bears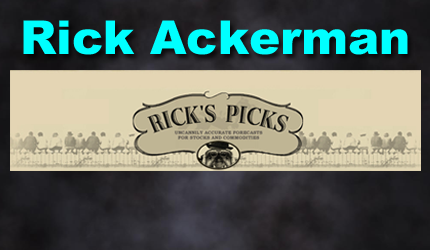 Rick Ackerman is the editor of Rick's Picks, an online service geared to traders of stocks, options, index futures and commodities. His detailed trading strategies have appeared since the early 1990s in Black Box Forecasts, a newsletter he founded that originally was geared to professional option traders. Barron's once labeled him an "intrepid trader" in a headline that alluded to his key role in solving a notorious pill-tampering case. He received a $200,000 reward when a conviction resulted, and the story was retold on TV's FBI: The Untold Story. His professional background includes 12 years as a market maker in the pits of the Pacific Coast Exchange, three as an investigator with renowned San Francisco private eye Hal Lipset, seven as a reporter and newspaper editor, three as a columnist for the Sunday San Francisco Examiner, and two decades as a contributor to publications ranging from Barron's to The Antiquarian Bookman to Fleet Street Letter and Utne Reader.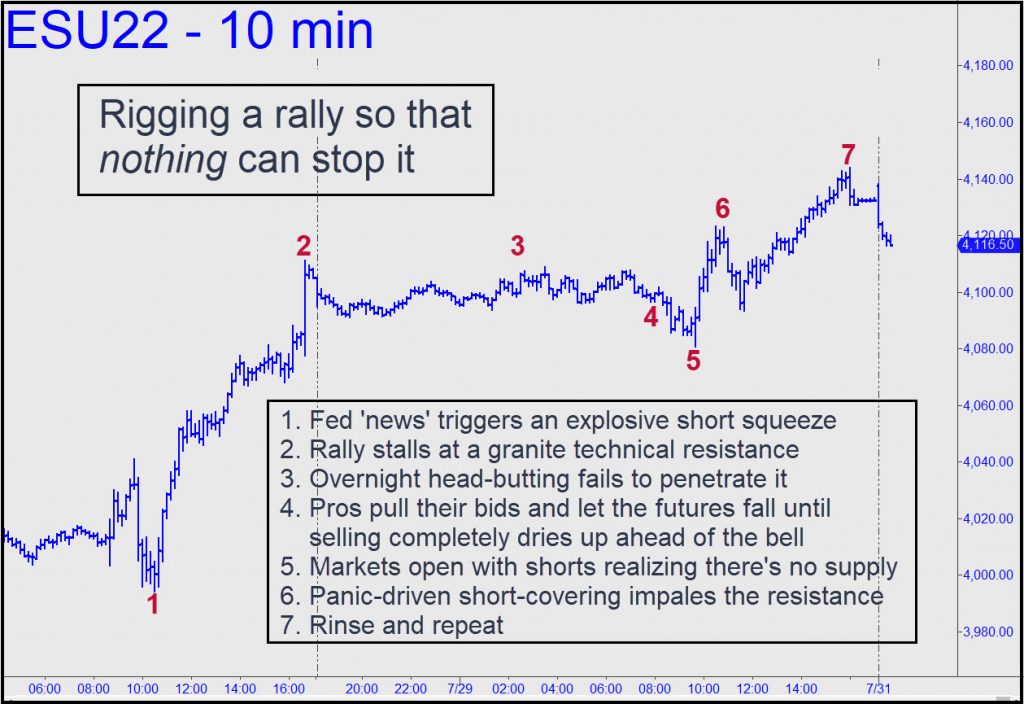 Last week's price action served to remind us that big rallies and even entire bull markets are driven mainly by short covering. This doesn't happen by accident; Wall Street's quasi-criminal masterminds set short squeezes in motion using news as a catalyst. The booby traps they employ are more or less predictable, but they succeed anyway because DaBoyz can count on short-covering bears to panic every time under certain conditions. On Friday morning, for instance, in the wake of a 75-basis-point rate hike by the Fed, trade-desk capos jockeyed index futures into position so that a tough resistance that had thwarted them a day earlier and overnight could be dynamited into oblivion.
The chart shows more than 14 hour of head-butting at a 4109.25 'hidden resistance' I'd disseminated to subscribers a day earlier. The target had worked precisely, allowing them to jump on the trend. Some reported exploiting it in two ways: 1) getting long for the ride to it; and 2) getting short when it was hit. This could have produced a profit of as much as $1,400 per contract. However, profiting from a short at the top would have required waiting until an hour prior to the opening bell, since that's when the Street's lieutenants began to work their carnival midway illusions.
How to Exhaust Sellers
It was a piece of cake, since they've been practicing ever since the Grandaddy of All Bull Markets took flight in 2009. They simply pulled their bids, just as they've done hundreds of times over the last decade, allowing index futures to plummet ahead of the opening bell. This trick completely dried up selling, leaving stocks no way to go but up when the opening bell rang.  At that point the carny men simply stepped aside and let short-covering panic accomplish what mere bullish buying could not. Lo, within 60 minutes, they'd succeeded in goosing the futures past an otherwise impenetrable resistance.
The same ruse was employed countless times over the course of the bull market. Oddly enough, bears keep falling for it. Every time. To be fair, this is because they are set up in ways that continue to mutate so that the latest tactics are not easily recognizable. Last week produced a textbook example, with equity shares, particularly the beaten-down FAANG stocks (a.k.a. 'the lunatic sector'), screaming higher on horrendous earnings news. Microsoft, Google and Amazon all released dismal reports after the close, but their respective shares reacted, over two days, as though the economy were booming.
A Perverse Outcome
Under the circumstances, no one should have been surprised on Wednesday, when a the big Fed rate hike kicked off a rally that picked up steam as the week wore on.  If you could have seen the news coming two weeks ago — lousy earnings from corporate giants and a killer blow to the economy from the Fed — you'd have been short up the wazoo. And so everyone was, tricked into shorting the rumor and then having to buy bad news.  To give the evil geniuses and capos their due, the conditions they seized on to kick off a rip-roaring short squeeze were as perfect as could have been imagined, putting nearly everyone on the wrong side of the trade. That's why on Friday, with the rotten news out of the way, stocks continued on their psychotic rampage, rallying as though recession, putrid earnings and abysmal consumer sentiment were of no concern.
Speaking of the recession, let me credit Rick's Picks subscriber Matt Barnes with spotting it months before Wall Street's best and brightest even began to acknowledge it. As we noted at the time, his shipping-pallet business had fallen off — as clear a sign of a nascent business downturn as an economist could have asked. On the logic of Matt's insight, we said back in February that a recession that even now has yet to be officially acknowledged had begun. This will be no ordinary recession, let alone a quick one, so I'd suggest staying closely tuned to Rick's Picks if you don't want to be distracted or confused by the shamelessly dishonest spin Wall Street's PR machine will be putting out in the months ahead.
STAY INFORMED! Receive our Weekly Recap of thought provoking articles, podcasts, and radio delivered to your inbox for FREE! Sign up here for the HoweStreet.com Weekly Recap.