June 17, 2022 | The Fed Will Continue To Hike Until It Hurts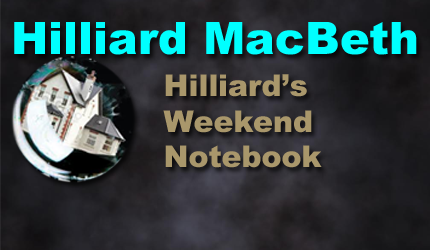 Author of "When the Bubble Bursts: Surviving the Canadian Real Estate Crash"
The Federal Reserve hiked interest rates by 75 basis points on Wednesday. Only once before has the Fed hiked by such a large amount.
Conventional wisdom says that when inflation is out of control the Fed must hike until it hurts, and even beyond.
There is only one parallel to the recent surge in inflation. In the late 1970s and early 80s the Fed chose to raise rates substantially higher than the inflation rate, which was over 10 percent for several years.
When rates peaked in 1981, the rate for government long-term bonds was about 15 percent. For the next three decades and beyond, both interest rates and CPI inflation trended lower, but in 1990 it was still necessary to pay over 13 percent to get a five-year fixed rate mortgage in Canada. (I did this!)
Mortgage rates are not waiting for the Fed: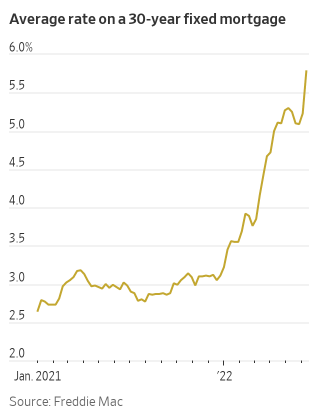 Fed rate hikes have barely started. Even after this week's hike the Fed is far behind inflation. It will take many more rate hikes to get the Fed funds rate equal to today's inflation. And in the early 80s the Fed had to raise rates above the inflation rate before inflation started to recede.
Here's what the market expects — the Fed rate will peak well below the rate of inflation at 8.6 percent: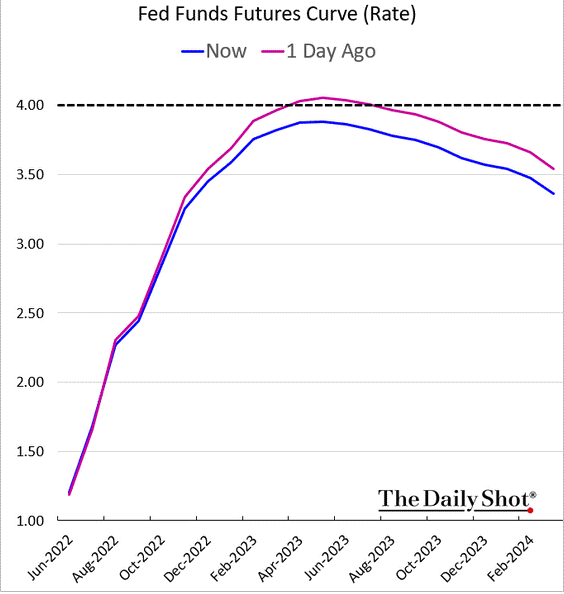 And maybe inflation will recede quickly. The Fed would be saved from having to play tough cop. And that's what the Fed and the market are expecting. Until recently, words like "transient, temporary and transitory" were used repeatedly in what was an astonishing display of wishful thinking.
What happens when the economy and the markets respond negatively to the Fed rate hikes?
Since October 1987, when serious Fed intervention started under Chair Alan Greenspan, financial market participants have come to believe faithfully that the Fed will cave at the first screams of pain from financial markets. The Greenspan Put, as it came to be known, required that the Fed jump in to support stocks as soon as it became clear that some market participants might be badly injured. Of course, the Fed, through its most important division — the New York Fed — is closer to Wall Street markets than Main Street, so its first and strongest instinct is to prevent damage to the largest market players, not the average American family on Main Street.
We saw in 2007-2009 and in 2020 the willingness of central banks and governments to act quickly to save speculators from their own excesses and greed. But those actions by the Fed, other central banks and many governments only reinforced the belief that the government "has got our back".
Borrow as much as you can to buy the riskiest assets became the credo of our times.
Now the Fed and other central banks must find the backbone to do a 180-degree U-turn and keep raising rates even after a recession is underway.
Central banks must stop inflation, even though that will require a very different mentality.
Hilliard MacBeth
The opinions expressed in this report are the opinions of the author and readers should not assume they reflect the opinions or recommendations of Richardson Wealth or its affiliates. Assumptions, opinions and estimates constitute the author's judgment as of the date of this material and are subject to change without notice. We do not warrant the completeness or accuracy of this material, and it should not be relied upon as such. Before acting on any recommendation, you should consider whether it is suitable for your particular circumstances and, if necessary, seek professional advice. Past performance is not indicative of future results. The comments contained herein are general in nature and are not intended to be, nor should be construed to be, legal or tax advice to any particular individual. Accordingly, individuals should consult their own legal or tax advisors for advice with respect to the tax consequences to them, having regard to their own particular circumstances.. Richardson Wealth is a member of Canadian Investor Protection Fund. Richardson Wealth is a trademark by its respective owners used under license by Richardson Wealth.
STAY INFORMED! Receive our Weekly Recap of thought provoking articles, podcasts, and radio delivered to your inbox for FREE! Sign up here for the HoweStreet.com Weekly Recap.