May 7, 2022 | Trading Desk Notes For May 7, 2022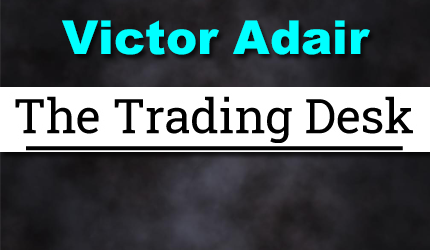 Victor Adair, author of The Trading Desk Notes, began trading penny mining shares while attending the University of Victoria in 1970. He worked in the mining business in Canada and the Western United States for the next several years and also founded a precious metals trading company in 1974. He became a commodity broker in 1977 and a stock broker in 1978. Between 1977 and his retirement from the brokerage business in 2020 Victor held a number of trading, analytical and senior management roles in Canada and the USA. Victor started writing market analysis in the late 1970's and became a widely followed currency analyst in 1983. He started doing frequent media interviews in the early 1980's and started speaking at financial conferences in the 1990's. He actively trades his own accounts from The Trading Desk on Vancouver Island. His personal website is www.VictorAdair.ca.
Stocks are down, interest rates and the US Dollar are up
The leading American stock indices closed the week at their lowest levels in over a year. They have closed lower for five consecutive weeks, while investor sentiment has become extremely bearish, which some folks think is a BUY signal.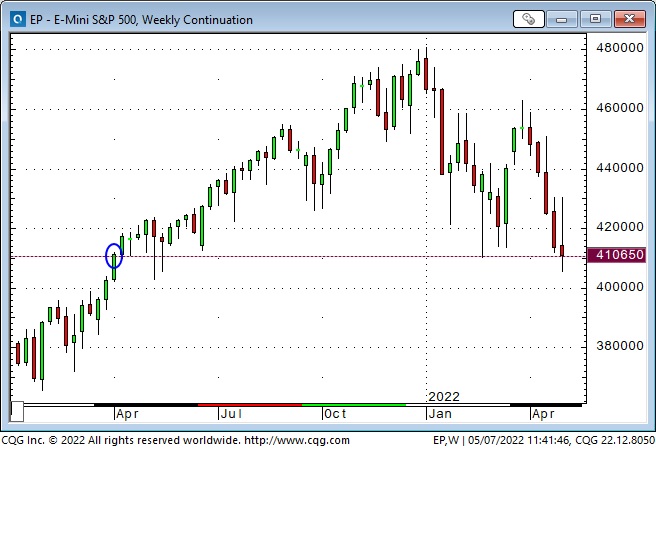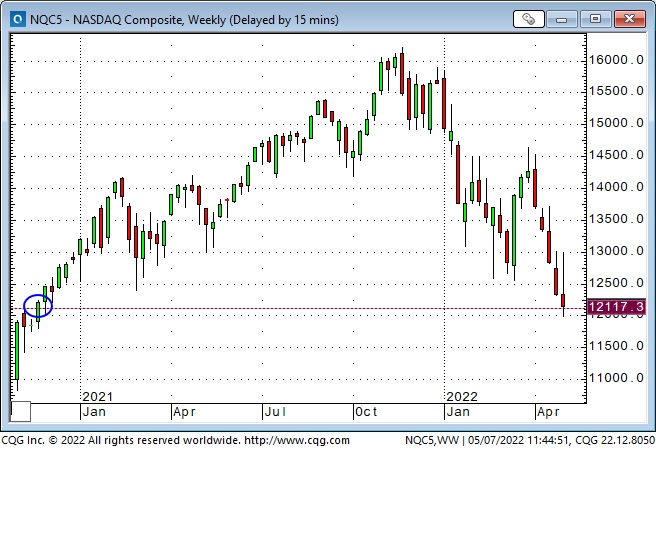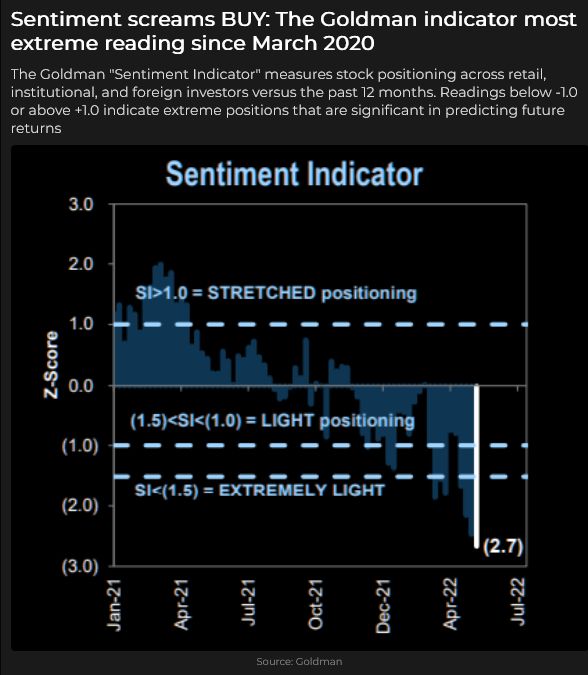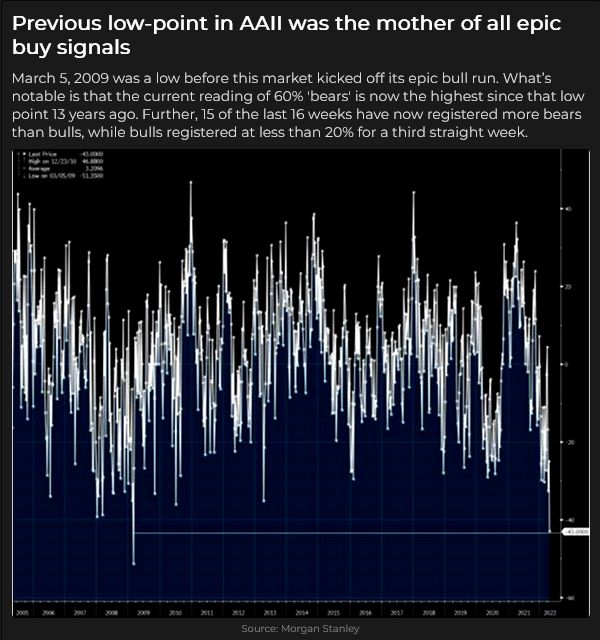 This week's daily price action saw the DJIA rally ~1,670 points from Monday's low to Wednesday's high, only to slump back ~1,650 points to Friday's low. The index closed the week ~600 points below last week's close.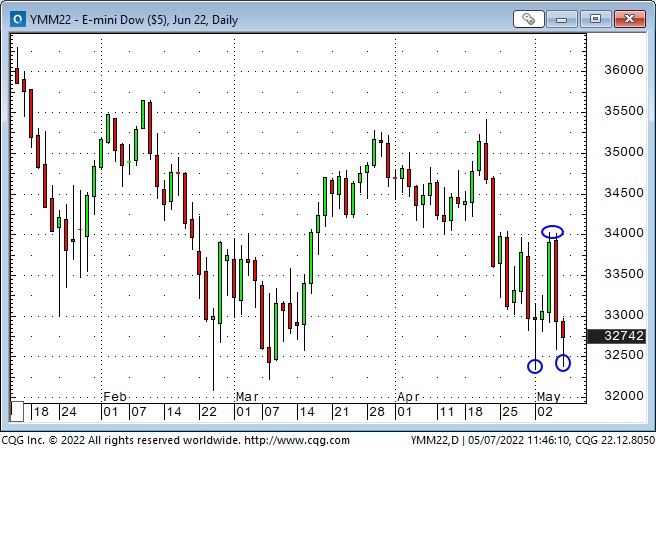 ARKK has been the poster child for the rush of capital into (and out of) the "speculative" end of the tech sector.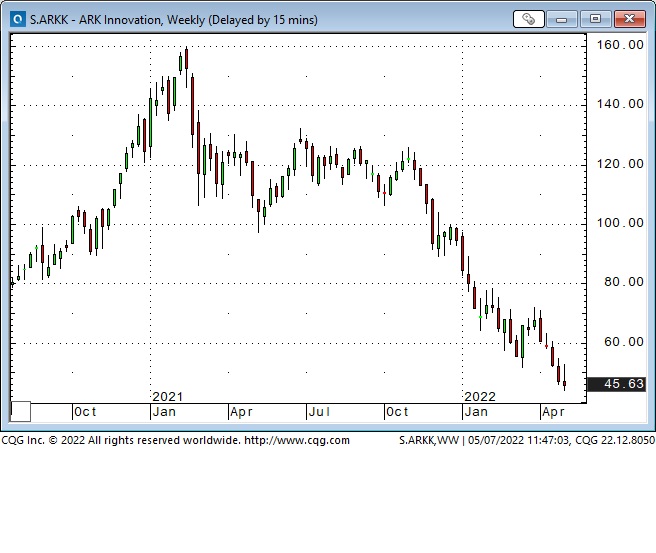 These two charts are a "steal" from Kevin Muir (the Macrotourist) and show 1) the very sharp rally in S+P futures and 2) the very sharp tumble in the USD during the Fed press conference on Wednesday.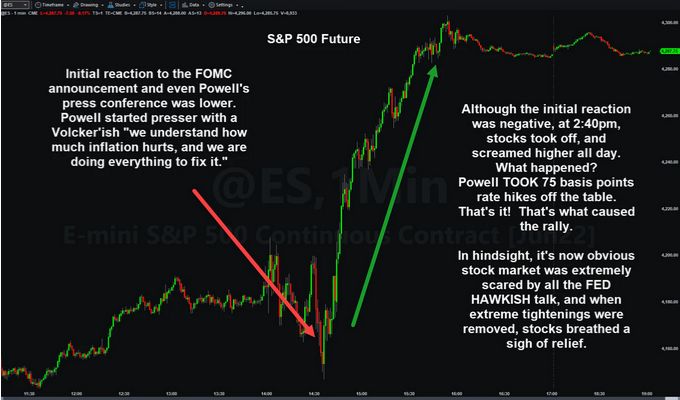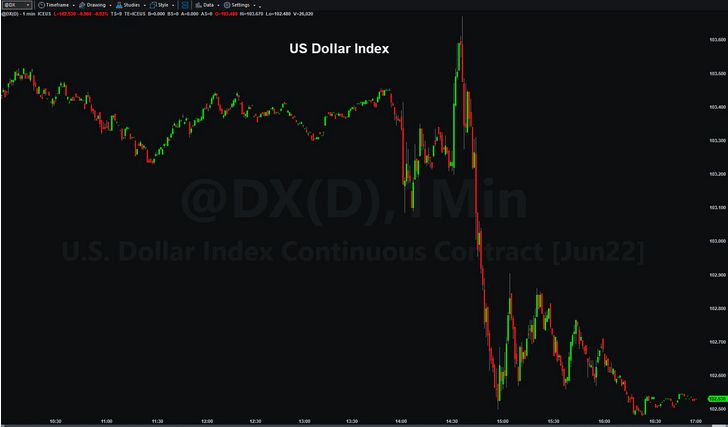 The relative strength of the leading indices hides the relative weakness of many individual stocks – particularly speculative issues, which were aggressively bid higher during the peak "stocks only go up" mania.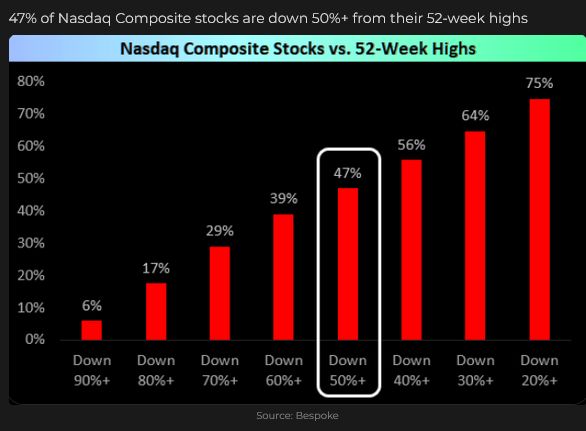 Bond yields surge higher
Bond yields surged higher this week. The US 10-year Treasury hit a 4-year high at 3.12%. The Canadian 10-year also hit 3.12%, but that was an 11-year high (as the Canadian unemployment rate fell to a 46-year low.) These two monthly charts show the US and Canadian 10-year gov't bond futures. Falling bond prices = rising bond yields.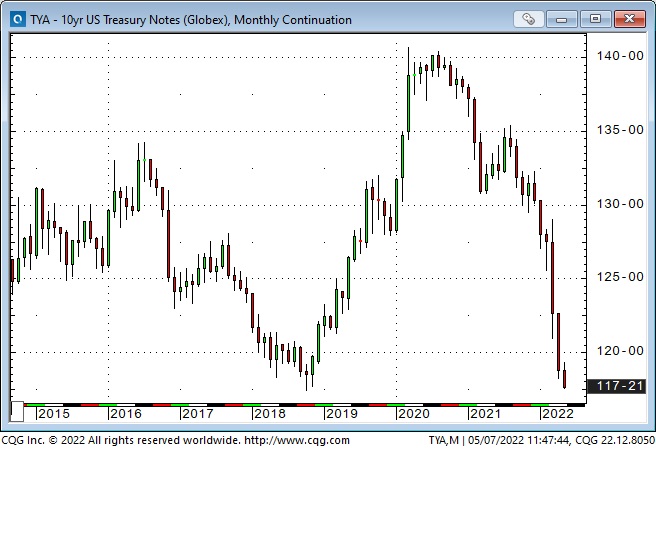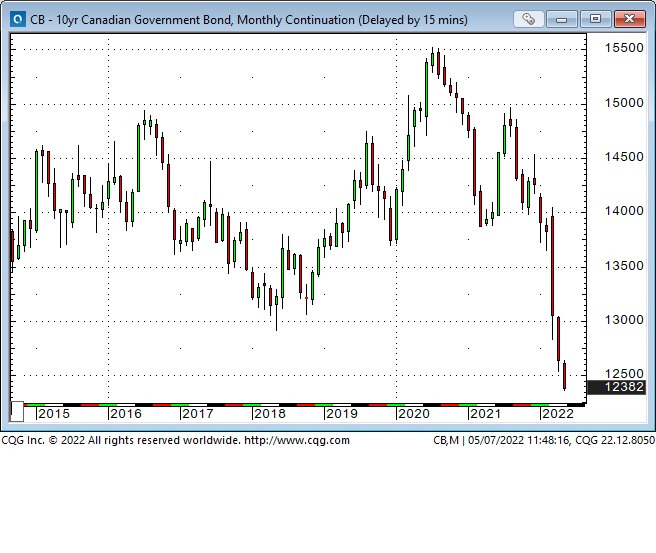 With Treasury yields over 3% will pension funds start buying bonds?
The S+P 500 dividend yield is ~1.5%, while the US Treasury 10-year bond yield is more than double that at 3.12%. That's the widest spread in more than eleven years and may induce some real money accounts to shift capital from stocks to bonds. However, the classic 60/40 stock/bond portfolio is having its worst start to the year in decades.
The US Dollar Index is at a new 20-year high
The US Dollar Index touched a new 20-year high this week. Soaring US interest rates and expectations that the Fed will remain more aggressive than other Central Banks helped drive the strength in the greenback, as did a "safety bid" in a world beset with uncertainty. As I have noted previously, trends in the currency markets often run WAY further than seems to make any sense – they are self-sustaining – before turning on a dime and going the other way!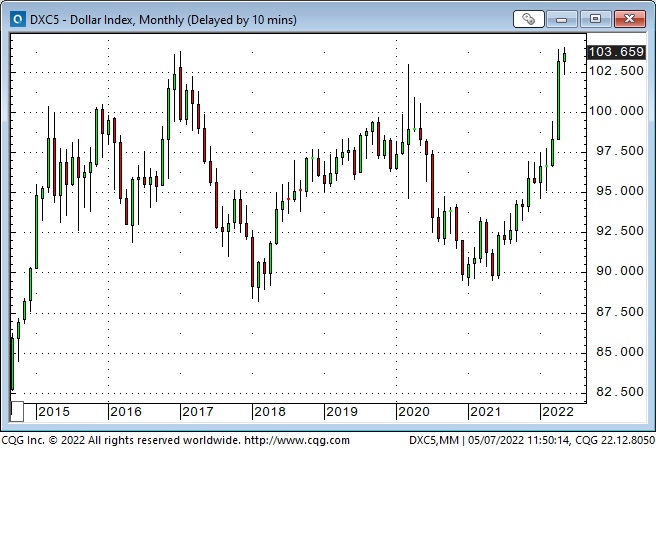 The Swiss Franc, which often catches a bid in times of trouble, has taken a swan dive since the end of March – it has dropped for five consecutive weeks against the USD (down>7%) and six consecutive weeks against the Euro. I don't know why this has happened; perhaps markets expect the Swiss National Bank to keep interest rates low relative to the Fed and the ECB.
Precious metals fall on rising interest rates and a strong USD
Sharply rising nominal and real interest rates and a surging US Dollar are usually a toxic combination for precious metals. Gold has closed lower for three consecutive weeks, down ~$150 from the mid-April highs to this week's low. Silver was hit harder: falling ~$4.50 (16%) from April highs to this week's lows.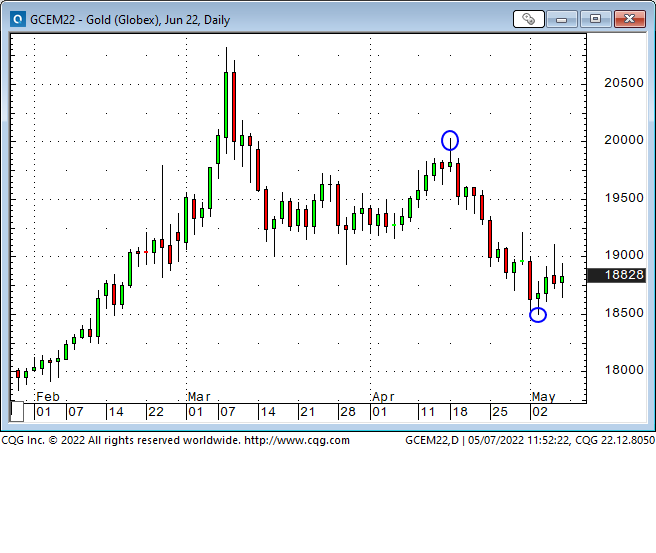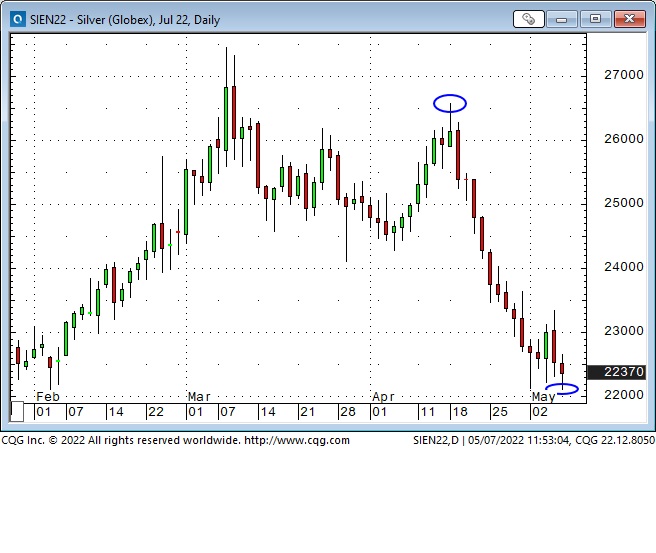 Gold mining shares have fallen (the GDX is down ~17% from April highs) as both precious metals and stocks have trended lower.
Energy prices were bid higher this week
WTI crude oil futures have trended higher for 6 consecutive months and closed this week at ~$110 – nearly double the $62 low made in December.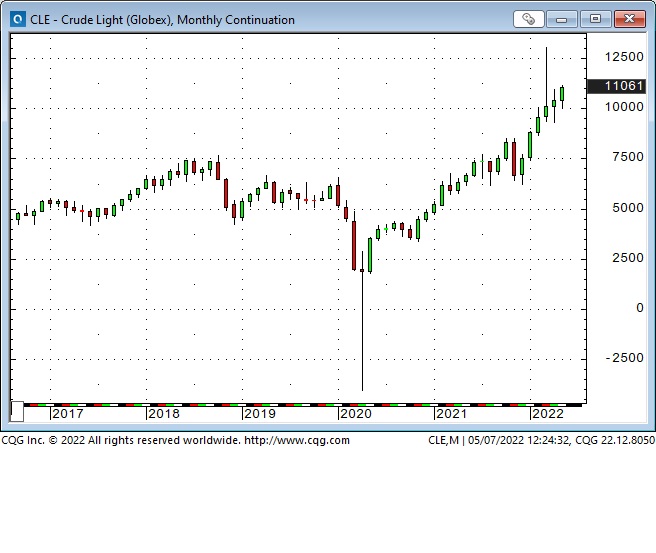 Wholesale gasoline, diesel and heating oil are at All-Time Highs.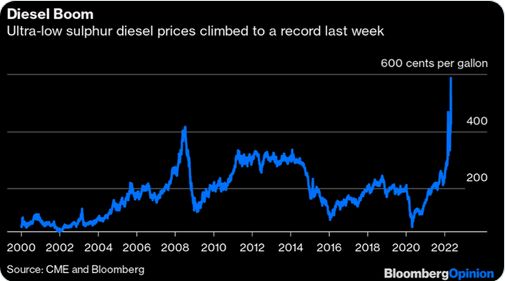 NYMEX Natgas futures hit 14-year highs this week, while the British Natgas futures closed at a 9-month low. It looks like the trans-Atlantic arb is working as LNG is shipped from North America to Europe.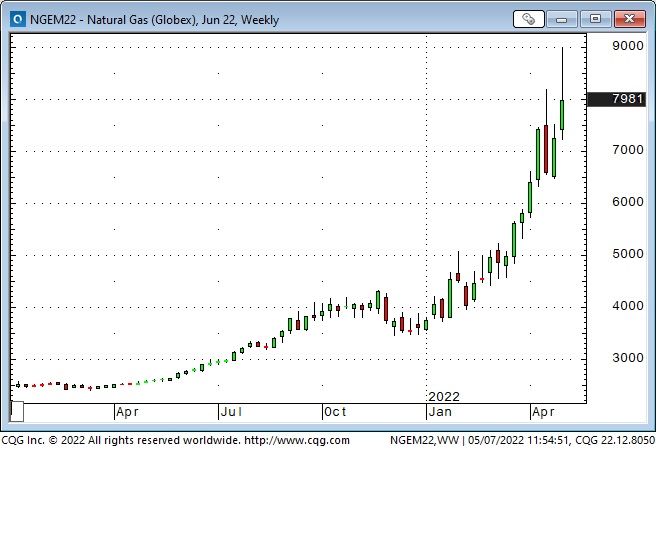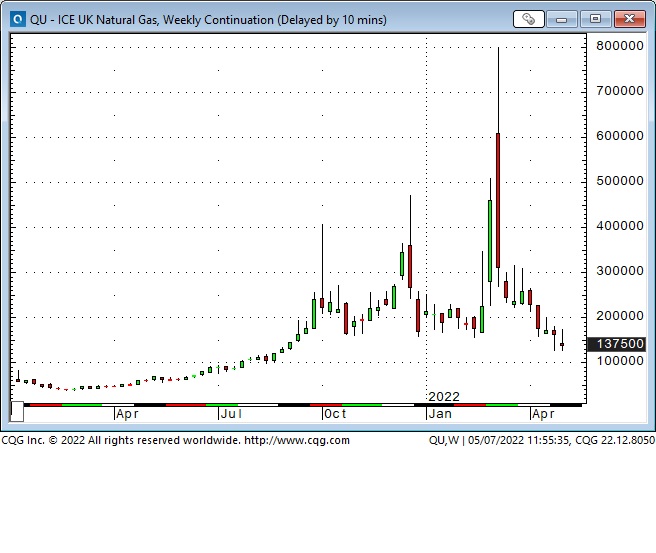 Surging energy prices sustain higher inflation
The combination of surging energy prices and a soaring USD is BAD news for many energy-importing countries but GOOD news for energy-exporting countries like Canada and OPEC.
Thoughts on trading
Poor liquidity across markets exacerbated recent wild intraday price swings as investors and traders have been "backing away" from the markets due to "hard to quantify" risks. There is the uncertainty about the "consequences" of a war in Europe, but there is also an existential sense that a "new era" may be dawning with the winding down of globalization, the fracturing of so many supply chains, the surge in inflation, interest rates and the USD, and, possibly, the end of the bull market in stocks. (See the Heisenberg Report for an excellent 5-minute read on the possible end of the "Doomsday Momentum Machine!")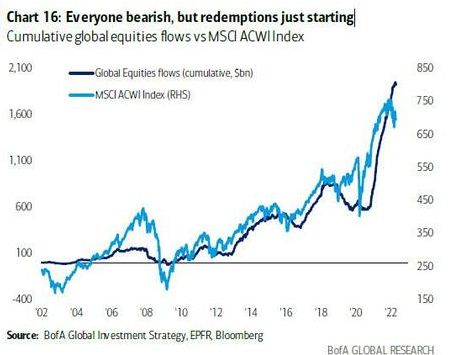 My short term trading
I started this week flat and was determined to be cautious given the recent choppy price action, the looming Fed risk and the fact that I would be travelling Thursday and Friday (in Vancouver for the Celebration of Life of a dear old friend.)
I took some small positions in both the S+P and CAD Monday and Tuesday, looking for a bounce, but was stopped for small losses on all trades. I was flat from Tuesday's close through Friday's close (I missed the wild Wednesday/Thursday action), and my P+L was down less than 0.5% on the week.
I won't indulge in the temptation to play "woulda/coulda/shoulda." I wasn't "on the job," and sometimes you miss making trades that look easy in hindsight. I believe the market will be open again next week, and there will be new opportunities!
The Barney report
Barney will be eight months old this week. Every once in a while, he looks like he's suddenly gotten bigger! He's ~57 pounds now, and he couldn't leave me alone when I got home Friday night after being away for two days. I was pretty happy to see him too!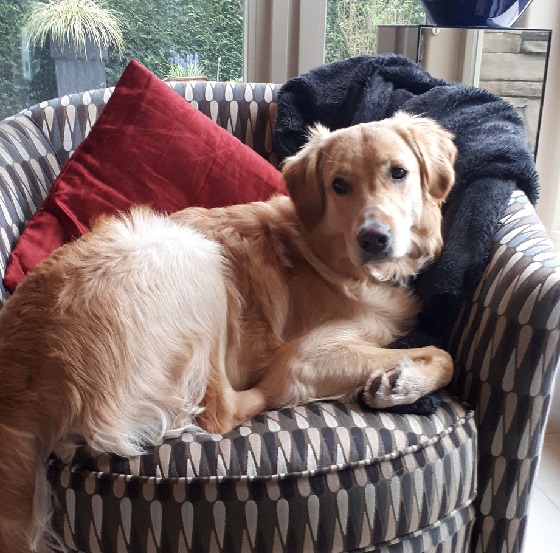 A request
If you like reading the Trading Desk Notes, please forward a copy or a link to a friend. Also, I genuinely welcome your comments, and please let me know if you would like to see something new in the TD Notes.
Listen to Victor talk about markets.
I've had a regular weekly spot on Mike Campbell's extremely popular Moneytalks show for 20 years. The May 7 podcast is available at: https://mikesmoneytalks.ca.
Subscribe: You have free access to everything on this site. Subscribers receive an email alert when I post something new – usually 4 to 6 times a month.
Victor Adair retired from the Canadian brokerage business in 2020 after 44 years and is no longer licensed to provide investment advice. Nothing on this website is investment advice for anyone about anything.
STAY INFORMED! Receive our Weekly Recap of thought provoking articles, podcasts, and radio delivered to your inbox for FREE! Sign up here for the HoweStreet.com Weekly Recap.