April 12, 2022 | Will 5% Mortgage Rates Tank the Housing Market?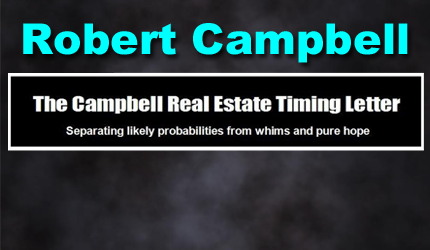 Robert Campbell is a real estate analyst and economist. He's been publishing The Campbell Real Estate Timing Letter since 2002. His book (Timing the Real Estate Market) presents a clearly defined method for predicting the peaks and valleys of real estate cycles.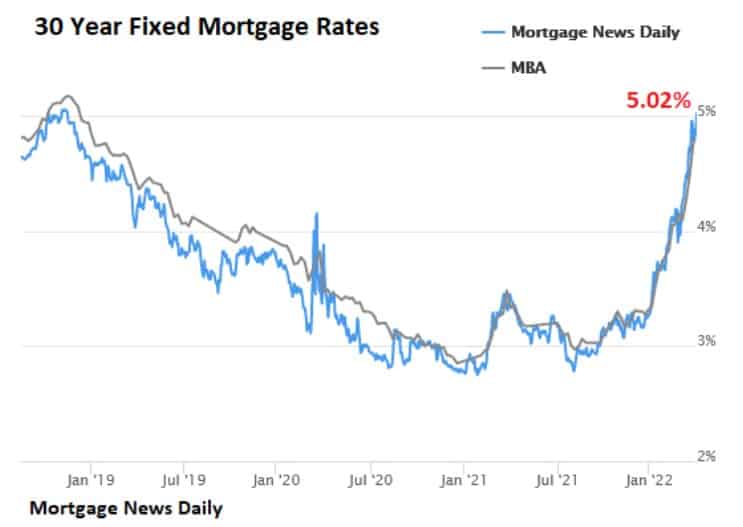 The average 30-year fixed mortgage rate spiked to 5.02% on April 5th, the highest since November 2018.
Rates have gone from 2.73% to over 5% since August 2021.  That's a record percentage rate increase over an eight month period.  Monthly mortgage payments have abruptly jumped up by 25.8%.
And rates are likely to go even higher.  That's because Fed Governor Lael Brainard re-emphasized today that "It is of paramount importance to get inflation down."
How is the Fed Going to Do That? 
According to the Fed Open Market Committee (FOMC), the Fed will "continue tightening monetary policy methodically through a series of interest rate increases and by starting to reduce the balance sheet by at least $95 billion per month beginning in May."
To fight inflation, "financial conditions need to tighten" said Leal Brainard.  "If this doesn't happen on its one its own, which seems unlikely" she said,  "the Fed will have to shock the markets to achieve the desired response."
Whether the Fed has the guts to do this or not remains to be seen – but the Fed hasn't been this hawkish on inflation since Paul Volker was Fed Chairman in the early 1980s.
Can Home Prices and Mortgage Payments  Soar at the Same Time?
Sure they can.  It is possible.  Because this is contrary to popular belief, I'll be talking more about this in May.
In normal times, rising mortgage rates are supposed to help cool housing prices. But if inflation keeps rising, it's possible that we could see home prices and mortgage payments charge ahead together at the same time.
As I talked about in this blog post, that's why we must rely on more than one key housing market indicator to warn us when the next downturn is approaching.
Being ahead of the curve is how you build wealth over time – so keep your eyes open and be careful what you focus on.
STAY INFORMED! Receive our Weekly Recap of thought provoking articles, podcasts, and radio delivered to your inbox for FREE! Sign up here for the HoweStreet.com Weekly Recap.