March 18, 2022 | Russia Threatens To Use Nuclear Weapons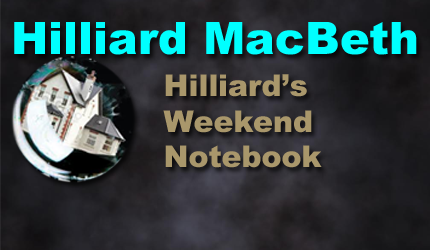 Author of "When the Bubble Bursts: Surviving the Canadian Real Estate Crash"
Russia is threatening to use nuclear weapons in the current conflict with Ukraine if western countries intervene.
Is there a significant possibility of a nuclear war?
V. Putin issued a vague threat, but everybody thinks they know what he was talking about. In his warning to Europeans and North Americans who might be thinking about joining in the defense of Ukraine he said:
"I would now like to say something very important for those who may be tempted to interfere in these developments from the outside. No matter who tries to stand in our way or all the more so create threats for our country and our people, they must know that Russia will respond immediately, and the consequences will be such as you have never seen in your entire history. No matter how the events unfold, we are ready. All the necessary decisions in this regard have been taken. I hope that my words will be heard."
From February 24, 2022, Vladimir Putin televised address to Russia:
Since he is talking about Europe primarily and Europeans endured the horrific destruction of WWI and WWII on their territory he is obviously talking about the use of nuclear bombs and other advanced weapons such as hypersonic missiles. There is no ambiguity in his words.
So, given the pressure that NATO members are under to come to the aid of Ukraine there is a small possibility of a nuclear war.
The establishment of a "no fly zone" over Ukraine with the assistance of other nations would be considered interference, according to Putin. There is no way to establish a "no fly zone" without a military presence that can shoot down airplanes that cross into airspace over Ukraine. And this would give Russia justification for attacking those countries who helped. This is one reason that Germany, France, the UK, Poland and the US are hesitating to provide direct assistance.
The military actions are now just three weeks old, having begun February 24th.
Here is the status of nuclear arsenals for the US and Russia: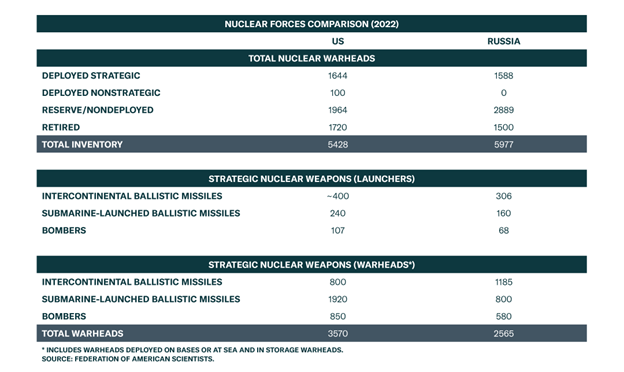 Source: BCA Research
While the US has an advantage in some parts of the supplies, Russia has a slight edge in number of warheads. Either country could easily destroy large cities and kill millions of people.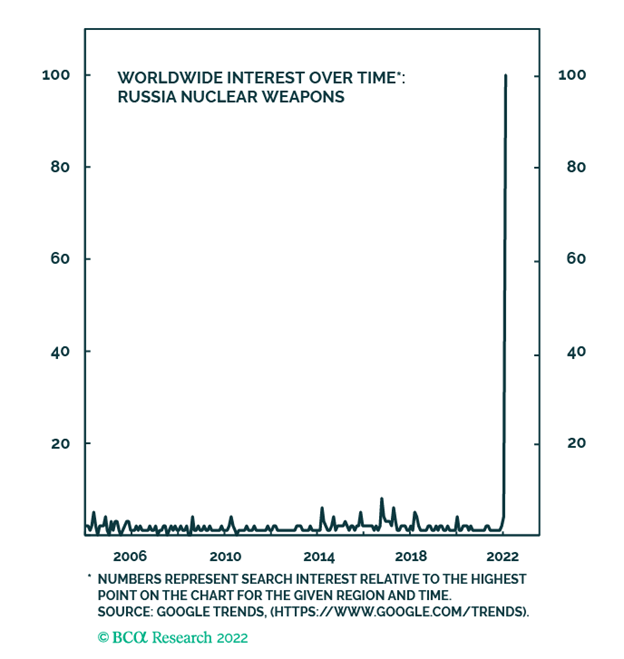 The jump in public interest in Russian nuclear weapons is off the charts, showing increased concern.
Putin has warned Sweden and Finland not to consider joining NATO, although Russia could not launch an invasion of those countries while active in Ukraine.
A move by Russian forces into the western part of Ukraine and towards Poland would be a substantial escalation. These moves would signal an intent to occupy all of Ukraine.
Watch for nervous markets over the next month as investors weigh the possibility of all-out war. It is impossible to put a probability on Putin's acting on his threat regarding nuclear weapons. He may achieve his objectives of keeping NATO from helping Ukraine just by making the threat.
Hilliard MacBeth
The opinions expressed in this report are the opinions of the author and readers should not assume they reflect the opinions or recommendations of Richardson Wealth or its affiliates. Assumptions, opinions and estimates constitute the author's judgment as of the date of this material and are subject to change without notice. We do not warrant the completeness or accuracy of this material, and it should not be relied upon as such. Before acting on any recommendation, you should consider whether it is suitable for your particular circumstances and, if necessary, seek professional advice. Past performance is not indicative of future results. The comments contained herein are general in nature and are not intended to be, nor should be construed to be, legal or tax advice to any particular individual. Accordingly, individuals should consult their own legal or tax advisors for advice with respect to the tax consequences to them, having regard to their own particular circumstances.. Richardson Wealth is a member of Canadian Investor Protection Fund. Richardson Wealth is a trademark by its respective owners used under license by Richardson Wealth.
STAY INFORMED! Receive our Weekly Recap of thought provoking articles, podcasts, and radio delivered to your inbox for FREE! Sign up here for the HoweStreet.com Weekly Recap.